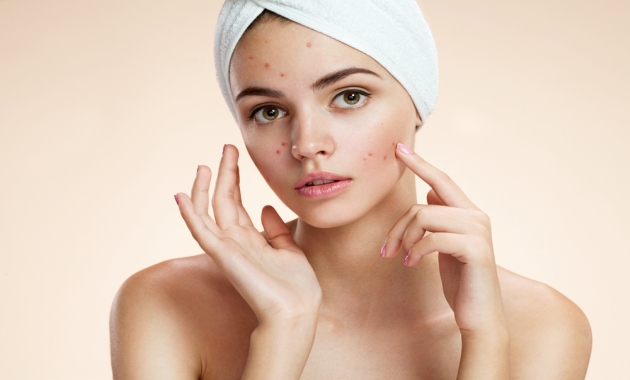 Acne is a common skin problem across all age groups, however young adults are more prone to pimples. Moreover, not just women, even men tend to suffer from acne during this stage. As spotting an acne on the face can be quite terrifying, most people don't think twice when popping it or using any acne treatment to get back the clean and clear skin. But popping the pimple is not the best way to get rid of acne. Here are some simple tips and tricks that can help anyone to deal with pimples and acne-prone skin at home. Let's dig into the details without a second thought!
Top Tips To Clear Acne At Home
1. Cleanse your skin without fail
Presence of excessive oil on the facial skin can lead to an increased deposition of dust and bacterial growth. So stick to a standard cleansing ritual as it can help in removing impurities and dirt stuck on the face. Moreover, it also helps to retain the moisture in the skin. However, scrubbing is not a great idea as it might break out the acne and increase the risk of skin infections. 
Explore the best anti-acne products from pH 5.5 range of Sebamed clear face cleansing foam, soap free bar and moisturizing gel. Click here!
2. Use over-the-counter anti-acne products
When it comes to acne treatment, the first and foremost thing you should keep in mind is to maintain a proper skin care ritual. Most people think washing the face regularly can help treat acne quickly but it is not true. This is because excessive washing can break open the pores and make it worse. So opting for an over-the-counter medicated acne treatment can aid in getting rid of pimples at home. Also, use a moisturizer as it helps to retain water and minimize the dryness and peeling of the skin. 
3. Stick to your acne treatment plan
Acne treatment includes use of topical creams, gels or oral medications. Usually, topical acne creams and gels are recommended if acne is few in number whereas oral medications are advised based on the underlying cause of the acne. When using any anti-acne product, make sure to wait for at least a month to see if the product is useful or not as it might take some time for all acne treatments to show desired results.
If there is no improvement in acne even after the use of anti-acne products such as foams, gels or creams, then speak to a dermatologist to get the right treatment based on your exact cause.  
Check out the best anti-acne products from pH 5.5 range of Sebamed clear face cleansing foam, soap free bar and moisturizing gel. Switch to Sebamed now!
In addition to these go-to tips and tricks, make sure to stay hydrated, eat well, stay away from stress and avoid excessive sun exposure to keep your skin healthy and pimple-free. 
Disclaimer: This is a sponsored article powered by Sebamed, USV Private Limited. The information provided in this article in the form of text, tips, suggestions, and products comprises general advice for consumers. Tata 1mg does not endorse any brands and is not responsible for their efficacy.