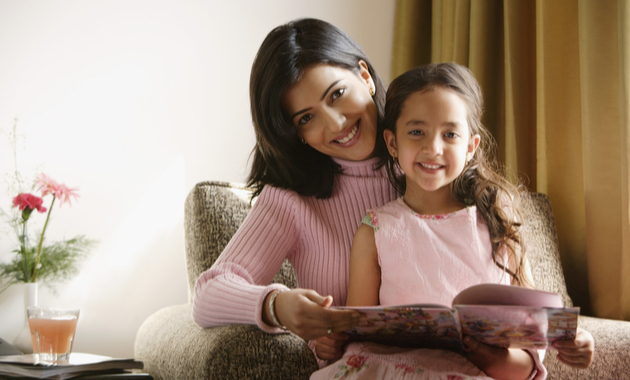 There is no running away from the fact that COVID-19 is one of the biggest threats to health and overall well-being across the world. Amidst fear, panic and uncertainty that has gripped the nation, news about an increase in positive cases on a day-to-day basis indicating that the situation is becoming more severe to deal with it. But this is the time to not lose hope and channel your inner positivity and find ways to emerge as a winner in the tough times. 
So here we bring you some of the good things about coronavirus (it may sound crazy but looking at the brighter side, it may help you to side the other side of the coin in this period of panic and worry).
1. Time for "our family" 
One complaint that we all might have heard all our lives (or probably most of the time) is "not spending time with our family". But thanks to the coronavirus pandemic, we can actually stay with our parents and kids and enjoy some "WE" time. Be it playing with your kids or reading bedtime stories to them to eating meals with your family and playing board games, it's time to make up for all the lost time with your kids and parents. Does this means should we be thankful that COVID-19 happened?
Looking out for some ideas to spend time with your kids? Here's a quick pick that can help you out. Click here: Coronavirus & Child Care: A Complete Parenting Guide.
2. From "single-tasker" to "multi-tasker"
Believe it or not, our 9-to-5 job has made us function in a set routine and finish one task at a time, be it at our office or home. With no maid and house helpers and handling kids throughout the day, we indeed have become more organized. Right from cooking meals for everyone to fulfilling all the needs at home and being equally responsible to complete office work on time and attend all the calls, there is no doubt that you will emerge as a multi-tasker by the time this pandemic comes to an end.
3. Digitally active to "digitally aware"
Be it Whatsapp, Facebook or Instagram, most of us have heard about these social platforms and might have used at least once to stay connected with friends, family, and relatives. But what coronavirus pandemic has done is that it made us more digitally aware. For example, people are more aware about online stores and are actively using apps to book their tests online, order medicines and healthcare products or getting in touch with their doctor online. So being digitally and socially aware about getting access to and fulfilling our needs, especially healthcare, is a sign that everyone is preparing for the future for good.
**Consult India's best doctors here**
4. Pacing you down for better!
Remember the old adage "slow and steady wins the race"? Most of us have lost our way of life in the competitive world of rat race. But thanks to this global pandemic, we are actually taking things very slowly. It has given us the much-needed break to sit, relax and introspect by confining ourselves to our home. Be it reading your favourite book that you wished to complete long back or trying out a new hobby by setting your creativity at the best, it is your time so make the most of it.
5. Clear skies and clean air
COVID-19 has not only impacted our lives but also the environment at large and for better. With industries being shut for more than 2 weeks and transport coming to a stand still in most of the cities due to lockdown, it has led to a positive effect on the pollution level. According to the central pollution control board[1], the air quality index has improved from very poor to moderate/satisfactory in major cities in India. COVID-19 has also caused a drastic drop in the level of pollutants such as nitrogen dioxide, sulphur dioxide and carbon monoxide.
Are you sure you know the ideal way of using a mask? Take this test to know. Test yourself.
Bottomline: Wherever we stand in our fight against this public health emergency, all we have to do is surround ourselves with positivity and keep calm. Let's hope our future is filled with bright colors, till then enjoy your time with your near and dear ones. 
Feel free to share your one good thing of how you are keeping yourself sane during the lockdown and what is that one positive thing that you swear by "to be positive"!
(The article is reviewed by Dr. Swati Mishra, Medical Editor)
Recommended Reads:
Novel Coronavirus: Common Myths Debunked!
COVID-19 Helpguide: FAQS On Coronavirus Answered
References:
1. National Air Quality Index. Central Pollution Control Board. Ministry of Environment, Forests and Climate Change. https://app.cpcbccr.com/AQI_India/