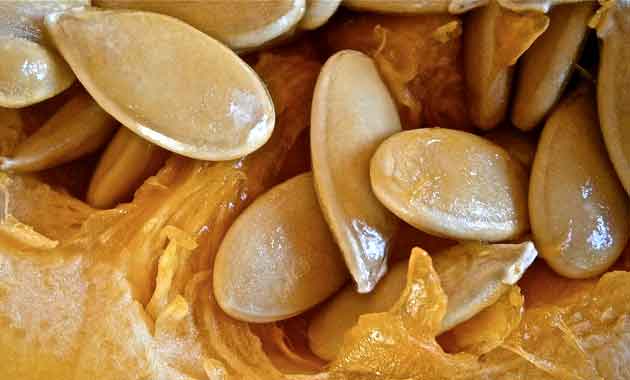 BY DR. KHOOBSURAT NAJMA
There is a reason why birds fancy seeds so much! They are packed with vitamins, minerals and other essential nutrients important for proper functioning of the body. So, rather than throwing these seeds in the dustbin, add them to your daily diet and get a step closer to a 'healthier you'.
Here are 5 common seeds found in our Indian households with enormous health benefits :
1 . Pumpkin Seeds (Kaddu ka beej)
What are the benefits ?
–  Pumpkin seeds are loaded with a wide variety of nutrients ranging from magnesium and manganese to copper, protein and zinc and antioxidants
– They are good for your heart, liver and immune system and help fight diabetes
– Additionally, they are beneficial for men's prostate health and women's relief of menopause symptoms
How to have them ?
You can add roasted pumpkin seeds to your daily sabzis, sprinkle them on top of mixed green salads or add chopped pumpkin seeds to your favorite hot or cold cereal.
2 . Flax Seeds (Alasee ka beej)
What are the benefits ?
– Flaxseeds (also called linseeds) are a rich source of micronutrients, dietary fiber, manganese, vitamin B1 and the essential fatty acid alpha-linolenic acid, also known as ALA or omega-3
– Modern research has found evidence to suggest that flaxseed can also help lower the risk of diabetes, cancer, and heart disease
– They are rich in lignans (naturally occurring forms of the female hormone estrogen). It also has alpha linolenic acid which can protect blood vessels from damage
How to have them ?
It is better to grind the flax seeds rather than eating them whole for better absorption. You can add the grounded or roasted flax seeds to milkshakes, soup and juices.
3 . Sesame Seeds (Til ke beej)
What are the benefits ?
– Sesame seeds are an excellent source of copper, a very good source of manganese, and a good source of calcium, phosphorus, magnesium, iron, zinc, molybdenum, vitamin B1, selenium, and dietary fiber
– Copper provides relief from rheumatoid arthritis, magnesium supports vascular and respiratory health, calcium and zinc, maintain bone health and the phytosterols lower cholesterol
How to have them ?
You can have them in the form of til laddoos and chikki.  Even better, add them to bread and cookie batter or your sabzis.
More : Calcium rich foods for Vegetarians
4 . Sunflower Seeds (Surajmukhee ke beej)
What are the benefits ?
– Sweet, nutty sunflower seeds are rich in vitamin C, Vitamin E, magnesium and dietary fiber
– Vitamin C aids in heart health, vitamin E and selenium prevent cell damage, the magnesium in these seeds helps relax nerves and dietary fiber is said to promote a healthy digestive system
How to have them ?
You can mix sabzis or green salads with sunflower seeds. Add the seeds to scrambled eggs or sprinkle sunflower seeds onto hot and cold cereals.
5 . Black Cumin Seeds (Kalonji ke beej)
What are the benefits ?
– Also known as Nigella Sativa, Kalonji has a lot of medicinal value. It is used for treating digestive tract conditions including gas, colic, diarrhea, dysentery, constipation, and hemorrhoids. It is also used for respiratory conditions including asthma, allergies, cough, bronchitis, emphysema, flu, swine flu, and congestion
– Other uses include lowering blood pressure, lowering cholesterol levels, treating cancer, boosting the immune system, improve eyesight, and alleviate toothache and joint pain
How to have them ?
Sprinkle the seeds over savory biscuits, add them to your rice, dal or even pickle. Mix it a little in hot water and inhale the fumes to get relief from nasal congestion.
————–
Want us to write on your health question? We're listening
here
.