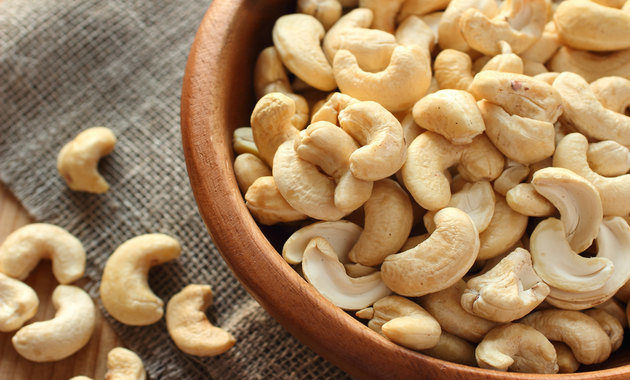 Cashew nuts, known as kaju in Hindi, are one of the most widely consumed dry fruits in India. Be it Indian desserts like kheer or halwa or recipes like Shahi paneer or pulva, kajus are a must. These nuts not only provides a rich flavour and consistency but also gives a rich appearance and taste to food. And what's more interesting is the fact that these nuts are packed with health benefits. Here's more on the nutritional profile and health benefits of cashew nuts everyone must be aware of!
Nutritional Profile Of Cashew Nuts
Most people are reluctant to include cashew nuts as a part of a daily diet. The reason being cashew nuts are loaded with calories. 100 gms of cashew nuts provide around 553 calories, which is much higher as compared to other nuts such as pistas and almonds. This is the reason why cashew nuts are a strict No-No for weight watchers.
Apart from high in calories, these nuts are loaded with other essential minerals, vitamins, and fats which are good for the health. It is rich in antioxidants and dietary fibre, which have numerous health benefits. Cashew nuts also contain minerals such as manganese, potassium, zinc, iron, copper, and magnesium. The phytochemicals present in kaju play a key role to fight diseases and keep you healthy. Thanks to the nutritional benefits of cashew nuts, these nuts can be taken as a healthy snack option. Here are a few reasons to include cashew nuts in your diet.
Health Benefits Of Cashew Nuts Or Kaju
1. Keeps Your Heart Healthy
Unlike popular belief, cashew nuts or kajus are good for heart health. These nuts are loaded with essential fats, which not only improve the functioning of the arteries but also lower the levels of oxidative stress in the body. Cashew nuts are a good source of phytosterols (plant compounds), which lowers LDL (low-density lipoprotein) or bad cholesterol and improves the level of HDL (high-density lipoprotein) or good cholesterol in the body[1,2]. Moreover, it also reduces systolic blood pressure, which is responsible for hypertension, heart disease, and stroke, thereby keeping the heart healthy[1]. The presence of anti-inflammatory compounds help in lowering the inflammation in the body and thus, prevent heart problems.
Tip: For a healthy heart, make sure you include cashews in the diet in one or the other form. The best way is to add it to a salad. In a bowl, add chopped tomatoes, onions, beets, carrots, and cucumbers. Sprinkle some olive oil on top of these veggies and mix. Garnish it with powdered cashew nuts for the added crunch and enjoy it as an evening snack to fill your stomach.
Always Trust For Better Heart Care. Browse Our Store Now.
2. Good For Bone Health
In addition to calories, cashew nuts are also rich in minerals such as calcium, potassium, and magnesium, which are known to improve bone health. Moreover, it is low in sodium content, which further makes it a healthy option for maintaining strong bones. ¼ cup serving of cashew nuts can provide you around 12% of your RDA (recommended daily allowance) of Vitamin K! This vitamin along with calcium helps in mineralization of the bones and maintain bone density, thus lowering the risk of bone-related problems such as fractures and osteoporosis[3].
Tip: You can eat healthy masala kajus to maintain your bone health. Here is a simple recipe to prepare masala kaju at home. In a pan, add a tablespoon of oil and roast a cup of cashew nuts. Keep it aside. In a bowl, add a teaspoon of black salt, a ½ teaspoon each of roasted jeera powder, pepper powder, red chili powder, and mango powder and salt as per taste. Mix properly and add this mixture to the pan containing roasted cashews. Mix and enjoy masala cashews at home as a snack option. You can even store it in an airtight container at room temperature to munch on these when needed.
3. Lowers The Risk Of Diabetes
Yes! Cashew nuts are good for diabetics and also for people at risk of diabetes as it not only helps to lower the blood glucose levels but also lowers the risk of diabetes. It is rich in MUFA (monounsaturated fatty acids), which slows down the rate of glucose release in the blood. The presence of hydroethanolic extract, an active ingredient in kaju, stimulates the transportation of glucose between the cells and thus, helps to maintain blood glucose levels in the body[4].
Tip: To reap the anti-diabetic effects of cashew nuts, add these nuts to foods such as quinoa or brown rice to get the most of it. Here is a simple recipe of quinoa pulav with kaju. In a pan, add a teaspoon of oil. To this, add 2 bay leaves, 2 cloves, a small stick of cinnamon and a handful of kaju. Add thinly sliced onions and cook on low flame. When onions turn slightly brown in color, add boiled quinoa. You can also add boiled vegetables if you like. Mix and leave for 3 minutes. Add salt and pepper powder, mix and garnish with coriander leaves. Enjoy this dish for lunch or dinner.
Reduce your diabetes care expenses by up to 50%. Sign Up for 1mg Diabetes Care Plan
4. Boosts Brain Function
The major source of energy for the brain is glucose. However, as the organ is mostly made up of fats, it requires a steady supply of fatty acids through diet to stay active and function well. Cashew nuts contain a whole lot of dietary compounds which play a key role in enhancing the cognitive function. Moreover, maternal intake is known to facilitate memory in the offspring[5]. It also reduces the risk of mental health problems such as anxiety, dementia, ADHD and depression.
Tip: To improve the brain function, soak a handful of cashews at night in water. In the morning, drain the water and rinse it with water. Now, add all the cashews in a blender along with 4 cups of water and grind to make a thin solution. You can also add coconut water instead of water. You can either add a pinch of salt to make it a salty drink or add dates to make it a little sweet. Strain all the ingredients and drink it immediately (fresh). Moreover, it acts as a healthy milk substitute for people with lactose intolerance.
5. Lowers The Risk Of Gallstones
Numerous studies[6] have reported that cashew nuts along with other nuts can help in lowering the risk of gallstones. The gallbladder is an organ that helps in the storage of bile acids produced by the liver. These acids play a key role in the digestion of fats. It is proved that including nuts such as cashew nuts in diet daily lowers the risk of developing gallstones by 30%[6].
Tip: The best to enjoy cashew nuts and reap its benefits is to have a handful of dry fruits such as almonds, cashews, and walnuts every day. You can either munch these nuts during your snack time or have it as a mid-morning snack.
**Consult India's best doctors here**
As cashew nuts are loaded with numerous health benefits, it is wise to include it as a part of your everyday diet either as a snack or in salads, desserts or curries. But do eat in moderation as these are high in calories to get the benefits of cashew nuts. Eat healthy to stay healthy.
(The article is reviewed by Dr. Lalit Kanodia, General Physician)
Recommended Reads:
Health Benefits Of Drinking Water: Weight Loss? And More…
6 Surprising Health Benefits Of Curry Leaves (Kadi Patta)
References:
1. Mohan V, Gayathri R, Jaacks LM, et al. Cashew Nut Consumption Increases HDL Cholesterol and Reduces Systolic Blood Pressure in Asian Indians with Type 2 Diabetes: A 12-Week Randomized Controlled Trial. J Nutr. 2018 Jan 1;148(1):63-69.
2. Kim Y, Keogh JB, Clifton PM. Benefits of Nut Consumption on Insulin Resistance and Cardiovascular Risk Factors: Multiple Potential Mechanisms of Actions. Nutrients. 2017 Nov 22;9(11).
3. Akbari S, Rasouli-Ghahroudi AA. Vitamin K and Bone Metabolism: A Review of the Latest Evidence in Preclinical Studies. Biomed Res Int. 2018 Jun 27;2018:4629383. 
4. Hernández-Alonso P, Camacho-Barcia L, Bulló M, Salas-Salvadó J. Nuts and Dried Fruits: An Update of Their Beneficial Effects on Type 2 Diabetes. Nutrients. 2017 Jun 28;9(7). 
5. de Melo MFFT, Pereira DE, Sousa MM, et al. Maternal intake of cashew nuts accelerates reflex maturation and facilitates memory in the offspring. Int J Dev Neurosci. 2017 Oct;61:58-67.
6. Ros E. Health benefits of nut consumption. Nutrients. 2010 Jul;2(7):652-82.
7. de Souza RGM, Schincaglia RM, Pimentel GD, Mota JF. Nuts and Human Health Outcomes: A Systematic Review. Nutrients. 2017 Dec 2;9(12).