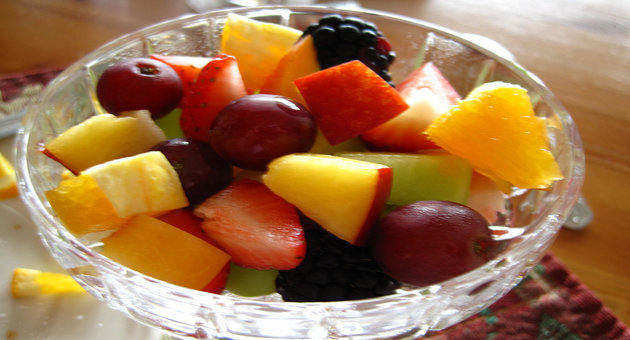 With the cricket fever taking the whole country by storm, there are going to be moments when you want to munch on to some easy- to- make, healthy and yet yummy snacks to help you get by!
So,here are some super yummy snack options to keep your energy levels up and your carbs in check:
1 . Fruit Salad
Grab an apple, banana, pear, grapes, or any other favorite fruit and make a generous bowl of fruit salad. This protein and fiber combination will keep you feeling full and prevent mindless eating.
2 . Murmura
Murmura or puffed rice is an excellent snacking option. You can relish it as such or can mix it with tomatoes, cucumber, sprouts, mint chutney and make a healthy bhel puri
3 . Popcorn
We are not talking about the bucket of oil-popped movie theater popcorn can contain as much fat as three to five double cheeseburgers. We are talking about the air-popped popcorn. Three cups of popcorn have just 93 calories and 1.5.grams of fat. So indulge in this healthy snack and enjoy your game guilt free.
4 . Nuts
Almonds are rich in heart-healthy fats but are calorie dense (about 170 calories per ounce) so measure out an ounce (about 24 almonds) and stick to that amount. Pistachios are a great heart-healthy snack full of antioxidants, fiber, and good fats. A 1/2-cup serving only has 170 calories, with 6 grams of protein and 3 grams of fiber. However, that serving also has 14 grams of fat, so do not stuff yourself.
5 . Baked Potato
Potatoes are a rich in Vitamin A, C, B1 and B2 and minerals and a source  of dietary fiber Have one medium sized baked sweet potato with black salt and lemon juice.
6 . Tomato Soup
If you are watching your calories too closely, you can enjoy some tomato soup, because it is easy to make and a small bowl contains only 74 calories.
7 . Smoothies
Smoothies are an excellent snacking option. In a blender, puree 1 medium banana, 1 cup skimmed milk and 5-6 almonds until smooth. Add 2-3 ice cubes and relish the yummy goodness. Or else puree ½ cup coconut water, ½ cup mango, ½ cup strawberries and 2 ounces paneer until smooth.You can prepare them ahead of the match and relish them as the heat catches on!
So, ditch those deep fried, processed and unhealthy snacking options, and go healthy on these delicious and super light snacks. Cheers To Team India, Cheers To Good Health!