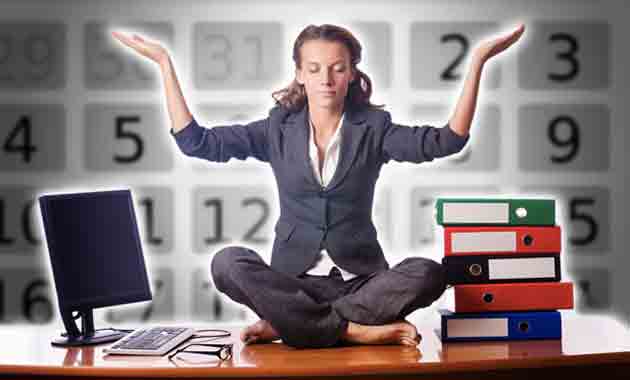 BY DR. KHOOBSURAT NAJMA
We are not kidding. You are harming yourself by sitting for countless hours glued to your computer screens.  We have already covered the ways in which prolonged sitting could be hurting you.
As a rule of thumb, for every hour you spend on your computer, you need a 10 minute break. And taking a break does not mean chatting online or grabbing a 300 Kcal burger! You need to exercise your strained muscles. We have put together some such quick, fun exercises you can do while you take a break :
For your strained Neck
1 . Shake your head slowly, like when you signal yes and no. Make it fun while you do it to relax even further. Ask yourself silly questions: "Is your boss an idiot?" Move your head up and down, "Yes, yes, yes." Side to side: "No. No. No."
2 . Keeping your chin tucked in, gently lower your ear to the shoulder and hold for 10 seconds on either side. Repeat several times and be careful not to extend your neck back too far.
Read more : Home therapies to relieve pain
For your overworked Wrists and Elbows
1 . Interlace fingers, palms outward, and straighten arms in front. Hold for 10 seconds and repeat several times.
2 . Straighten your arm in front and bend your wrist forward, gently assist the stretch with your other hand. Hold for 10 seconds then stretch your wrist back and hold for 10 seconds. Repeat with the other arm.
For your burdened Shoulders
Inhale deeply and shrug your shoulders, lifting them high up to your ears, making circles. Hold. Release and drop. And while you are at it, ignore the stares from your amused office mates. Repeat three times.
For your stiff Back
1 . Hug your body.  Yes just do it! Place the right hand on your left shoulder and the left hand on your right shoulder. Breathe in and out, releasing the area between your shoulder blades.
2 . Stand up. It won't hurt, we promise. Support lower back with hands and gently arch back. Gently arch back and hold for 5 to 10 seconds. Repeat 3-5 times
Read more : Tips to manage back pain
For your fatigued Eyes
1 .  Sit up straight, face forward and look up, then down. Look left, then right. Repeat this sequence several times without moving your head. Like they do in those cartoon shows!
2 .  Look up and away from screen. Let it look like you don't care about your work anymore. Focus on a distant object (more than 3 metres). For example, look out of the window or at a picture on a far wall. Shift vision back to screen to refocus and you are back with a bang!
So, pause your work, stretch and repeat. After all, only a healthy body can house a sharp mind.