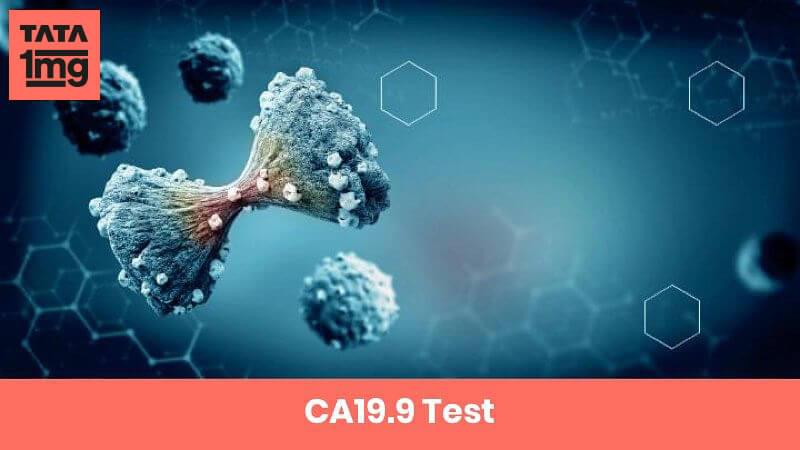 This test is for
Male, Female
Test Preparation
No special preparation required
Overview
---
What is CA-GI, CA 19-9?
CA 19-9 test is done to primarily monitor the response to treatment of pancreatic cancer. It also helps in the diagnosis of pancreatic cancer as well as to watch for its recurrence. CA is also known as cancer antigen or Carbohydrate antigen. 
Why is CA-GI, CA 19-9 done?
The CA 19-9 test is done during the treatment of pancreatic cancer. However, it can also be done following the treatment of pancreatic cancer.
What does CA-GI, CA 19-9 Measure?
CA 19-9 test measures the levels of CA 19-9 in the blood. CA 19-9 is a protein that exists on the surface of certain cancer cells and does not cause cancer. CA 19-9 is shed by the tumor cells.
CA 19-9 can be measured in the blood which makes this test very helpful as a tumor marker. It is useful to follow the course of cancer. Its levels get raised in about 70% - 95% of patients with advanced pancreatic cancer.
The levels of CA 19-9 are found to be elevated in other cancers such as gallbladder and cholangiocarcinoma (bile duct cancer), colorectal cancer, ovarian cancer, gastric cancer, liver cancer, lung cancer, obstruction of bile duct, inflammation of the pancreas, cystic fibrosis, disease of thyroid, and disease of the liver. 
In healthy people, CA 19-9 is found in small amounts in the blood. CA 19-9 cannot be used by itself for screening or diagnosis as it is not specific for pancreatic cancer.
Interpreting CA-GI, CA 19-9 results
---
Interpretations
| | |
| --- | --- |
| Disease | %age positivity of CA 19-9 |
| Pancreatic cancer | 80 |
| Hepatobiliary cancer | 67 |
| Gastric cancer | 40 - 50 |
| Hepatocellular cancer | 30 - 50 |
| Colorectal cancer | 30 |
| Breast cancer | 15 |
| Pancreatitis | 10 - 20 |
| Benign gastrointestinal diseases | 10 - 20 |
Answers to Patient Concerns & Frequently Asked Questions (FAQs) about CA-GI, CA 19-9
---
Frequently Asked Questions about CA19.9
Q. What are the signs and symptoms of pancreatic cancer?
The signs and symptoms of pancreatic cancer include abdominal pain, back pain, nausea, loss of appetite, jaundice, and unexplained weight loss. In the later stages of pancreatic cancer, additional signs and symptoms can be observed which include chronic pain, vomiting, malabsorption, and in very few cases there can be a problem with control of blood glucose.
Q. How is the blood sample taken?
The healthcare provider takes a blood sample from the arm. The site from where the blood is to be withdrawn is cleaned with a swab of rubbing alcohol. This is then followed by inserting a small needle which has a tube attached to it for collecting blood. Once the sufficient blood for analysis is withdrawn, the needle is removed. The site is then covered with a gauze pad.
Q. Is there any risk associated with the withdrawal of blood sample procedure?
As such there is no risk but in few cases, bruising, bleeding, and infection at the puncture site can be seen. In very few cases, there can be swelling of the vein after the blood is withdrawn.
---

ISO
Thyrocare Technologies Limited is India's first and most advanced Totally Automated Laboratory having its strong presence in more than 2000 cities / towns in India and internationally. Thyrocare is India's first fully automated diagnostic laboratory with a focus on providing quality at affordable costs to laboratories and hospitals in India and other countries. Thyrocare operates with a Centralized Processing Laboratory (CPL) in Mumbai - India for esoteric tests; and Regional Processing...
Know More
User Reviews
---
V
Vivek Shukla
Very nice experience. Highly recommended.
G
Girish K Kulkarni
Awesome experience. Pathology test was never so easy.