Coagulation Profile Test Includes 2 tests
View All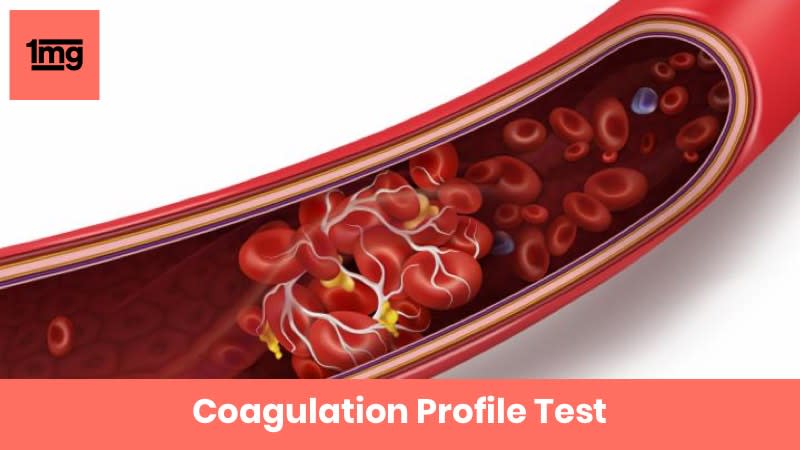 This test is for
Male, Female
Test Preparation
No special preparation required
Overview
---
What is Coagulation Profile?
Coagulation profile is done to determine proper concentrations of coagulation factors in the blood. This test includes two tests, namely, Activated Partial Thromboplastin Time test and Prothrombin Time test. 
Why is Coagulation Profile done?
Coagulation Profile is done:
In case of excessive unexplained bleeding

In case of easy bruising

In acute conditions such as Disseminated intravascular coagulation

In chronic conditions such as liver disease

To monitor the patients taking medicines affecting clotting ability

Before surgery
What does Coagulation Profile Measure?
Coagulation profile measures the activated partial thromboplastin time and prothrombin time. 
Prothrombin is a protein which is produced by the liver. Prothrombin time determines the time your blood will take to clot. The Prothrombin time increases in case the patient is on blood-thinning medications or has hemophilia or liver disease. Malabsorption of the prothrombin protein may also affect the results of prothrombin time. This test is also done in patients who are taking medicines that affect the clotting time such as warfarin. 
The doctor advises the prothrombin test with another clotting test known as activated partial thromboplastin time (aPTT). 
The aPTT is also known as PTT (Partial Thromboplastin Time). The aPTT test helps to determine the ability of a person to form blood clots appropriately. The aPTT test measures the number of seconds taken by a clot to form in a sample of blood after the addition of reagents. This test assesses the amount and function of clotting factors.
Hemostasis is the process which is initiated by the body when there is an injury to the body tissues or walls of blood vessels. In this process, the platelets combine at the site of injury and a simultaneous process of coagulation gets activated, leading to further activation of the coagulation factors. As a result of this process, the fibrin threads are formed which form a net and get attached to the site of injury. This helps in stabilizing the site of injury, further leading to the formation of a stable blood clot to seal off the injury to blood vessels. It also helps in the prevention of additional blood loss which allows the damaged areas to heal.
The PTT evaluates the coagulation factors XII, XI, IX, VIII, X, V, II (prothrombin), and I (fibrinogen) as well as prekallikrein (PK) and high molecular weight kininogen (HK). 
A PT test evaluates the VII, X, V, II, and I coagulation factors.
Interpreting Coagulation Profile results
---
Interpretations
Prothrombin time: 9.57 s - 11.80 s
Activated partial thromboplastin time: 23.57 s - 29.33 s
Reference range may vary from lab to lab*
| | | |
| --- | --- | --- |
| Results of PT | Results of PTT | Can be seen in the following conditions |
| Prolonged | Normal | Diseases of liver, Vitamin K deficiency, Defective factor VII, Chronic disseminated intravascular coagulation |
| Normal | Prolonged | Hemophilia A or B, Factor XI deficiency, Von Willebrand disease, Factor XII deficiency, Presence of lupus anticoagulant |
| Prolonged | Prolonged | Defective factor I, II, V or X, Severe liver disease, Acute disseminated  intravascular coagulation |
Answers to Patient Concerns & Frequently Asked Questions (FAQs) about Coagulation Profile
---
Frequently Asked Questions about Coagulation Profile
Q. Is there any preparation required before the test?
Inform the doctor about the medications you may be taking. No other specific preparations are usually required before this test.
Q. How is the blood sample taken?
The healthcare provider takes a blood sample from the arm. The site from where the blood is to be withdrawn is cleaned with a swab of rubbing alcohol. This is then followed by inserting a small needle which has a tube attached to it for collecting blood. Once the sufficient blood for analysis is withdrawn, the needle is removed. The site is then covered with a gauze pad.
Q. Is there any risk associated with the withdrawal of blood sample procedure?
As such there is no risk but in few cases, bruising, bleeding, and infection at the puncture site can be seen. In very few cases, there can be swelling of the vein after the blood is withdrawn.
Q. What other tests can be advised by the doctor in case of abnormal coagulation profile?
In case of abnormal coagulation profile, the doctor can advise platelet count, thrombin time, fibrinogen testing, coagulation factor tests, lupus anticoagulant testing, and test for von Willebrand factor.
Q. In what conditions can shortened PTT be seen?
Shortened PTT can be seen in case of disseminated intravascular coagulation, advanced stages of cancer, and acute phase reactions.
Q. What conditions can cause coagulation disorders?
Coagulation disorders could be due to conditions such as liver disease, thrombophilia, and hemophilia.
---
Activated Partial Thromboplastin Time
---
NABL
ISO
MolQ Laboratory is a diagnostic center in Gurgaon, India, catering to people in Delhi and NCR. MolQ offer diagnostics services like urine testing, hormone testing, vitamin tests, Pathology tests, etc. The fully furnished lab and experienced staffs excel in providing a comprehensive and timely diagnosis of any illness. They offer online reports and 24/7 service for the satisfaction of clients and aim to provide accurate diagnosis at affordable prices.
Know More