---
Product introduction
Gluconorm-V 0.3 Tablet SR belongs to a category of medicines known as anti-diabetic drugs. It is a combination of medicines used to treat type 2 diabetes mellitus in adults. It helps control blood sugar levels in people with diabetes.

Gluconorm-V 0.3 Tablet SR should be taken with food. Take it regularly at the same time each day to get the most benefit. Your doctor will decide what dose is best for you and this may change from time to time according to how it is working according to your blood sugar levels.

Keep taking this medicine, even if you feel well or your blood sugar levels are controlled. If you stop it without consulting your doctor, your blood sugar levels could rise and put you at risk of kidney damage, blindness, nerve problems and loss of limbs. Remember that it is only part of a treatment program that should also include a healthy diet, regular exercise, and weight reduction as advised by your doctor. Your lifestyle plays a big part in controlling diabetes.

This medicine may cause side effects like nausea, taste change, loss of appetite, flatulence, stomach pain, diarrhea, and skin rash. However, these are temporary and usually subside on their own. If these do not resolve or worry you, please consult your doctor. Your doctor might suggest ways of dealing with your side effects or treating them if they are bothersome.

You should not take it if you have type 1 diabetes mellitus, if you have diabetic ketoacidosis (high levels of acid in your blood), or if you have severe kidney or liver disease. Before taking this medicine, tell your doctor if you have ever had heart disease. It may not be suitable. Pregnant or breastfeeding women should also consult their doctor before taking it. Your blood sugar levels should be checked regularly and your doctor may also advise blood tests to monitor your blood cell counts and liver function.
---
Uses of Gluconorm-V Tablet SR
Benefits of Gluconorm-V Tablet SR
In Treatment of Type 2 diabetes mellitus
Gluconorm-V 0.3 Tablet SR is a medicine that helps to control high blood glucose (sugar) levels. It helps to slow down the breaking down of food in our intestine to simple glucose (sugar), thereby decreasing the rise in blood glucose levels after meals. It also helps get rid of extra glucose from your body through urine. Lowering blood glucose levels is an essential part of managing diabetes. If you can control the level, you will reduce the risk of getting any of the serious complications of diabetes such as kidney damage, eye damage, nerve problems and loss of limbs.
Gluconorm-V 0.3 Tablet SR will reduce the risk of dying from cardiovascular disease if you have type 2 diabetes and already have cardiovascular disease. Taking this medicine regularly along with proper diet and exercise will help you live a normal, healthy life. You should keep using it for as long as it is prescribed because it is protecting your future health.
---
Side effects of Gluconorm-V Tablet SR
Most side effects do not require any medical attention and disappear as your body adjusts to the medicine. Consult your doctor if they persist or if you're worried about them
Common side effects of Gluconorm-V
Flatulence
Diarrhea
Bloating
Abdominal pain
Vomiting
Decreased appetite
---
How to use Gluconorm-V Tablet SR
Take this medicine in the dose and duration as advised by your doctor. Swallow it as a whole. Do not chew, crush or break it. Gluconorm-V 0.3 Tablet SR is to be taken with food.
---
How Gluconorm-V Tablet SR works
Gluconorm-V 0.3 Tablet SR is a combination of two antidiabetic medicines: Metformin and voglibose. Metformin lowers the production and absorption of sugar in your body and allows better use of existing insulin. Voglibose inhibits the intestinal enzymes that cause breakdown of complex sugars into simple sugars such as glucose. This prevents blood glucose from rising very high after meals.
---
Safety advice
It is unsafe to consume alcohol with Gluconorm-V 0.3 Tablet SR.
Pregnancy
CONSULT YOUR DOCTOR
Gluconorm-V 0.3 Tablet SR may be unsafe to use during pregnancy. Although there are limited studies in humans, animal studies have shown harmful effects on the developing baby. Your doctor will weigh the benefits and any potential risks before prescribing it to you. Please consult your doctor.
Breast feeding
CONSULT YOUR DOCTOR
Gluconorm-V 0.3 Tablet SR is probably unsafe to use during breastfeeding. Limited human data suggests that the drug may pass into the breastmilk and harm the baby.
Gluconorm-V 0.3 Tablet SR does not usually affect your ability to drive.
However, patients should be alerted to the risk of hypoglycemia when it is used in combination with other antidiabetic agents such as sulfonylureas, insulin, and repaglinide.
Gluconorm-V 0.3 Tablet SR should be used with caution in patients with kidney disease. Dose adjustment of Gluconorm-V 0.3 Tablet SR may be needed. Please consult your doctor.
Use of Gluconorm-V 0.3 Tablet SR is, however, not recommended in patients with severe kidney disease. Regular monitoring of kidney function test is advisable while you are taking this medicine.
There is limited information available on the use of Gluconorm-V 0.3 Tablet SR in patients with liver disease. Please consult your doctor.
---
What if you forget to take Gluconorm-V Tablet SR?
If you miss a dose of Gluconorm-V 0.3 Tablet SR, take it as soon as possible. However, if it is almost time for your next dose, skip the missed dose and go back to your regular schedule. Do not double the dose.
---
All substitutes
For informational purposes only. Consult a doctor before taking any medicines.
Gluconorm-V 0.3 Tablet SR
₹15.2/Tablet SR
---
Quick tips
Take it with food to lower your chance of having an upset stomach.
It can cause hypoglycemia (low blood sugar level) when used with other antidiabetic medicines, alcohol or if you delay or miss a meal. 
Always carry some sugary food or fruit juice with you in case you experience hypoglycemia symptoms such as cold sweats, cool pale skin, tremor, and anxious feeling.
Monitor your blood sugar level regularly while taking this medicine.
Tell your doctor immediately if you experience any deep or rapid breathing, persistent nausea, vomiting or stomach pain as Gluconorm-V 0.3 Tablet SR may cause a rare but serious condition called lactic acidosis, which is an excess of lactic acid in the blood.
---
Fact Box
Therapeutic Class
ANTI DIABETIC
---
Patient concerns
I have type 2 diabetes since 2 years. Since 6 months, my sugar level remains between 130-150. I take doctor prescribed Gluconorm tablet twice a day. Is it enough?
Dr. Sanjay Bhatt
Physician
I think you should follow diabatic diet chart which will help you to your sugar level in normal limit with tab. gluconorm
Diabetes mellitus type 2 ,thirst
Dr. Sanjay Bhatt
Physician
A person can control his or her sugar levels by doing regular exercise and walk or regular aerobic exercises at least 30 to 45 minutes per day.MEDICAL NUTRITIONAL THERAPY THAT IS TO MAINTAIN CALORIES INTAKE AS PER BMI .TAKE HELP OF DIABETIC EDUCATOR. VISIT YOUR DOCTOR AND FOLLOW ALL WHAT DOCTOR SUGGESTED.IN TIME ALL ROUTINE INVESTIGATIONS SHOULD BE DONE.you should not treat it as disease but a start of a healthy life.Uncontrolled sugar levels for long time leads to lower limb weakness which is neuropathy and which is followed by foot ulcers and other complications like kidney or heart problems .online prescription is not allowed without seeing pt.so contact doctor nearby for any change or dose adjustment or visit my clinic at gurgaon sector 52 RdCity snergy multi speciality clinic near SRS MARKET
---
User feedback
Patients taking Gluconorm-V 0.3 Tablet SR
What are you using Gluconorm-V Tablet SR for?
*Type 2 diabetes mellitus
How much was the improvement?
What were the side-effects while using Gluconorm-V 0.3 Tablet SR?
*No Side Effect
How do you take Gluconorm-V Tablet SR?
Please rate Gluconorm-V 0.3 Tablet SR on price
---
Disclaimer:
Tata 1mg's sole intention is to ensure that its consumers get information that is expert-reviewed, accurate and trustworthy. However, the information contained herein should NOT be used as a substitute for the advice of a qualified physician. The information provided here is for informational purposes only. This may not cover everything about particular health conditions, lab tests, medicines, all possible side effects, drug interactions, warnings, alerts, etc. Please consult your doctor and discuss all your queries related to any disease or medicine. We intend to support, not replace, the doctor-patient relationship.
Manufacturer
Address:
Lupin Ltd, 3rd floor Kalpataru Inspire, Off. W E Highway, Santacruz (East), Mumbai 400 055. India
Country of origin: India

The list of available options shown with the same composition has been prepared upon the advice of registered medical practitioners, pharmacists affiliated with TATA 1MG. TATA 1MG does not promote any pharmaceutical product of any particular company, and all recommendations are based on the medical opinion, advisories from specialist medical and pharmaceutical professionals.
₹152
Inclusive of all taxes
10 tablet sr in 1 strip
Notify me
Available options
Available options
Same salt composition:
Metformin (500mg), Voglibose (0.3mg)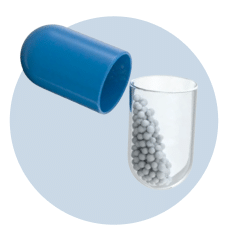 Same salt composition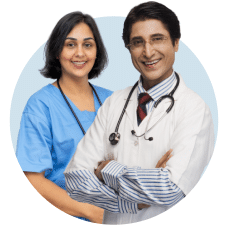 Verified by doctors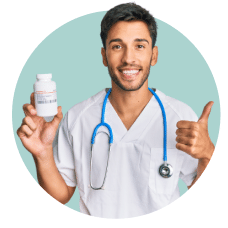 Popularly bought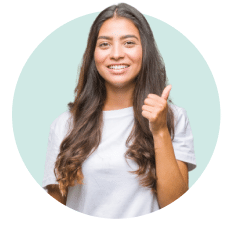 Trusted quality
Why buy these from 1mg?