FEBUCIP 40 MG TABLET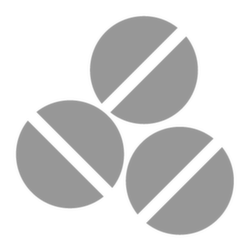 MRP: Rs.
78.50
for 1 strip(s) (10 tablets each)
Drug interaction for FEBUCIP
No relation with food but take it at a consistent time daily with respect to food.
No data available for interaction with alcohol
Weigh benefit versus risk during pregnancy. Consult your doctor.
UNSAFE
Unsafe during breast-feeding. Consult your doctor.
UNSAFE
SALT INFORMATION for FEBUCIP
Febuxostat(40 mg)
Uses
Febucip 40 mg tablet is used to treat painful joint condition (gout) and increased blood uric acid levels (hyperuricemia).
How it works
Febucip 40 mg tablet belongs to a class of medications called xanthine oxidase inhibitors. It works by decreasing the amount of uric acid in the body and thereby preventing gout attacks.
Common side effects
Liver enzyme increased, Acne-like rash, Joint pain, Chest pain, Dizziness, Shortness of breath, Nausea, Slow speech, Difficult speech, Weakness, Numbness of extremity
Expert advice for FEBUCIP
Do not start or continue the febuxostat tablets and consult your doctor, If you are pregnant, planning to become pregnant or breastfeeding.
To help prevent attacks, avoid beer, sugary drinks, and foods like red meat, seafood, turkey, asparagus, cauliflower, spinach, and mushrooms.
You may have an increase in gout symptom flares when you first start taking febuxostat. For best results, keep taking the medication as directed.
Frequently asked questions for FEBUCIPFebuxostat
Q. Is febuxostat better than allopurinol?
Both are beneficial in treatment of gout. Any drug can be superior as per indication or patient profile.
Q. Is febuxostat a steroid?
No. Febuxostat is not a steroid.
Q. Can I take colchicine with febuxostat?
Yes. colchicine can be taken with febuxostat.
Q. What is Febutaz 40 or feburic 40? Are they safe?
Febutaz 40 and feburic 40 contains febuxostat. If used for approved indication and in appropriate dose, febuxostat is generally safe. Please consult your doctor before taking the drug.
Q. Is febuxostat US FDA approved?
Yes. it is an US FDA approved drug.
Top Medicines Prescribed with FEBUCIP 40 MG TABLET
Articles