---
Product introduction
Atrop Eye Drop is used to treat myopia and inflammation in the eyes (uveitis or iritis). It is also used for the eye examination and diagnose eye problems like blurred vision or squint in children.

Always wash your hands before using Atrop Eye Drop. Use only the number of drops that your doctor has prescribed. If you wear soft contact lenses, remove them before using the drops and wait for at least 15 minutes before putting them back in. If you are also using another eye medicine, wait for at least 10 minutes before using it. Read the leaflet that comes with the medicine for a full guide on how to use the drops and get the most benefit. Do not touch the tip of the dropper or bottle. This may lead to infection. You should use this medicine regularly to get the most benefit and it is best done at the same time each day. If you want to stop using it, consult your doctor first.

The most common side effects are irritation or pain in the eye, watery or dry eyes, blurred vision, increased heart rate, and blood pressure. There are other, less common, side effects affecting other parts of the body, some of which may be serious. Read the leaflet that comes with the medicine and consult your doctor if you are bothered by any side effects. Pregnant or breastfeeding women should also consult their doctor before taking this medicine.
---
Uses of Atrop Eye Drop
Treatment of Myopia

Treatment of Uveitis
Benefits of Atrop Eye Drop
In Treatment of Myopia
Myopia or nearsightedness is an eye disorder in which you have difficulty seeing distant objects but can see objects that are near clearly. Atrop Eye Drop helps treat myopia by relaxing the muscles which enable the eyes to focus on distant objects. Use Atrop Eye Drop as prescribed by your doctor.

In Treatment of Uveitis
The middle layer in the inner wall of the eye is called the uvea and any inflammation in this layer is called uveitis. This may cause sudden noticeable symptoms such as pain, redness, blurred vision, swelling etc. It may even occur after an eye procedure of surgery such as cataract surgery. Atrop Eye Drop helps relieve these symptoms and improves eye health. It should be used as advised by the doctor to get the most benefit.
---
Side effects of Atrop Eye Drop
Most side effects do not require any medical attention and disappear as your body adjusts to the medicine. Consult your doctor if they persist or if you're worried about them
Common side effects of Atrop
Stinging sensation
High blood pressure
Serve side effects of Atrop
Dryness in mouth
Difficulty in urination
Constipation
Blurred vision
Dry skin
Slow heart rate
Photophobia
Dilatation of pupil
Loss of accommodation
Fever
Confusion
Eyelid swelling
Tachycardia
Reduced sweating
Heat intolerance
Skin rash
Dizziness
Skin flushing
Restlessness
Tremors
Fatigue
Eye pain
Stinging in the eyes
Superficial keratitis
Decreased lacrimation
Papillary conjunctivitis
Contact dermatitis
Local reaction
Hypotension (low blood pressure)
Respiratory depression
Hallucination
Abnormality of voluntary movements
Speech disorder
Hyperactivity
Seizure
---
How to use Atrop Eye Drop
This medicine is for external use only. Use it in the dose and duration as advised by your doctor. Check the label for directions before use. Hold the dropper close to the eye without touching it. Gently squeeze the dropper and place the medicine inside the lower eyelid. Wipe off the extra liquid.
---
How Atrop Eye Drop works
Atrop Eye Drop is an anticholinergic medication. It works by making the pupil of your eye larger and relaxes the muscles in your eye, allowing proper examination. It also helps reduce inflammation or swelling in the eye (uveitis or iritis). Using Atrop Eye Drop dilates the pupils and temporarily paralyzes the focusing muscle inside the eye. It also relaxes the eyes' focusing mechanisms. This treats myopia.
---
Safety advice
No interaction found/established
Pregnancy
CONSULT YOUR DOCTOR
Atrop Eye Drop may be unsafe to use during pregnancy. Although there are limited studies in humans, animal studies have shown harmful effects on the developing baby. Your doctor will weigh the benefits and any potential risks before prescribing it to you. Please consult your doctor.
Breast feeding
SAFE IF PRESCRIBED
Atrop Eye Drop is safe to use during breastfeeding. Human studies suggest that the drug does not pass into the breastmilk in a significant amount and is not harmful to the baby.
Milk secretion may decrease.
Atrop Eye Drop may decrease alertness, affect your vision or make you feel sleepy and dizzy. Do not drive if these symptoms occur.
No interaction found/established
No interaction found/established
---
What if you forget to take Atrop Eye Drop?
If you miss a dose of Atrop Eye Drop, take it as soon as possible. However, if it is almost time for your next dose, skip the missed dose and go back to your regular schedule. Do not double the dose.
---
All substitutes
For informational purposes only. Consult a doctor before taking any medicines.
Atrop Eye Drop
₹15.5/Eye Drop
---
Quick tips
Use it as suggested by the doctor.
It may cause blurred vision. Do not drive or do anything that requires mental focus until you know how this medicine affects you.
Generally, it is not advised to wear contact lenses but if you have to wear then wait for 15 minutes to reuse.
You may be asked for regular eye checkups before and during the treatment.
Stop using medication or inform your doctor if you notice eye irritation, redness, swelling of the eyelids, and sensitivity to bright light.

Inform your doctor if you are pregnant, planning pregnancy, or breastfeeding. 
---
Fact Box
Chemical Class
Natural Alkaloids
Action Class
Anticholinergics
---
Interaction with drugs
Taking Atrop with any of the following medicines can modify the effect of either of them and cause some undesirable side effects
---
Patient concerns
Uviitis due to herpes 30days ago
Dr. Richa Jain
Ophthalmology
Uveitis takes time to cure. Treatment is long
Iam a myopia affected for high degree what about atropine eyedrops use myopia
Dr. Richa Jain
Ophthalmology
Atropine drops in lower concentration are claimed to slow down progression of myopia in children. We are not routinely using in adults
---
User feedback
Patients taking Atrop Eye Drop
What are you using Atrop Eye Drop for?
How much was the improvement?
---
FAQs
Q. In what condition Atrop Eye Drop should not be used?
Atrop Eye Drop should not be used if you have or suspect you have glaucoma (high pressure in the eye) since it can increase the pressure in the eye or if you are having any eye infection.
Q. Does Atrop Eye Drop cause blurred vision?
When you instill the eye drops for the first time, it can make your eyes watery and may sometimes cause blurred vision. If this happens, it will quickly clear. Make sure you can see clearly again before you drive, or use tools or machines.
Q. When should I seek a doctor's advice?
You should contact your doctor immediately if you develop an eye infection, conjunctivitis, or an eyelid reaction. Also, you should inform the doctor if you have an eye injury or eye surgery. Discuss with your doctor if you have to continue using Atrop Eye Drop.
Q. Can I use Atrop Eye Drop if I wear contact lenses?
If you usually wear contact lenses, do not wear them while you're using Atrop Eye Drop. You can re-insert the lens 15 minutes after using Atrop Eye Drop. Contact your doctor if there is any eye irritation that persists.
Q. Can I use any other eye drop along with Atrop Eye Drop?
Always consult your doctor before using any other eye drops along with Atrop Eye Drop. It is advisable to give a gap of atleast 10-15 minutes between the two medications.
Q. What is the usual dose of Atrop Eye Drop?
The usual dose of this medicine is one to two drops daily. Consult your doctor in case of any doubts.
Q. What is the most important thing to keep in mind while using Atrop Eye Drop?
While using this medicine, if you develop any irritation, pain, swelling, excessive tear production or light-sensitivity in the eyes, remember to flush the treated eye(s) with lots of water (room temperature) for at least 15 minutes. Stop using the eye drops and contact your doctor immediately.
Disclaimer:
Tata 1mg's sole intention is to ensure that its consumers get information that is expert-reviewed, accurate and trustworthy. However, the information contained herein should NOT be used as a substitute for the advice of a qualified physician. The information provided here is for informational purposes only. This may not cover everything about particular health conditions, lab tests, medicines, all possible side effects, drug interactions, warnings, alerts, etc. Please consult your doctor and discuss all your queries related to any disease or medicine. We intend to support, not replace, the doctor-patient relationship.
References
Brown JH, Laiken N. Muscarinic Receptor Agonists and Antagonists. In: Brunton LL, Chabner BA, Knollmann BC, editors. Goodman & Gilman's: The Pharmacological Basis of Therapeutics. 12th ed. New York, New York: McGraw-Hill Medical; 2011. pp. 225-30.

Atropine. Romford, Essex: Martindale Pharma; 1997 [6 Oct. 2016]. [Accessed 28 Mar. 2019] (online) Available from:

Drugs.com. Atropine. [Accessed 28 Mar. 2019] (online) Available from:
Manufacturer/Marketer address
No: 1 , Sivagangai Main Road, Veerapanjan, Madurai - 625 020, Tamil Nadu, India.
Country of origin: India

The list of available options shown with the same composition has been prepared upon the advice of registered medical practitioners, pharmacists affiliated with TATA 1MG. TATA 1MG does not promote any pharmaceutical product of any particular company, and all recommendations are based on the medical opinion, advisories from specialist medical and pharmaceutical professionals.
MRP
₹15.5
Inclusive of all taxes
5 ml in 1 bottle
Notify me
Available options
Available options
Same salt composition:
Atropine (1% w/v)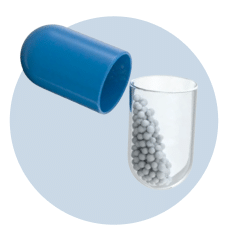 Same salt composition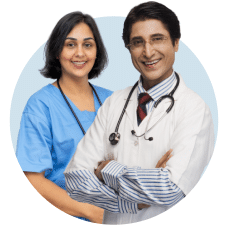 Verified by doctors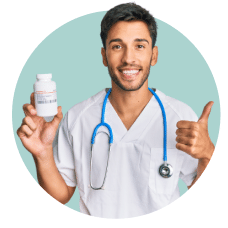 Popularly bought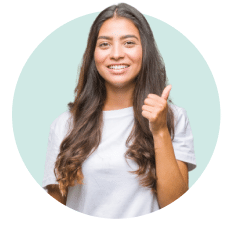 Trusted quality
Why buy these from 1mg?