Anti Phospholipid Antibody IgM
(APLA IgM, aPL IgM)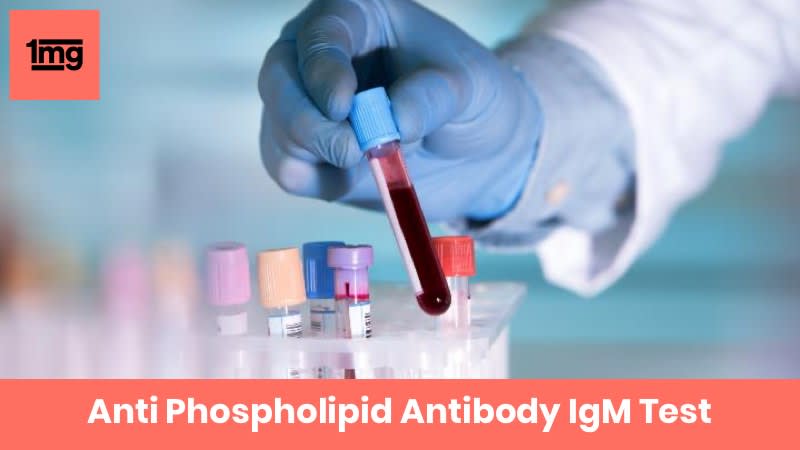 This test is for
Male, Female
Test Preparation
No special preparation required
Overview
---
What is APLA IgM, aPL IgM?
The Antiphospholipid antibody IgM test is also known as APLA IgM or aPL IgM test. This test is advised to investigate the presence of blood clots or an unexpectedly prolonged partial thromboplastin time (PTT). 
Why is APLA IgM, aPL IgM done?
The Antiphospholipid antibody IgM test is done:
In case of unexplained prolonged PTT test 

In case of recurrent unexplained blood clots

In case of recurrent miscarriages especially in second and third trimesters

As a part of evaluation for antiphospholipid syndrome

To help diagnose or evaluate an autoimmune disorder
What does APLA IgM, aPL IgM Measure?
The antiphospholipid antibody IgM test detects the antibodies that bind to phospholipids in the blood. The antiphospholipid antibodies are a group of immune proteins that are produced by the body mistakenly against itself in an autoimmune response to phospholipids. 
Phospholipids are known as structural components of cell membranes. They play an important role in blood clotting. In addition to various coagulation factors, phospholipids are important for the functioning of platelets. 
The antiphospholipid antibodies interfere with the process of clotting and thus posing an affected person to an increased risk of developing recurrent inappropriate blood clots in arteries and veins. This can lead to strokes, heart attacks, or miscarriages. 
The antiphospholipid antibodies are also associated with thrombocytopenia (low platelet counts). Along with that, these antibodies can pose a risk to recurrent miscarriages, especially in the second and third trimester, premature labor, and pre-eclampsia (a complication of pregnancy characterized by high blood pressure). 
The antiphospholipid antibodies have been identified in autoimmune disorders such as lupus, rheumatoid arthritis, and systemic sclerosis. They can also be present in infections like HIV, mononucleosis, and rubella; cancers such as solid tumors, leukemias, lymphomas. The use of certain drugs like procainamide, phenothiazines, and oral contraceptives can also develop antiphospholipid antibodies.
Answers to Patient Concerns & Frequently Asked Questions (FAQs) about APLA IgM, aPL IgM
---
Frequently Asked Questions about Anti Phospholipid Antibody IgM
Q. What is antiphospholipid syndrome?
Antiphospholipid syndrome (APS) is also known as Hughes syndrome. The group of signs and symptoms include formation of blood clots, miscarriages, deficiency of platelets (thrombocytopenia), and the presence of antiphospholipid antibodies. APS can be primary or secondary. Primary APS has no underlying autoimmune disorder while secondary APS exists with a diagnosed autoimmune disorder.
Q. How is the blood sample taken?
The healthcare provider takes a blood sample from the arm. The site from where the blood is to be withdrawn is cleaned with a swab of rubbing alcohol. This is then followed by inserting a small needle which has a tube attached to it for collecting blood. Once the sufficient blood for analysis is withdrawn, the needle is removed. The site is then covered with a gauze pad.
Q. Is there any risk associated with the withdrawal of blood sample procedure?
As such there is no risk but in few cases, bruising, bleeding, and infection at the puncture site can be seen. In very few cases, there can be swelling of the vein after the blood is withdrawn.