Good Health Gold Package with Smart Report
Overview of Good Health Gold Package with Smart Report
How Good Health Gold Package with Smart Report helps you?
Full body checkups help to evaluate the major organs & organ systems of your body and give clues to potential disorders and deficiencies at an early stage. The Good Health Gold Package provides you with a broad range of health tests that check your liver & kidney function, blood sugar, thyroid status, lipid profile, urine, blood counts and more. Overall, the package includes all the goodness of Good Health Silver Package with the addition of HbA1c, thyroid profile total and kidney function test. This package – a part of our 'economical range' of diagnostic tests – can be ordered once every 6 to 12 months or as recommended by your doctor.
Precautions
Overnight Fasting (8-12 hrs). Do not eat or drink anything except water before the test.Urine sample must preferably be the midstream urine (part of urine that comes after first and before the last stream). Collect the urine sample in a sealed and sterile container provided by our sample collection professional. Make sure that the container doesn't come in contact with your skin. Please be informed that urine sample is a part of this package; you are required to submit all the samples that are a part of the package during the sample collection itself. Women are advised not to give the sample during the menstrual period unless prescribed.
Package Tests Included in Good Health Gold Package with Smart Report
(63 tests)
CBC (Complete Blood Count)

(includes 21 tests)

Absolute Lymphocyte Count

Absolute Neutrophil Count

Differential leukocyte Count (includes 5 tests)

Red Blood Cell Count

Hb (Hemoglobin)

Platelet Count

Total Leukocyte Count

Absolute Basophil Count

Absolute Monocyte Count

Absolute Eosinophil Count

Hematocrit

Mean Corpuscular Volume

Mean Corpuscular Hemoglobin

Mean Corpuscular Hemoglobin Concentration

Mean Platelet Volume

PDW

RDW CV

FBS (Fasting Blood Sugar)

Lipid Profile

(includes 8 tests)

Cholesterol - LDL

Triglycerides

Cholesterol - Total

Cholesterol - HDL

Very Low Density Lipoprotein

Total Cholesterol/HDL Cholesterol Ratio

LDL/HDL Ratio

Non HDL Cholesterol

Urine R/M (Urine Routine & Microscopy)

(includes 12 tests)

Urobilinogen

Ketone

Nitrite

Colour

Appearance

Specific Gravity

Epithelial Cell

Casts

Crystals

Protein Urine

Ph for Urine

Urine Glucose

LFT (Liver Function Test)

(includes 11 tests)

Bilirubin Indirect

Bilirubin Direct

Gamma Glutamyl Transferase

Bilirubin Total

SGPT

Alkaline Phosphatase (ALP)

SGOT

Protein Total, Serum (includes 4 tests)

Thyroid Profile Total (T3, T4 & TSH)

(includes 3 tests)

Thyroxine - Total

Triiodothyronine Total

TSH (Thyroid Stimulating Hormone) Ultrasensitive

KFT with Electrolytes (Kidney Function Test with Electrolytes)

(includes 6 tests)

Serum Creatinine

Potassium

Uric Acid

Chloride

Sodium

Blood Urea Nitrogen (BUN)
Test conducted by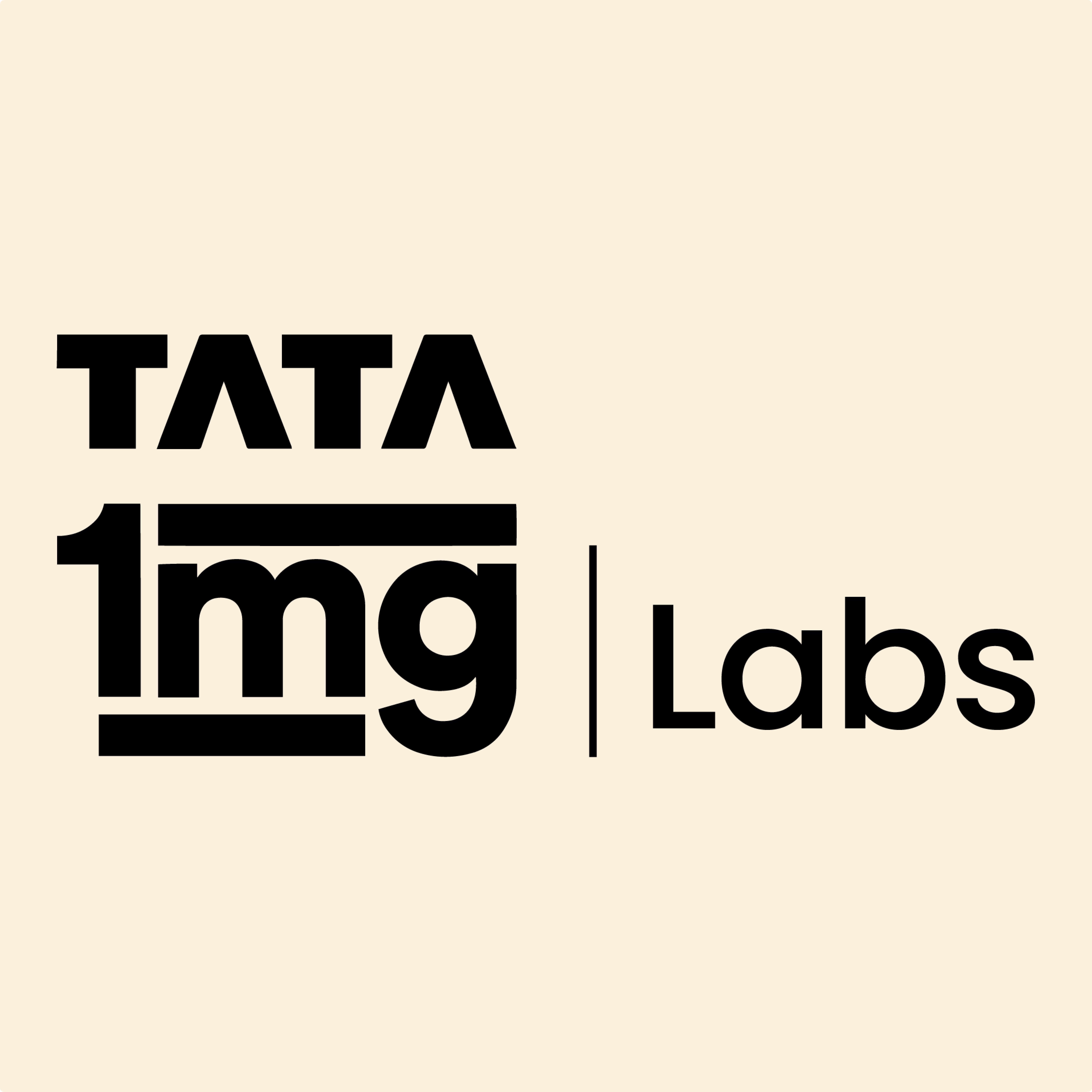 Tata 1mg Labs (Tata 1mg Technologies Private Limited )
ISO certified
Know more