MYCEPT-S 360 MG TABLET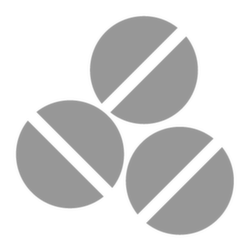 MRP: Rs.
907.50
for 1 strip(s) (10 tablets each)
Drug interaction for MYCEPT-S
No relation with food but take it at a consistent time daily with respect to food.
No data available for interaction with alcohol
Weigh benefit versus risk during pregnancy. Consult your doctor.
UNSAFE
Unknown. Consult your doctor.
SALT INFORMATION for MYCEPT-S
Mycophenolate Mofetil(360 mg)
Uses
Mycept-s 360 mg tablet, in combination with other drugs is used to prevent the body from rejecting transplanted organs such as the heart, kidney, or liver.
How it works
Mycept-s 360 mg tablet belongs to a group of medicines called as immunosuppressant. It acts by inhibiting DNA synthesis in immune cells thus preventing the immune system from attacking the new organ or tissue and helps in avoiding organ transplant rejection.
Common side effects
Nausea, Pneumonia, Abdominal pain, Abnormal blood cell count, Agitation, Anemia, Confusion, Increased blood pressure, Decreased blood pressure, Depression, Diarrhoea, Viral infection, Fungal infection, Gastritis, Increased cholesterol level in blood, Respiratory tract infection, Skin cancer, Skin infection, Urinary tract infection, Vomiting
Expert advice for MYCEPT-S
Do not take the medicine if you are allergic to it or to any other content in the medicine.

Avoid using mycophenolate mofetil if you are pregnant or planning to become pregnant or breast-feeding.

Take special precautions while taking mycophenolate mofetil if you have signs of infection (fever or sore throat), bleeding or bruising problems, or problems with the digestive system (ulcers).

Use an effective method of contraception before, during, and 6 weeks after taking this drug.

Exercise caution when stepping out in the sun while taking the medicine. Wear protective clothing and use sunscreen lotion to protect yourself from skin cancer.
Frequently asked questions for MYCEPT-SMycophenolate Mofetil
Q. Is mycophenolate mofetil safe in pregnancy?
Mycophenolate mofetil may cause harm to the fetus and has potential to cause miscarriage. Hence, it is not advisable to take it during pregnancy without consulting your doctor.
Q. Is mycophenolate mofetil a steroid drug?
No. Mycophenolate mofetil is not a steroid drug.
Q. Is mycophenolate mofetil safe?
Mycophenolate mofetil is relatively safe if used as recommended. In case of any side-effects, consult your doctor.
Q. Can it be used during breast feeding?
No, mycophenolate mofetil should not be used during breast feeding an infant. Please consult your doctor before taking the medicine.
Q. Is mycophenolate mofetil cytotoxic?
Yes. Mycophenolate mofetil may cause death of immune cells and it also causes certain types of skin cancers. Patients should follow the advice of the doctor regarding its use.
Top Medicines Prescribed with MYCEPT-S 360 MG TABLET
Articles