---
Product introduction
Gcolate 2mg Tablet is a prescription medicine used alone or in combination with other medicines to treat peptic ulcers. It has anti-secretory effect, so helps to reduce excessive salivation and sweating. It is even used before operations to reduce body secretions.

Gcolate 2mg Tablet is taken with or without food in a dose and duration as advised by the doctor. You should keep taking this medicine for as long as your doctor recommends. If you stop treatment too early your symptoms may come back and your condition may worsen. Let your doctor know about all other medications you are taking as some may affect, or be affected by this medicine.

Most common side effects of this medicine are dry mouth, vomiting, flushing, and nasal congestion. It may cause constipation, so eat adequate fiber and drink plenty of water. Dizziness and blurred vision may occur as a side effect. It is better to avoid driving and other things which require mental focus.
---
Benefits of Gcolate Tablet
In General Anaesthesia
Gcolate 2mg Tablet is used before and during surgery to reduce secretions of the mouth, throat, or stomach, such as saliva, stomach acid, or to prevent problems related to heart rhythm during anesthesia, intubation, or surgery. It also helps decrease the unwanted effects that may be caused by certain medicines like, neostigmine, pyridostigmine, etc.
In Peptic ulcer disease
Peptic ulcer disease is a condition in which painful sores or ulcers develop in the inner lining of the stomach or gut (intestine). Gcolate 2mg Tablet reduces the amount of acid your stomach makes which prevents further damage to the ulcer as it heals naturally. You may be given other medicines along with this medicine depending on what caused the ulcer.
---
Side effects of Gcolate Tablet
Most side effects do not require any medical attention and disappear as your body adjusts to the medicine. Consult your doctor if they persist or if you're worried about them
Common side effects of Gcolate
Dryness in mouth
Nasal congestion (stuffy nose)
Flushing (sense of warmth in the face, ears, neck and trunk)
Vomiting
Dizziness
Constipation
Blurred vision
---
How to use Gcolate Tablet
Take this medicine in the dose and duration as advised by your doctor. Swallow it as a whole. Do not chew, crush or break it. Gcolate 2mg Tablet may be taken with or without food, but it is better to take it at a fixed time.
---
How Gcolate Tablet works
Glycopyrrolate is in a class of medications called anticholinergics. It decreases stomach acid and saliva production by blocking the activity of acetylcholine, a chemical messenger in the body responsible for acid and saliva production.
---
Safety advice
Alcohol
CONSULT YOUR DOCTOR
It is not known whether it is safe to consume alcohol with Gcolate 2mg Tablet. Please consult your doctor.
Pregnancy
SAFE IF PRESCRIBED
Gcolate 2mg Tablet is generally considered safe to use during pregnancy. Animal studies have shown low or no adverse effects to the developing baby; however, there are limited human studies.
Breast feeding
SAFE IF PRESCRIBED
Gcolate 2mg Tablet is probably safe to use during breastfeeding. Limited human data suggests that the drug does not represent any significant risk to the baby.
Long-term use of Gcolate 2mg Tablet might reduce milk production.
Gcolate 2mg Tablet may cause side effects which could affect your ability to drive.
Gcolate 2mg Tablet may affect vision and coordination. This may affect your driving ability.
Gcolate 2mg Tablet should be used with caution in patients with kidney disease. Dose adjustment of Gcolate 2mg Tablet may be needed. Please consult your doctor.
There is limited information available on the use of Gcolate 2mg Tablet in patients with liver disease. Please consult your doctor.
---
All substitutes
For informational purposes only. Consult a doctor before taking any medicines.
Gcolate 2mg Tablet
₹11.7/Tablet
---
Fact Box
Chemical Class
Synthetic Quaternary Ammonium
Therapeutic Class
GASTRO INTESTINAL
Action Class
Anticholinergic - Anaesthesia
---
Patient concerns
I am suffering from stomach problems from last 2 months regularly.This is my ultrasound report.Please explain this report in simple words.
Dr. Pushkar Mani
Physician
U having fatty liverAnd probably peptic ulcer
Gastric problems and peptic ulcer
Dr. Sunil Sekhri
Diabetology
please mention your symptoms and not the diagnosis
---
User feedback
Patients taking Gcolate 2mg Tablet
---
FAQs
Q. Is Gcolate 2mg Tablet used for excessive sweating?
Yes, Gcolate 2mg Tablet can be used to treat cases of excessive sweating. It decreases sweating and keeps the patient dry. However, you should not start taking this medication without knowing the cause of your sweating. Therefore, consult your doctor to know the cause of excessive sweating before starting this medication.
Q. When should I take Gcolate 2mg Tablet?
The Gcolate 2mg Tablet tablet is usually taken 2 or 3 times a day depending on the condition it has been prescribed for. The medicine should be swallowed with a glass of water on an empty stomach at least 1 hour before or 2 hours after a meal with a glass of water. Follow the instructions given by your prescribing physician and take the medicine exactly as directed.
Q. How long does it take for Gcolate 2mg Tablet to start working?
The action and effect of this medicine varies from patient to patient. The onset of action depends on how fast the medicine gets absorbed from the stomach and reaches the bloodstream. This varies in different age groups. Usually it takes a few hours to show its effect, but exact duration is highly variable.
Q. Can Gcolate 2mg Tablet be safely given in elderly patients?
Gcolate 2mg Tablet should be used with caution in patients of old age, specifically elderly males. They should be screened for liver disease, kidney disease, heart disease, prostate or urinary problems. The dose of the medicine is accordingly adjusted and prescribed.
Disclaimer:
Tata 1mg's sole intention is to ensure that its consumers get information that is expert-reviewed, accurate and trustworthy. However, the information contained herein should NOT be used as a substitute for the advice of a qualified physician. The information provided here is for informational purposes only. This may not cover everything about particular health conditions, lab tests, medicines, all possible side effects, drug interactions, warnings, alerts, etc. Please consult your doctor and discuss all your queries related to any disease or medicine. We intend to support, not replace, the doctor-patient relationship.
References
Glycopyrronium Bromide. Burnopfield, County Durham: Colonis Pharma Ltd.; 2016 [revised 14 Jan. 2019]. [Accessed 28 Mar. 2019] (online) Available from:

Drugs.com. Glycopyrrolate Pregnancy and Breastfeeding Warnings. [Accessed 28 Mar. 2019] (online) Available from:

Drugs and Lactation Database (LactMed) [Internet]. Bethesda (MD): National Library of Medicine (US); 2006. Glycopyrrolate. [Updated 2018 Dec 3]. [Accessed 20 Feb. 2020] (online) Available from:
Manufacturer/Marketer address
Icon Life Sciences, Div. Of Mesmer Pharmaceuticals, No.202/6, Lane In.30, Phase-II, IDA, Cherlapally, Hyderabad, 500 051 AP
Country of origin: India

The list of available options shown with the same composition has been prepared upon the advice of registered medical practitioners, pharmacists affiliated with TATA 1MG. TATA 1MG does not promote any pharmaceutical product of any particular company, and all recommendations are based on the medical opinion, advisories from specialist medical and pharmaceutical professionals.
₹117
Inclusive of all taxes
10 tablets in 1 strip
Notify me
Available options
Available option
Same salt composition:
Glycopyrrolate (2mg)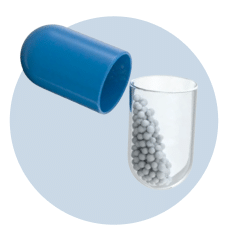 Same salt composition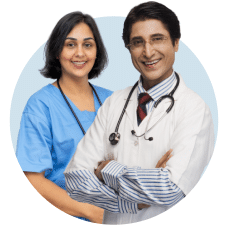 Verified by doctors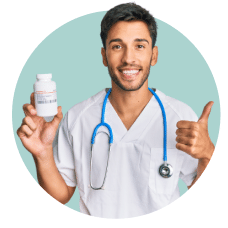 Popularly bought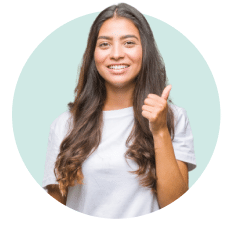 Trusted quality
Why buy these from 1mg?