C- Reactive Protein Quantitative
(CRP)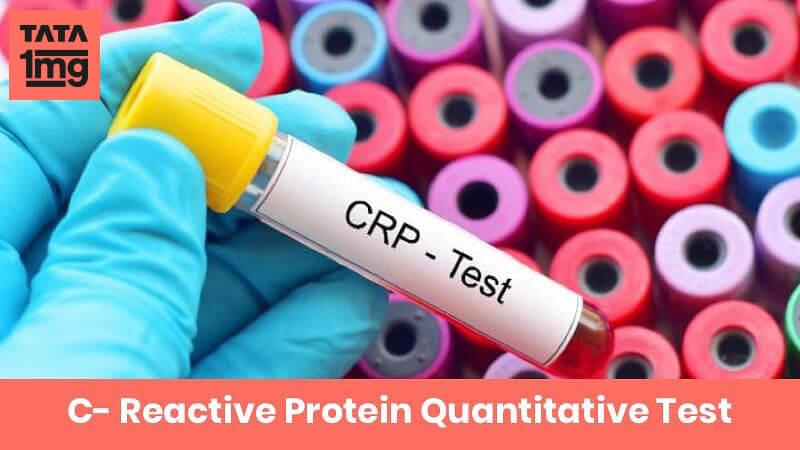 This test is for
Male, Female
Test Preparation
No special preparation required
Overview
---
What is CRP?
C-reactive Protein (CRP) is a protein secreted by the liver in response to inflammation caused by injury, infection, or otherwise. The C-reactive protein (Quantitative) test measures the levels of C-reactive protein in blood to determine the presence of inflammation or infection and to monitor treatment.
Why is CRP done?
The C-reactive Protein Test is done:
·         To help detect the presence of an acute bacterial infection
·         To help detect autoimmune diseases
·         To monitor treatment for infection, inflammation, autoimmune diseases, and cancer
What does CRP Measure?
CRP Test measures the levels of CRP in blood to detect the presence of an inflammation or to monitor the treatment and progress of an inflammatory condition. C-reactive Protein or CRP is an acute phase reactant protein which is produced and secreted by the liver in response to an inflammation in the body, which may be caused by tissue injury, infection, or autoimmune diseases. CRP levels increase in patients with trauma, heart attack, autoimmune diseases, bacterial infections, sepsis, post surgery, cancer, etc. CRP levels are often increased before the onset of other symptoms of inflammation such as pain, fever, etc. CRP levels in blood fall as the inflammation subsides.
It is a non-specific test. It can neither diagnose a condition by itself nor can it determine the location of a particular inflammation or disease. Other tests along with physical examination are performed to diagnose a particular condition and determine the location.
A variant of the CRP test is the High Sensitivity C-reactive Protein Test (hs-CRP) which is more sensitive for CRP levels and can detect blood CRP levels at a lower concentration than the standard CRP Test. The hs-CRP Test is performed usually to determine the risk of development of cardiovascular diseases in otherwise healthy individuals.
Interpreting CRP results
---
Interpretations
Normal CRP level: Below 10 mg/L
Higher CRP levels than the normal range indicate the presence of an inflammation which may be caused by an infection, trauma, autoimmune diseases, cancers, etc.
The CRP Test is used to detect the presence of an inflammatory condition. Other tests and physical examinations are performed to diagnose a particular condition.
CRP levels are monitored at regular intervals to determine flare-ups in a chronic inflammatory condition, as well as to monitor response to treatment.
Answers to Patient Concerns & Frequently Asked Questions (FAQs) about CRP
---
Frequently Asked Questions about C- Reactive Protein Quantitative
Q. How is this test performed?
This test is performed on a blood sample. A syringe with a fine needle is used to withdraw blood from a blood vessel in your arm. The healthcare provider will tie an elastic band around your arm to make the blood vessels swell with blood. This makes it easier to withdraw blood. You may be asked to tightly clench your fist. Once the veins are clearly visible, the area is cleaned with an antiseptic solution and then the needle is inserted into the blood vessel to collect the sample. You will feel a tiny pinprick during the procedure. Blood sample once collected will then be sent to the laboratory.
Q. Is there any risk associated with this test?
There is no risk associated with the test. However, since this test involves a needle prick to withdraw the blood sample, in very rare cases, a patient may experience increased bleeding, hematoma formation (blood collection under the skin), bruising or infection at the site of needle prick.
Q. Is there any preparation required before the test?
Inform the doctor about the medications you may be taking. No other specific preparations are usually required before this test.
Q. What factors can affect the CRP levels in blood?
Blood CRP levels can be affected by: certain medications like birth control pills, Non-steroidal Anti-inflammatory Drugs (NSAIDs), obesity, Diabetes, smoking, heavy exercise and pregnancy.
Q. Which are the diseases associated with high CRP levels?
Conditions that are associated with high blood CRP levels include Osteomyelitis or bone infection, autoimmune arthritis (Rheumatoid), other autoimmune diseases like Lupus, connective tissue disease, etc., inflammatory bowel disease, tuberculosis, cancers like Lymphoma and infections (e.g. pneumonia).
Q. What is the difference between CRP and highly sensitive CRP (hsCRP)?
Both tests measure the same protein in the blood. The hsCRP is performed on healthy people to determine their risk for cardiovascular disease.
Q. What additional tests can be prescribed by the doctor in case the result of CRP test is not normal?
Additional tests that may be prescribed in case of abnormal CRP test result are: Erythrocyte Sedimentation Rate (ESR) Test, Rheumatoid Factor (RF) Test, Anti-cyclic Citrullinated Peptide Antibody (anti-CCP Antibody) Test.
---
CAP
At Metropolis, the best pathology lab in India what we believe is what we say and what we say is what we do. Being empathetic to our customers and being committed to their needs is in our DNA. Metropolis has grown to harness a culture that is open, synergistic, progressive and scientific in nature. We are the Pathology Specialists delivering over 30 million tests a year, catering to more than 20,000 medical Laboratories, Hospitals, Nursing homes and 2,00,000 Consultants. With 37 years of...
Know More