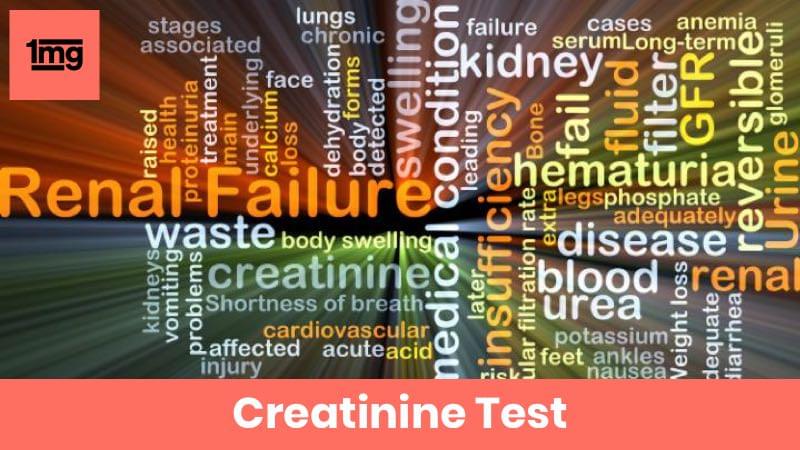 This test is for
Male, Female
Test Preparation
No special preparation required
Overview
---
What is Creatinine?
Creatinine test measures the amount of creatinine in the blood. It is also known as blood creatinine or serum creatinine test. Creatinine is a waste product which is produced by muscles as a result of the breakdown of the compound known as creatine.
Why is Creatinine done?
To evaluate the normal functioning of kidneys

To diagnose kidney diseases

To monitor treatment for kidney diseases

As a part of the metabolic panel
What does Creatinine Measure?
Creatinine is a waste product which is produced by the muscles due to the breakdown of a compound called Creatine. During the cycle of energy production which is required to contract muscles, creatine is produced. Kidneys remove creatinine from the body by filtering it from the blood and then releasing it into the urine. This test measures the amount of creatinine in the blood.
The body produces creatine and creatinine at a relatively same rate. Since kidneys filter most of the creatinine from the blood and release it into the urine, the blood levels can be used as an indicator to know how well the kidneys are functioning. The amount of creatinine produced depends upon the size of the person as well as their muscle mass. That is why levels of creatinine are higher in men as compared to women and children.
Interpreting Creatinine results
---
Interpretations
| | |
| --- | --- |
|                     Adult  |                  Range |
|                     Males |          0.6 - 1.2 mg/dL |
|                     Females                      |          0.5 - 1.1 mg/dL |
Answers to Patient Concerns & Frequently Asked Questions (FAQs) about Creatinine
---
Frequently Asked Questions about Creatinine
Q. How is this test performed?
This test is performed on a blood sample. A syringe with a fine needle is used to withdraw blood from a blood vessel in your arm. The healthcare provider will tie an elastic band around your arm to make the blood vessels swell with blood. This makes it easier to withdraw blood. You may be asked to tightly clench your fist. Once the veins are clearly visible, the area is cleaned with an antiseptic solution and then the needle is inserted into the blood vessel to collect the sample. You will feel a tiny pinprick during the procedure. Blood sample once collected will then be sent to the laboratory.
Q. Is there any risk associated with this test?
There is no risk associated with the test. However, since this test involves a needle prick to withdraw the blood sample, in very rare cases, a patient may experience increased bleeding, hematoma formation (blood collection under the skin), bruising or infection at the site of needle prick.
Q. Is there any special preparation required for the creatinine test?
Yes, overnight fasting is required. Also, it is advised not to eat meat, as it can temporarily increase the levels of creatinine. If you are on any medication or if you have any allergies or if you are suffering from any underlying medical conditions, you should inform your doctor.
Q. Is there any effect of exercise on creatinine levels?
No, the creatinine levels are not affected by moderate exercise. However, the levels may increase if the muscle mass is increased.
Q. What are the conditions in which high levels of creatinine are seen?
High levels of creatinine are seen in cases of kidney infections, damage to blood vessels of the kidneys, swelling of blood vessels of the kidneys, and death of cells in small tubes of kidneys. These increased levels can also be the result of prostate disease, kidney disease, obstruction in the urinary tract, reduced blood flow to the kidneys, and muscle injury. Moreover, some medicines can also cause levels of creatinine to rise.
Q. What are the conditions in which low levels of creatinine are seen?
Low levels of creatinine can be seen in cases of pregnancy.
---
NABL

ISO
Today Pathological investigations play a major role in medical science and patient treatment. One Diagnostics started operations in 2016 with our first centre of excellence being inaugurated at Kolkata. Operating out of a state of the art facility, we aim at providing the best in class reports using barcoded and fully automated systems and offer one of the fastest turn around time. To maintain best in industry quality standards, the laboratory currently participates in EQAS (External Quality...
Know More