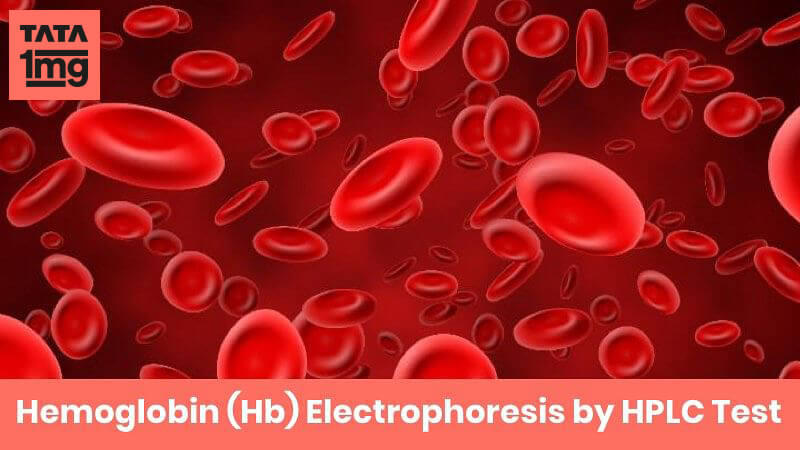 This test is for
Male, Female
Test Preparation
No special preparation required
Overview
---
What is Hemoglobin HPLC?
Hemoglobin (Hb) electrophoresis is used to identify the different types of hemoglobin present in the blood. This includes hemoglobin A1 (HbA1),and  hemoglobin A2 (HbA2), It also detects abnormal hemoglobins which may abrupt the oxygen flow.  This test is used as the first step in the screening test.
Blood transfusion may temporarily obscure or dilute abnormal hemoglobin. If there is a clinical history of blood transfusion, a repeat testing after three months from the last date of transfusion is recommended.


Why is Hemoglobin HPLC done?
As a part of a routine checkup

To diagnose blood disorders

To monitor the treatment in patients having abnormal hemoglobin

As a screening test for genetic conditions
What does Hemoglobin HPLC Measure?
Hemoglobin (Hb) Electrophoresis by HPLC test measures and identifies different types of hemoglobin in the blood. A human body contains various types of hemoglobin in their blood. With age, the percentage of hemoglobin present in the body changes. Hemoglobin is the protein which is present inside the red blood cells. Its function is to transport oxygen to the tissues and organs of the body.
When there is a change in DNA sequence commonly called a mutation, the production of hemoglobin gets affected. These type of changes cause abnormality in hemoglobin and the normal working of healthy hemoglobin gets defected. This will result in a decreased amount of required oxygen transported to tissues and organs. 
The different types of hemoglobin included in this test are:
Hemoglobin A - Adult hemoglobin 

Hemoglobin F
Hemoglobin F is found in growing fetuses and newborns. It is soon replaced with hemoglobin A after birth. Hemoglobin A is found in children and adults. It is the most common type of hemoglobin. Hemoglobin C, D, E, M, and S are rare types of abnormal hemoglobin that occur due to genetic mutations.
Interpreting Hemoglobin HPLC results
---
Interpretations
In children 
| | |
| --- | --- |
| Age | Hemoglobin F |
| Newborn | 60 to 80% |
| 1+ Year | 1 to 2% |
In adults
Normal levels
| | |
| --- | --- |
| Type of Hemoglobin | Percentage |
| Hemoglobin A | 95% - 98% |
| Hemoglobin A2 | 2% - 3% |
| Hemoglobin F | 1% - 2% |
| | |
 All the results should be carefully analyzed and interpreted in correlation with the patient's signs and symptoms and other laboratory findings. 
Increased levels of fetal hemoglobin (HbF) on HPLC is associated with beta-thalassemia major. Sometimes, it can also be seen in sickle cell anemia 


High HbA2 levels are mostly associated with beta thalassemia minor or trait. Recent studies say that HbA2 level between 4% and 9% indicates beta thalassemia trait 
Answers to Patient Concerns & Frequently Asked Questions (FAQs) about Hemoglobin HPLC
---
Frequently Asked Questions about Hemoglobin HPLC
Q. Is there any preparation required before the test?
Inform the doctor about the medications you may be taking. No other specific preparations are usually required before this test.
Q. How is the blood sample taken?
The healthcare provider takes a blood sample from the arm. The site from where the blood is to be withdrawn is cleaned with a swab of rubbing alcohol. This is then followed by inserting a small needle which has a tube attached to it for collecting blood. Once the sufficient blood for analysis is withdrawn, the needle is removed. The site is then covered with a gauze pad.
Q. Is there any risk associated with the withdrawal of blood sample procedure?
As such there is no risk but in few cases, bruising, bleeding, and infection at the puncture site can be seen. In very few cases, there can be swelling of the vein after the blood is withdrawn.
Q. How is Hemoglobin (Hb) electrophoresis by HPLC performed?
This test is performed by a process called electrophoresis. In this, an electric current is passed through the hemoglobin in the collected blood sample. This will separate the charge particles of hemoglobin into different bands. The sample is then compared with healthy samples to detect the presence of any kind of abnormal hemoglobin.
Q. In which conditions abnormal hemoglobin levels can be seen?
The abnormal hemoglobin levels can be seen in the following conditions: -> Hemoglobin C disease - It is a genetic disorder which leads to severe anemia. -> Rare hemoglobinopathy - They are a group of genetic disorders which cause the abnormal production or structure of red blood cells. -> Thalassemia - It is a condition in which there is less production of hemoglobin than what is required by the body to function properly. -> Sickle cell anemia - In this, Red Blood Cells take irregular shape which results in blocking of passage for the blood to flow.
---

ISO
Niramaya Healthcare is an elite Pathology and Wellness service provider with presence in the National Capital Region of Delhi. It was started by a group of professionals with the motto of "Affordable, Accurate and Accredited pathology at your footstep". Niramaya Healthcare has gone beyond the concept of ´need based´ testing by promoting the concept of Preventive Healthcare. The health packages offered by Niramaya are based on what the people need and not what sells in the market. Niramaya...
Know More