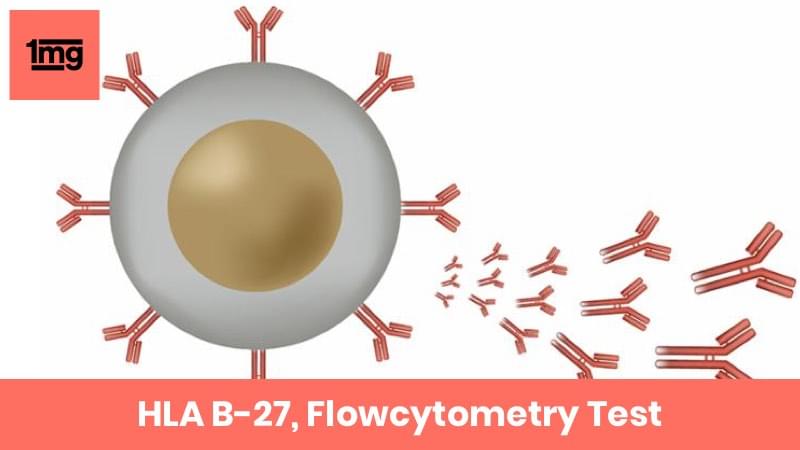 This test is for
Male, Female
Test Preparation
No special preparation required
Overview
---
What is HLA B-27, Flowcytometry?
HLA B-27 refers to Human leukocyte antigen B-27. This test is done to determine the presence of HLA B-27 in the blood. Along with that, it helps to assess the presence of any autoimmune disorder associated with HLA B-27.

Why is HLA B-27, Flowcytometry done?
The HLA B-27 test is done:
In case of symptoms of arthritis such as chronic joint pain, stiffness, and inflammation in the lower back, hips, neck, and chest

In the case of Uveitis (painful inflammation of eyes) especially in males and of the early 30s age group.
What does HLA B-27, Flowcytometry Measure?
HLA B-27 test determines the presence or absence of human leukocyte antigen which is present on the surface of white blood cells. The HLA B-27 also refers to the gene which codes for the HLA B-27 protein. 
HLA B-27 are proteins which help the immune system to differentiate the body's own cells from other foreign cells. Every person has an inherited combination of HLA genes which codes for many antigens which are present on the surfaces of their cells. This HLA combination is distinctive for each person and is based on the presence or absence of each antigen.
People with HLA B-27 have increased chances of developing autoimmune diseases like ankylosing spondylitis, rheumatoid arthritis, reactive arthritis, and isolated acute anterior uveitis. HLA B-27 is also said to be linked with inflammatory bowel disease and other chronic conditions.
Interpreting HLA B-27, Flowcytometry results
---
Interpretations
| | |
| --- | --- |
| RESULT | REMARKS |
| Negative | No expression of HLA B-27 |
| Indeterminate | Grey zone (within 10 channels of cutoff) |
| Positive | Expression of HLA B-27 detected |
Anti-HLA-B27 antibody cross reacts with several other antigens of HLA-B group specially HLA-B7 leading to false-positive results*
Answers to Patient Concerns & Frequently Asked Questions (FAQs) about HLA B-27, Flowcytometry
---
Frequently Asked Questions about HLA B-27, Flowcytometry
Q. Is there any preparation required before the test?
Inform the doctor about the medications you may be taking. No other specific preparations are usually required before this test.
Q. How is the blood sample taken?
The healthcare provider takes a blood sample from the arm. The site from where the blood is to be withdrawn is cleaned with a swab of rubbing alcohol. This is then followed by inserting a small needle which has a tube attached to it for collecting blood. Once the sufficient blood for analysis is withdrawn, the needle is removed. The site is then covered with a gauze pad.
Q. Is there any risk associated with the withdrawal of blood sample procedure?
As such there is no risk but in few cases, bruising, bleeding, and infection at the puncture site can be seen. In very few cases, there can be swelling of the vein after the blood is withdrawn.
Q. What is ankylosing spondylitis?
Ankylosing spondylitis is a form of arthritis that primarily affects the spine, but can affect other joints as well. It comprises of vertebrae (spinal joints) inflammation which can further cause severe, chronic pain and discomfort. If the inflammation is left unchecked, it can lead to new bone formation in the spine which is known as ankylosis. In ankylosis, sections of the spine fuse in a fixed and immobile position. In this, one can develop inflammation, pain and stiffness in other parts of the body such as hips, ribs, shoulders, heels, and small joints of hands and feet. The inflammation can also involve eyes, the condition is known as uveitis or iritis. Whereas, in rare cases, heart, and lungs can be affected.
Q. What is Reactive Arthritis?
Reactive arthritis is a painful form of inflammatory arthritis. This includes joint disease caused due to inflammation. It develops due to inflammation caused in response to infection which is caused by certain bacteria which are present in genitals (Chlamydia trachomatis) or the bowel (Campylobacter, Shigella, Salmonella, and Yersinia).