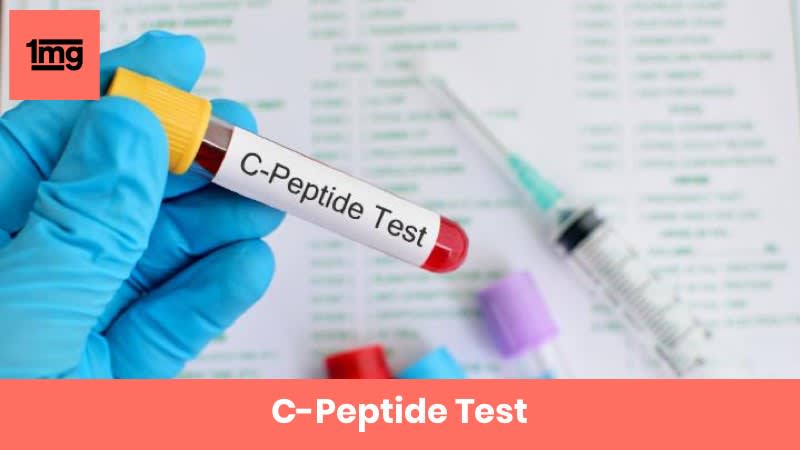 This test is for
Male, Female
Test Preparation
Do not eat or drink anything other than water for 8-12 hours before the test.
Overview
---
What is C-Peptide?
C-peptide is a short chain of amino acids which is released by the pancreas into the blood as a by-product of the formation of insulin. This test measures the amount of C-peptide in a blood sample.
Why is C-Peptide done?
The C-peptide test should be performed:
·     To help evaluate insulin production by the beta cells in the pancreas
·     To help determine the cause of low blood sugar (hypoglycemia) whether it is due to insulin-producing tumors in the body or due to insulin injections (medicinal insulin)
·     To monitor how well the insulinomas (tumors) are responding to the treatment: Decreasing levels of C-peptide in someone with an insulinoma indicate a response to treatment; levels that are increasing may indicate a tumor recurrence
·     To distinguish between type I and type II diabetes mellitus
·     To help evaluate a person diagnosed with metabolic syndrome (set of abdominal obesity, increased blood glucose and/or insulin resistance, abnormal blood lipid levels, and high blood pressure)
·     After pancreatic transplantation: In case of pancreatic islet cell transplants, intended to restore the ability to make insulin, C-peptide levels may be used to verify the effectiveness of treatment and continued success of the procedure.
What does C-Peptide Measure?
C-peptide is a short chain of amino acids released into the blood as a by-product of insulin production. This test measures the amount of C-peptide in blood and helps evaluate the production of insulin made by the body (endogenous). This helps in differentiating endogenous insulin from the insulin that is not produced by the body but is taken in as diabetic medication (exogenous). This is possible because the insulin that is taken in as diabetic medications does not generate C-peptide.
Beta cells of the pancreas produce proinsulin which is a biologically inactive molecule. This molecule splits apart to form one molecule of C-peptide and one molecule of insulin. The uptake, utilization, and storage of glucose after it is absorbed in the intestines is facilitated by the hormone called insulin. When insulin is released from the beta cells into the blood in response to increased levels of glucose, equal amounts of C-peptides are also released. Since C-peptide is produced at the same rate as insulin, it is useful as a marker of insulin production.
Interpreting C-Peptide results
---
Interpretations
Normal reference range:
C-peptide (fasting): 0.81-3.85 ng/mL
Note: In normal individuals, the molar ratio of C-peptide to insulin in the fasting state is 5:1
High levels:
·     A high level of C-peptide generally indicates a high level of endogenous insulin production which may be in response to high blood glucose levels caused by glucose intake or insulin resistance.
·     High levels of C-peptide are also seen with insulinomas.
·     High levels of C-peptide may be seen with low blood potassium, Cushing syndrome, and renal failure.
Low levels: A low level of C-peptide indicates a low level of insulin production by the beta cells that can be seen in diabetes or when production is suppressed by treatment with exogenous insulin.
Answers to Patient Concerns & Frequently Asked Questions (FAQs) about C-Peptide
---
Frequently Asked Questions about C-Peptide
Q. How is this test performed?
This test is performed on a blood sample. A syringe with a fine needle is used to withdraw blood from a blood vessel in your arm. The healthcare provider will tie an elastic band around your arm to make the blood vessels swell with blood. This makes it easier to withdraw blood. You may be asked to tightly clench your fist. Once the veins are clearly visible, the area is cleaned with an antiseptic solution and then the needle is inserted into the blood vessel to collect the sample. You will feel a tiny pinprick during the procedure. Blood sample once collected will then be sent to the laboratory.
Q. Is there any risk associated with this test?
There is no risk associated with the test. However, since this test involves a needle prick to withdraw the blood sample, in very rare cases, a patient may experience increased bleeding, hematoma formation (blood collection under the skin), bruising or infection at the site of needle prick.
Q. Where does C-peptide come from?
C-peptide comes from pancreas. It is released into the blood as a by-product of insulin production. Beta cells produce proinsulin which is a biologically inactive molecule. This molecule splits apart to form one molecule of C-peptide and one molecule of insulin.
Q. Does C-peptide level help in diagnosing diabetes?
C-peptide level may help in differentiating type 1 diabetes from type 2 diabetes, but does not actually help in the diagnosis of diabetes. However, it can help your physician in the treatment of diabetes. In case of type 2 diabetes, a fall in C-peptide levels and insulin levels may indicate that the oral hypoglycemic tablets may not help the patient and insulin injection therapy should be started. Thus, C-peptide level can guide the treatment of diabetes.
Q. Can drugs increase C-peptide level?
Yes, the sulphonylurea class of drug, which is used in the treatment of type 2 diabetes, can lead to an increase in C-peptide level. However, this happens if the beta cell reserve of the pancreas is enough. Examples of sulphonylurea drugs include Chlorpropamide, Glimepiride, Glipizide, Glyburide, and Tolbutamide.
Q. How does C-peptide test help in the treatment of type 2 diabetes?
In type 2 diabetes, there can be insulin resistance. To cope up with this resistance, the body produces and releases more insulin, which can also lead to beta cell damage. Type 2 diabetics usually are treated with oral drugs to stimulate the pancreas to make more insulin or decrease insulin resistance (cells to be more sensitive to the insulin that is already being made). Gradually, there can be beta cell damage to such an extent that type 2 diabetics may make very little insulin and require insulin injections. Any insulin that the body makes will be reflected in the C-peptide level. Therefore, the C-peptide test can be used to monitor beta cell activity and capability over time and to help a doctor determine when to begin insulin treatment.
Q. What is stimulated C-peptide test?
If the test is to diagnose either type 1 or type 2 diabetes, an injection of glucagon may be given into the arm between two blood samples in an attempt to stimulate insulin production. Patients with type 1 diabetes mellitus have low C-peptide levels on glucagon stimulation.
---
NABL
CAP
ISO
Thyrocare Technologies Limited is India's first and most advanced Totally Automated Laboratory having its strong presence in more than 2000 cities / towns in India and internationally. Thyrocare is India's first fully automated diagnostic laboratory with a focus on providing quality at affordable costs to laboratories and hospitals in India and other countries. Thyrocare operates with a Centralized Processing Laboratory (CPL) in Mumbai - India for esoteric tests; and Regional Processing...
Know More
User Reviews
---
S
Sheetal Singhvi
Service was very excellent
H
Hemant
Best service. On time delivery if reports. They did what they said.