Anti Cyclic Citrullinated Peptide Antibody
(Anti CCP)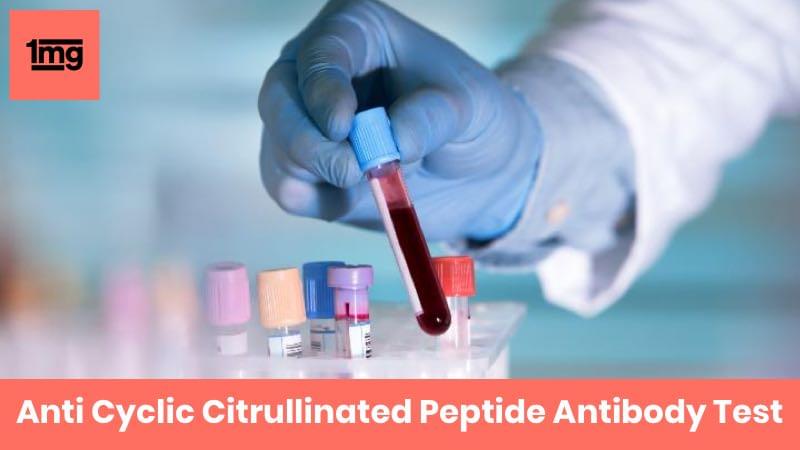 This test is for
Male, Female
Test Preparation
No special preparation required
Overview
---
What is Anti CCP?
Anti cyclic citrullinated peptide antibody (CCP) is an antibody which is found in the patients of rheumatoid arthritis. This test detects the levels of anti CCP antibody in the blood. This test is also known as citrulline antibody test, the anti-citrulline antibody test, CCP antibody test. It helps in differentiating rheumatoid arthritis from other types of arthritis.

Why is Anti CCP done?
To diagnose rheumatoid arthritis

To differentiate rheumatoid arthritis from other arthritis

To evaluate the prognosis of the patient with rheumatoid arthritis
What does Anti CCP Measure?
Anti cyclic citrullinated peptide antibodies are autoantibodies which are produced by the immune system that attack against the cyclic citrullinated peptide. Due to these attacks, inflammatory symptoms are produced in the body which is most commonly seen in rheumatoid arthritis. The Anti CCP antibodies can be present in patients prior to the start of symptoms of rheumatoid arthritis. The presence of positive Anti CCP antibodies in rheumatoid arthritis patients is said to be due to the combination of genetics and environmental factors. These patients have a common sequence of amino acids which is called as shared epitope that is encoded in specific genetic markers called human leukocyte antigens (HLA) which are responsible for producing proteins to control immune responses. The shared epitope attaches to these proteins to produce Anti CCP antibodies.

Interpreting Anti CCP results
---
Interpretations
Anti CCP antibody test positivity indicates Rheumatoid Arthritis

Answers to Patient Concerns & Frequently Asked Questions (FAQs) about Anti CCP
---
Frequently Asked Questions about Anti Cyclic Citrullinated Peptide Antibody
Q. How is this test performed?
This test is performed on a blood sample. A syringe with a fine needle is used to withdraw blood from a blood vessel in your arm. The healthcare provider will tie an elastic band around your arm to make the blood vessels swell with blood. This makes it easier to withdraw blood. You may be asked to tightly clench your fist. Once the veins are clearly visible, the area is cleaned with an antiseptic solution and then the needle is inserted into the blood vessel to collect the sample. You will feel a tiny pinprick during the procedure. Blood sample once collected will then be sent to the laboratory.
Q. Is there any risk associated with this test?
There is no risk associated with the test. However, since this test involves a needle prick to withdraw the blood sample, in very rare cases, a patient may experience increased bleeding, hematoma formation (blood collection under the skin), bruising or infection at the site of needle prick.
Q. Is there any preparation required before the test?
Inform the doctor about the medications you may be taking. No other specific preparations are usually required before this test.
Q. What is Citrulline?
Citrulline is produced in the body naturally. Its production occurs during metabolism of amino acid arginine. In the case of rheumatoid arthritis, the production of citrulline highly increases in the joints. It will change the structure of the protein which can trigger an immune response that produces autoantibodies against proteins in the joints.
Q. What is Rheumatoid arthritis?
Rheumatoid arthritis is a systemic autoimmune disease which is chronic (from a long time). It causes inflammation, stiffness, pain and disastrous changes in joints of the body. It can occur at any age but the usual age is after 40 years. As compared to men, women are more affected. It can progress slow or fast. But, if untreated can cause disability of the joints.
Q. What are other tests advised for rheumatoid arthritis?
Apart from anti CCP antibody test, rheumatoid factor (RF) test, joint X rays, and blood tests are advised. If a patient has positive anti CCP antibody test as well as RF test it indicates that the patient has rheumatoid arthritis. If the patient has a positive anti CCP antibody test but negative RF test it means that the patient is likely to develop rheumatoid arthritis in the future. If anti CCP antibody test is negative but RF test is positive, it can indicate that the patient should be analyzed for other inflammatory conditions as well.
Q. Is Anti CCP antibody test screening test for Rheumatoid arthritis?
No, the screening test for rheumatoid arthritis is the rheumatoid factor. But, once the RF is positive, anti CCP antibody test should be done to differentiate rheumatoid arthritis from other arthritis.
---

ISO
Kegan Path Labs mission is to provide accurate, precise and timely reports to all our patients and clients. And, keeping the laboratory standards as per the guidelines set by National and International organizations.
Know More