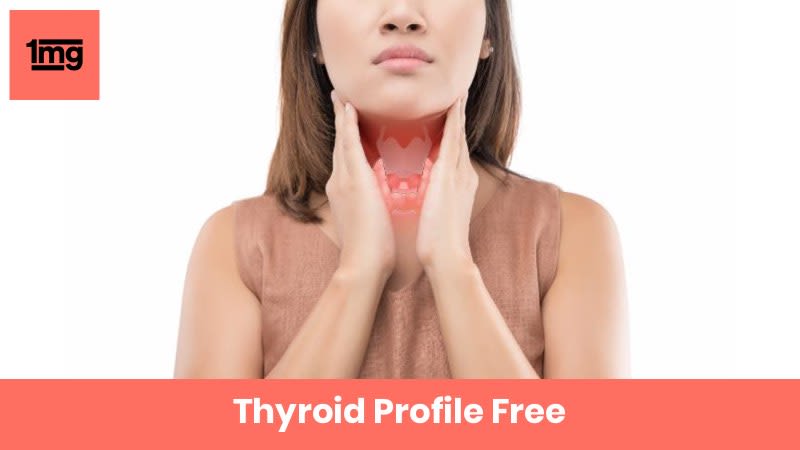 Overview of Thyroid Profile Free
What is Thyroid Profile Free?
The Thyroid Profile Free is a group of tests that are done together to detect or diagnose the thyroid diseases. It measures the levels of following three hormones in the blood: Thyroid Stimulating Hormone (TSH), Thyroxine (T4) - Free and TriIodothyronine (T3) - Free.
Sample Type
The sample type collected for Thyroid Profile Free is: Blood
Preparation for Thyroid Profile Free
No special preparation required
Why Get Tested for Thyroid Profile Free?
To diagnose any suspected thyroid disease (Hypothyroidism or Hyperthyroidism)

To monitor treatment in patients with thyroid diseases

To investigate the cause of infertility
Understand more about Thyroid Profile Free
The thyroid gland (a small, butterfly-shaped gland located in front of the neck) secretes the following hormones:
Triiodothyronine (T3)

Thyroxine (T4)
Thyroid Stimulating Hormone (TSH) is a hormone secreted into the blood by a gland present in the brain (Pituitary gland) and it tells your thyroid gland to make and release the thyroid hormones (T3 & T4) into your blood. The thyroid gland uses iodine from food to make the thyroid hormones.
The thyroid hormones are essential for growth and metabolism. If the thyroid gland produces very high amounts of these hormones (T3 and T4), you may experience symptoms of weight loss, rapid heartbeat, tremors, sweating, anxiety, increased sensitivity to heat etc. and this is known as Hyperthyroidism.
Also, the decreased production of thyroid hormones (T3 and T4) results in Hypothyroidism which may cause symptoms like weight gain, fatigue, slow heart rate, increased sensitivity to cold, depression, dry and thin hair etc.
There is a feedback system in the body to maintain stable amounts of the thyroid hormones (T3 and T4) in the blood. When thyroid hormone levels decrease, the pituitary gland is stimulated to release TSH. This high TSH in turn leads to the release of more thyroid hormones (T3 & T4) from the thyroid gland and vice-versa.
T3 and T4 circulate in the blood in two forms:
1) Bound form - It is bound to proteins present in blood and this prevents it from entering body tissues. The three main proteins in the blood that the thyroid hormones are bound to are albumin, transthyretin and Thyroxine-binding globulin (TBG), also called Thyroid hormone Binding Globulin (THBG).
2) Free form - It enters the body tissues where it's needed.
The total T3 or total T4 includes both bound and free forms circulating in the blood. Hence, thyroid hormones can be measured as Free T3, Total T3, Free T4 and Total T4.
The Thyroid Profile Free Test measures the free forms of T3 and T4 i.e. FT3 and FT4 along with TSH.
---
What Results of Thyroid Profile Free mean?
Interpretations
Low T4 and T3 along with a high TSH level indicates hypothyroidism. The most common cause of hypothyroidism is Hashimoto thyroiditis 
High T4 and T3 along with low TSH indicate hyperthyroidism. The most common cause of hyperthyroidism is Grave's disease
Normal thyroxine T4 and T3 along with high TSH usually indicates mild or subclinical hypothyroidism 
Normal T3 and T4 along with low TSH indicates mild or subclinical hyperthyroidism 
Note: TSH levels show circadian variation (fluctuates during the 24-hour cycle), reaching peak levels between 2 - 4 am and are at a low between 6-10 pm.
---
Patient Concerns about Thyroid Profile Free
Frequently Asked Questions about Thyroid Profile Free
Q. What is Hyperthyroidism?
Hyperthyroidism is a condition in which the thyroid gland is overactive and there is an increased production of thyroid hormones by the thyroid gland. Causes of Hyperthyroidism include Graves' disease, multinodular goiter, thyroid nodules, toxic adenoma, inflammation of the thyroid, eating too much iodine, and too much synthetic thyroid hormone. Diagnosis of this condition can help to relieve the symptoms and prevent long term complications.
Q. What are the symptoms of Hyperthyroidism?
Symptoms of Hyperthyroidism include: Rapid heartbeat (tachycardia) — commonly more than 100 beats/minute — irregular heartbeat (arrhythmia) or pounding of your heart (palpitations), sudden weight loss, nervousness, anxiety, irritability, tremor (usually a fine trembling in your hands and fingers), changes in menstrual patterns, increased sensitivity to heat, changes in bowel patterns (especially more frequent bowel movements), an enlarged thyroid gland (goiter) which may appear as a swelling at the base of your neck, increased appetite, sweating, fatigue, muscle weakness, sleep disturbances, skin thinning, fine and brittle hair
---
Tests Included in Thyroid Profile Free
(3 tests)
Thyroid Stimulating Hormone
Provided By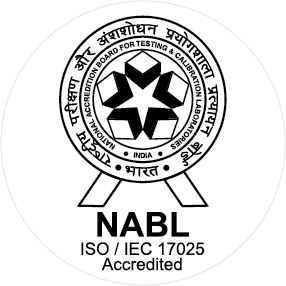 NABL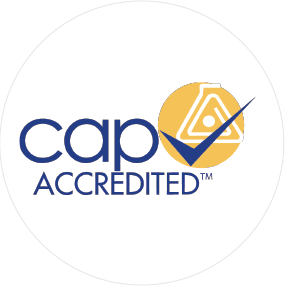 CAP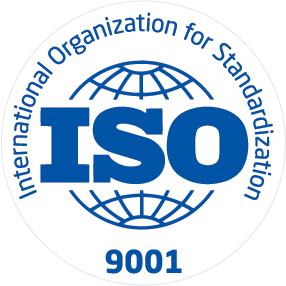 ISO
With a decade of experience under its belt, Oncquest is known for its excellence in Clinical Diagnostics. From its first avatar as an R&D focused entity, Oncquest has evolved into a reference laboratory in the field of Oncology, and more recently into a multi-platform Pathology Services provider with a core focus in Molecular Pathology and Surgical Pathology Services. Its logistic capabilities and geographical spread makes Oncquest an ideal associate for clinical activities in India. Oncquest's accredited quality systems ensure customer satisfaction through any of its customer-centric service offerings. Oncquest's recent advances in the areas of Companion Diagnostics and Pharmacogenomics have also allowed for and encouraged greater penetration of Personalized Medicine into the Indian healthcare market, making it the future epicentre of the many technological advancements in healthcare, to come. Its close association with many Hospitals across India stands testament to the faith that Oncquest has instilled in the doctors and patients which avail of its services. Oncquest is fast becoming a cornerstone for a blooming healthcare industry. With over a decade of experience in the field of molecular diagnostics and pathology services, Oncquest Laboratories has earned its reputation of clinical excellence in the Indian market. Our advanced technologies and global quality systems have ensured that we stay ahead of the curve, and this has resulted in our association with some of the most advanced clinicians, hospitals and research organizations in the country. As India gets set for a clinical revolution, ushering in a trend of new healthcare services and products, Oncquest has defined its place as a partner of choice for those who bring value to our proud subcontinent. Our national reach and sizeable knowledge base allows us to be at the forefront of scientific advances, and an ideal partner for clinical activities. We strive to be connected with the best in the industry and we welcome partnership in ideas and technologies. For example, Oncquest's early adoption and utilization of genetic sequencing technologies has resulted in many "first to market" assays, which have subsequently been adopted in several treatment and monitoring protocols. Innovation is an essential part of our DNA. We welcome challenges, and look forward to associating with you and your organizations to develop pioneering solutions and to tackle some of the most pressing issues faced in our world.
Available at Other Labs