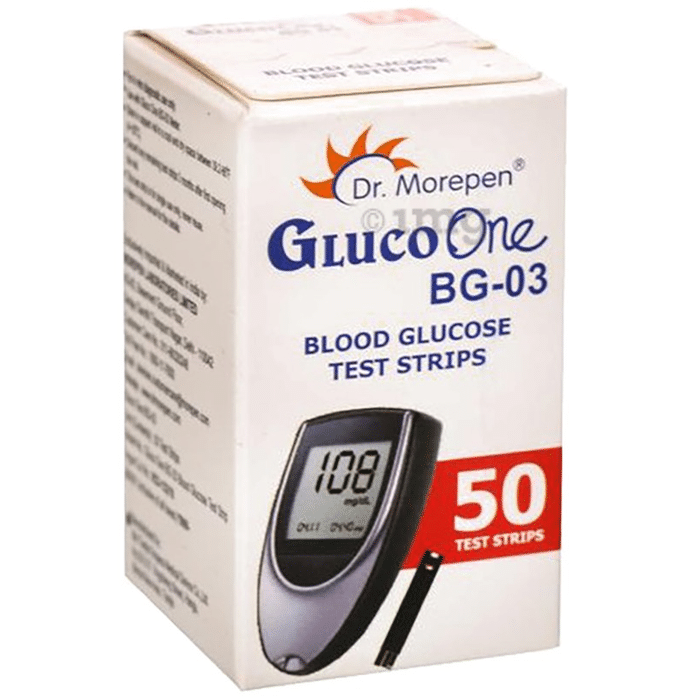 Dr Morepen Gluco One BG 03 Blood Glucose Test Strip (Only Strips)
Product highlights
Reliable and convenient to use with a glucometer
Requires a tiny drop of blood
₹699
+ free shipping and 3% Extra NeuCoins with

Care plan members get extra discounts, free shipping, free health screening, premium doctor consultation and more.
Information about Dr Morepen Gluco One BG 03 Blood Glucose Test Strip (Only Strips)
Dr Morepen Gluco One BG 03 Blood Glucose Test Strip
These test strips help to measure the concentration of glucose in the blood. It is a reliable and convenient self-testing method with a blood glucose monitor. It helps to provide quick and reliable results in the comfort of your place. It can be used for both professional (at clinics) and personal (at home) use. It is effortless to use.
Uses:
It helps to regulate blood glucose levels.
Product Specifications and Features:
Content: Test strips, no glucometer device, strips in a box intended for single, one-time use
Minimum blood sample needed: 0.5 microlitres
Provides information on how the program affects the blood glucose level
It helps to test blood glucose frequently, which in turn allows for keeping blood sugar levels in control
Requires only a tiny drop of blood for the test
It helps monitor glucose levels at any time and anywhere
It can be used to keep a regular tab on the sugar levels at home
Compatible with:
Gluco One BG-03 glucose meter
Directions for Use:
The first step is to wash hands with soap and water
Pat dry them with a towel
An alcohol swab can be used to clean the finger before testing but ensure the fingertip is completely dry before test
Remove the test strip from the box of strips
Insert it into the slot on the glucometer just before pricking the finger
Next, use a clean lancet (a device that holds the needle) or insert a clean needle in the lancet, which can help prick the finger's end
Prick the side of the fingertip and wait till blood oozes out
Wipe off the first drop gently, and then put a drop or two onto the designated place on a test strip attached to the glucometer
Hold a clean cotton pad or gauze on the prick site to stop blood flow
Apply pressure on the area of the insertion until the bleeding stops
The blood glucose level will appear on the meter's display
Note down the readings as it helps monitor glucose levels from time to time
Repeat this procedure every time to test the blood glucose level
Safety Information:
Read the manual/instruction leaflet carefully before use
Store in a cool and dry place, away from sunlight
Keep out of reach of children
Each strip is for single use only
Dispose of the used strips properly
Quick Tips:
For in-vitro diagnostic use, only
Store in a capped vial in a cool and dry space between 4-30 degrees Celsius
Discard any remaining test strips three months after the first opening of the vial
Do not take any medical decisions without consulting a doctor
Always discuss the results with a registered medical practitioner
It is wise to check the test strips before use carefully for better results
Always check the expiry date on the test strips and lancets before buying. This is because the use of outdated strips can give incorrect readings and thus, serve no purpose
Do wash the hands thoroughly with an antiseptic hand wash before the test
Frequently Asked Questions:Q. Can blood sugar strips be reused?
No. All the blood glucose test strips are for single use only. Do not reuse a test strip, as it may not provide the appropriate results. It is strongly advised always to discard a test strip after every use.
Q. What are the benefits of glucometers?
It is well known that testing blood glucose levels with a glucometer at home is one of the best ways to regulate blood sugar levels. It can help to test blood glucose at any time of the day and anywhere. Using a portable glucometer is the best way to test glucose when travelling. Charting blood glucose levels becomes easy with glucometers, especially with devices with memory options to store previous readings. By helping to check blood glucose, blood glucose monitors can help manage blood glucose levels.
Q. What is a normal glucometer reading?
According to the American Diabetes Association, the fasting or preprandial blood glucose levels for diabetics should be between 80 – 130 mg/dl, and postprandial (1-2 hours after meals) should be less than 180 mg/dl. However, the range mentioned in the glucose monitor may be a little different. So, speak to the doctor to calibrate the results with the lab reports.
Q. How do blood glucose monitors work?
Diabetes devices or glucometers test the amount of glucose in the blood. The test strips in glucometers contain an enzyme glucose oxidase, which reacts with glucose in the blood and sends the result as an electronic signal displayed on the monitor.
Q. How often blood glucose levels should be tested with a glucometer?
In the case of type 1 diabetes, check the blood glucose levels several times a day, such as pre and post-meals and before and after exercise or as advised by the doctor. Whereas, in the case of type 2 diabetes, monitoring the sugar levels might be based on the severity of the condition, which can be several times a day, once a day, or thrice a week. Hence, talk to the doctor about how often blood glucose levels should be tested.
---
A.Padmakumar
I used past 10 years very good product, best result its value equivalent to lab values
HELPFUL
REPORT
---
Pranay Agrawal
Nice and helpful product.
HELPFUL
REPORT
---
Kumar Tinku
HELPFUL
REPORT
---
Basudev Behera
This is very helpful 👌 for home diagnostic of diabetic level with any difficulty
HELPFUL
REPORT
---
Yogender Sharma
HELPFUL
REPORT
---
Mukesh Mulchandani
Excellent Excellent Excellent
HELPFUL
REPORT
---
Suman Tandon
Most of the strips show error
HELPFUL
REPORT
---
M. Georgekutty
Cheap and best for common customers...thanks
HELPFUL
REPORT
---
Ramesh Chandra Mishra
It is an excellent product.
HELPFUL
REPORT
---
Premprakash Srivastava
HELPFUL
REPORT
Show More
Authentic Products

Great Savings

Home Delivery