Comprehensive Health Panel
Overview of Comprehensive Health Panel
Uses
It is well known that 'prevention is better than cure' and this package is designed specifically for that purpose. It includes a unique diagnostic profile of tests for a comprehensive health evaluation at an early age. It screens the most common health conditions related to thyroid, heart, liver, kidney, bones and blood. Additionally, it also tests for vitamins like Vitamin B12 and Vitamin D. You should get this package done if you are above 30 years of age and want a thorough evaluation of the overall health status of your body.
Precautions
Do not eat or drink anything other than water for 8-12 hours before the test.
Tests Included
(62 tests)
Kidney Function Test

(includes 5 tests)

BUN/Creatinine Ratio

Creatinine

Uric Acid

Urea

Blood Urea Nitrogen

Complete Blood Count

(includes 24 tests)

Hemoglobin

Platelet Count

Red Blood Cell Count

Packed Cell Volume

Differential leucocyte Count (includes 6 tests)

Absolute Monocyte Counts

RDW SD

Total Leucocyte Count

Red Cell Distribution Width

Mean Corpuscular Volume

Mean Corpuscular Hemoglobin

Mean Corpuscular Hemoglobin Concentration

Mean Platelet Volume

Absolute Leucocyte Count (includes 6 tests)

Liver Function Test

(includes 11 tests)

Aspartate Aminotransferase

Alkaline Phosphatase

Protein Total, Serum (includes 4 tests)

Gamma Glutamyl Transferase

Alanine Transaminase

Bilirubin (Total, Direct and Indirect) (includes 3 tests)

Thyroid profile Total

(includes 3 tests)

Thyroid Stimulating Hormone

Thyroxine - Total

TriIodothyronine Total

Lipid Profile

(includes 5 tests)

Cholesterol - HDL

Cholesterol - LDL

Triglycerides

Very Low Density Lipoprotein

Cholesterol - Total

Platelet Distribution Width

HDL / LDL Cholesterol Ratio

Total Cholesterol/ HDL Cholesterol Ratio

Nucleated Red Blood Cells

Total Iron Binding Capacity
Provided By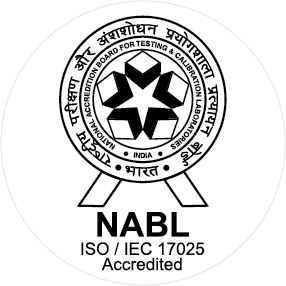 NABL
MEDCIS Pathlabs India Private Limited has emerged as a Clinical Investigation Services provider of world-class healthcare services at affordable costs, in all medical branches. With increased use of global technology in diagnosis, MEDCIS Pathlabs is committed in helping improve the quality of patient care by providing reports that support clinical decision-making for doctors. MEDCIS has build on strategy to deliver integrated testing solutions to our customers. Rather than competing with its clients for physician office business, MEDCIS instead chooses to support clients' existing test menus by offering highly complex and unique Quality of lab tests, with accompanying consultative support, to enhance their abilities to provide laboratory services. MEDCIS began its operations from November 2010, its timely service and quality reports have helped to spread its presence in everycorner of India in a short span of time. MEDCIS has registered franchises and additionally extended its branches all over India. MEDCIS is providing hospital lab management services to few hospitals. MEDCIS aims to provide clinical results on time reflecting quality, accuracy at affordable costs using world class technology.