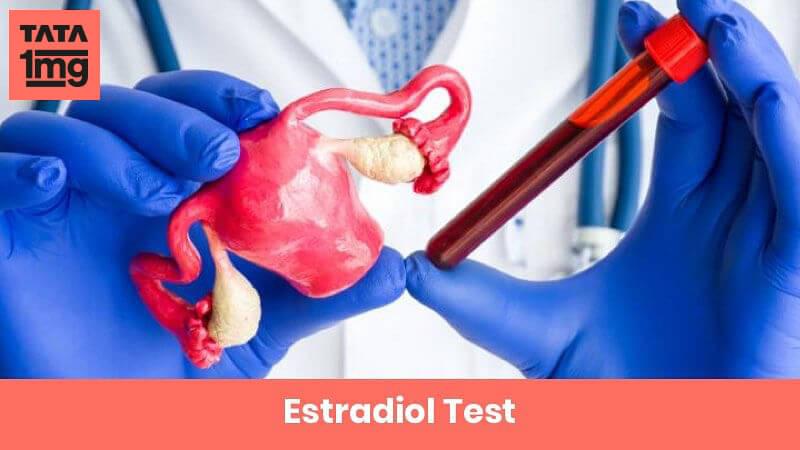 This test is for
Male, Female
Test Preparation
No special preparation required
Overview
---
What is E2?
Estradiol is primarily a female sex hormone and is mainly produced by the ovaries. It is also produced by the breasts, adrenal glands and placenta, during pregnancy. In males, it is produced in very small amounts by the testes and plays a role in the development and growth of bone. In females, it plays an important role in the growth and development of the sex organs which includes, the uterus, fallopian tubes, breasts, and vagina. It also plays an important role in regulating the distribution of body fat and to maintain the bone and joint health. The estradiol test measures the levels of estradiol in the blood and is also known as the E2 test.


Why is E2 done?
To diagnose hypogonadism (production of fewer sex hormones) in females

To evaluate the cause of oligomenorrhea (infrequent menstruation) and irregular menstruation in females

To evaluate the cause of feminization in males like gynecomastia (enlarged breasts)

To evaluate the cause of precocious (early) and delayed puberty in females

To evaluate the symptoms of menopause like abnormal vaginal bleeding

To monitor follicle development in case of infertility in women

To monitor treatment in case of hormone replacement therapy taken by women after menopause

To evaluate the lack of secondary sexual features, lack of muscle mass, delayed puberty in males
What does E2 Measure?
Estradiol test measures the levels of estradiol in blood. Estradiol is a form of estrogen hormone which plays an important role in the function and development of reproductive organs and in the formation of secondary sex characteristics in females. It regulates the menstrual cycle in women along with progesterone. Other functions of estrogen along with progesterone include the growth of breasts and uterus. Estrogen hormone is also found in men. It regulates growth and metabolism in both males and females. In men, estradiol is produced in testicles while in pre-menopausal women it is produced in ovaries. In postmenopausal women, estradiol is converted into estrone. Estradiol is present in high levels in non-pregnant and pre-menopausal women. Depending upon the age of the women and her reproductive status the values of estradiol varies. It is considered to be one of the good markers as regards to ovarian function.
At birth, the levels of estradiol are high but the levels fall within a few days and become minimal during early childhood. As puberty approaches the levels of estradiol rise. During the menstrual cycle, its levels vary depending upon the ongoing menstrual cycle phase. During menopause, the levels of estradiol fall as the production by ovaries decreases.
Interpreting E2 results
---
Interpretations
High levels of Estradiol may indicate:
Puberty before time (precocious puberty) in girls

Ovarian tumors in females

Tumors of adrenal glands in men and women

Gynecomastia (enlarged breasts) in men

Testicular tumors

Delayed puberty in males

Hyperthyroidism in men and women

Cirrhosis in men and women
Low levels of Estradiol may indicate:
Hypopituitarism

Hypogonadism in females (the abnormal function of ovaries)

Following menopause

Conditions in which female sexual characteristics are underdeveloped like Turner's Syndrome
Answers to Patient Concerns & Frequently Asked Questions (FAQs) about E2
---
Frequently Asked Questions about Estradiol Test
Q. How is this test performed?
This test is performed on a blood sample. A syringe with a fine needle is used to withdraw blood from a blood vessel in your arm. The healthcare provider will tie an elastic band around your arm to make the blood vessels swell with blood. This makes it easier to withdraw blood. You may be asked to tightly clench your fist. Once the veins are clearly visible, the area is cleaned with an antiseptic solution and then the needle is inserted into the blood vessel to collect the sample. You will feel a tiny pinprick during the procedure. Blood sample once collected will then be sent to the laboratory.
Q. Is there any risk associated with this test?
There is no risk associated with the test. However, since this test involves a needle prick to withdraw the blood sample, in very rare cases, a patient may experience increased bleeding, hematoma formation (blood collection under the skin), bruising or infection at the site of needle prick.
Q. Is there any preparation required before the test?
Inform the doctor about the medications you may be taking. No other specific preparations are usually required before this test.
Q. Any additional information I should know about the estradiol test?
Apart from the blood sample, Estradiol is tested on urine sample as well but the results of both cannot be interchanged.
Q. Do any medicines have an effect on the level of estradiol?
Yes, certain medicines can decrease the levels of estradiol like oral contraceptives and clomiphene. Drugs which can increase the levels of estradiol include drugs which contain estrogen, glucocorticosteroids, phenothiazines, ampicillin, tetracyclines. Apart from medicines, certain conditions like anemia, high blood pressure, dysfunction in kidney and liver can affect the levels of estradiol.
Q. What other tests might be required if estradiol test results are not normal?
Other tests which your doctor may advise you include: Follicle stimulating test (FSH) and Luteinizing hormone test (LH) for treatment of menopausal problems; FSH, Thyroid stimulating hormone (TSH) or Free thyroxine (T4) along with Prolactin test for lack of menstrual cycle; FSH test and LH test for precocious (early) puberty; TSH test, FSH test, Prolactin test and LH test for infertility issues in men and women.
---
CAP
At Metropolis, the best pathology lab in India what we believe is what we say and what we say is what we do. Being empathetic to our customers and being committed to their needs is in our DNA. Metropolis has grown to harness a culture that is open, synergistic, progressive and scientific in nature. We are the Pathology Specialists delivering over 30 million tests a year, catering to more than 20,000 medical Laboratories, Hospitals, Nursing homes and 2,00,000 Consultants. With 37 years of...
Know More