Lupus Anticoagulant
(LA, LAC )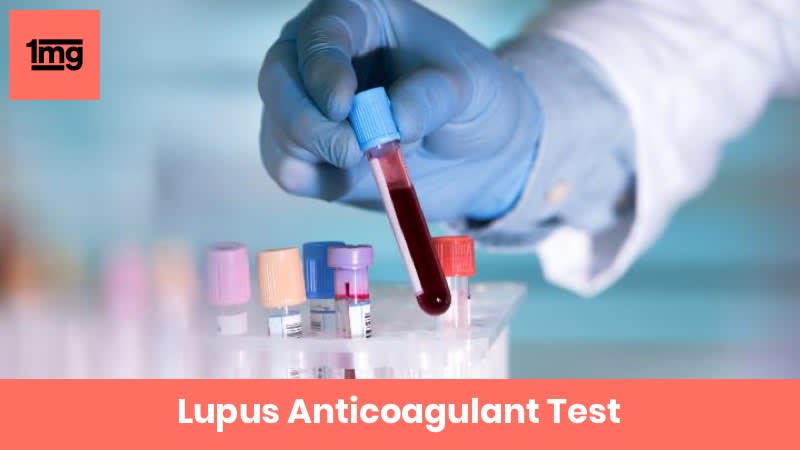 This test is for
Male, Female
Test Preparation
No special preparation required
Overview
---
What is LA, LAC ?
Lupus anticoagulants or LAs are autoantibodies targeted against the body's own cells. They trigger an autoimmune response in the body and increase the risk of development of blood clots. Lupus Anticoagulant Tests are a series of tests performed to detect the presence or absence of lupus anticoagulants in blood.



Why is LA, LAC done?
The Lupus Anticoagulant Test is performed:
·         To determine the cause of formation of abnormal blood clots inside blood vessels

·         To help determine the cause of repeated miscarriages

·         As a part of panel of tests performed to evaluate antiphospholipid syndrome




What does LA, LAC Measure?
Lupus anticoagulants are antibodies produced against the body's own cells. These are produced when the immune system mistakenly identifies the body's own cells as foreign matter and are specifically targeted against phospholipids and related proteins on the cell membranes. As a result, lupus anticoagulants affect the blood clotting process (thrombosis) and increase the risk of formation of blood clots.
The name lupus anticoagulant is a misnomer.
a)      Despite being called 'Lupus', these autoantibodies are not related to the autoimmune condition systemic lupus erythematosus (SLE), commonly called lupus. They are called lupus anticoagulants because they were first observed in patients suffering from SLE. Lupus Anticoagulant Test is not used to diagnose SLE as these autoantibodies are commonly absent in patients of SLE, while they may be found in a number of other conditions.
b)      They are called 'anticoagulants' even though they facilitate blood clot formation because lupus anticoagulants reduce blood clotting in laboratory tests performed to measure clotting like Partial Thromboplastin Time (PTT) Test. Lupus Anticoagulants do not cause bleeding by themselves.
Lupus Anticoagulant Test involves a series of tests performed sequentially to determine the presence of these autoantibodies. The first set measures clotting time with tests based on phospholipid reagents since these are targeted by LA. These include Partial Thromboplastin Time (PTT) Test, Lupus Anticoagulant sensitive Partial Thromboplastin Time (PTT-LA), and Dilute Russel Viper Venom Test (DRVVT). These tests measure the time taken for blood to clot (clotting time) in seconds, and the presence of lupus autoantibodies increases clotting time. Abnormal results in these tests are followed up with other tests that determine the capacity of the blood to clot, including:
·         Mixing study, where equal volumes of the patient plasma sample and normal pooled plasma sample are mixed together, followed by PTT-LA and DRVVT on the mixture
·         Correction or neutralization study, where excess phospholipids are added to the patient plasma sample, on which PTT-LA and DRVVT are performed
Presence of lupus anticoagulants in blood is associated with increased risk of thrombosis (formation of blood clots) in blood vessels, leading to an increased risk of heart attack, stroke, pulmonary embolism, as well as recurring miscarriage. LA is one of the three primary antiphospholipid antibodies, the other two being Cardiolipin antibody and β-2-glycoprotein antibody. Presence of these individually or together increases the chances of thrombosis and antiphospholipid antibody syndrome (APS). Thrombosis is more common in people with LA.
Lupus anticoagulants may sometimes be present without developing symptoms of abnormal clotting.
Interpreting LA, LAC results
---
Interpretations
Normal levels:
PTT: 28.60 to 41.10 seconds
PTT-LA: 31.40 to 43.40 seconds
DRVVT: No LA present
Lupus Anticoagulant Tests are performed sequentially and results may be interpreted as follows:
Steps

Tests

Results

Possible Interpretation

Step 1

PTT-LA and/or DRVVT

Normal

No further testing required. Repeat testing if inhibitor suspected strongly.

Prolonged

Inhibitor may be present.

To Step 2

Step 2

Mixing Study: Equal parts patient plasma and normal pooled plasma followed by PTT-LA and DRVVT

Normal

Abnormal Step 1 result due to coagulation factor deficiency.

Prolonged

Lupus anticoagulant may be present.

To Step 3

Step 3

Confirmation (Correction or Neutralization test): Excess phospholipids added to patient plasma followed by PTT-LA or DRVVT.

A ratio is calculated by dividing Step 3 result into Step 1 result.

Positive (high ratio)

Lupus anticoagulant present

Negative (low ratio)

Specific inhibitor other than lupus anticoagulant present.
Based on recommendations of the International Society of Thrombosis and Hemostasis (ISTH) presence of LA is confirmed if four specific criteria are met:
·         Prolonged result in at least one of PTT-LA or DRVVT tests
·         Prolonged result in mixing study
·         Reduction of clotting time occurs upon addition of excess phospholipids
·         Ruling out other specific inhibitors of coagulation factors like factor VIII
Answers to Patient Concerns & Frequently Asked Questions (FAQs) about LA, LAC
---
Frequently Asked Questions about Lupus Anticoagulant
Q. How is this test performed?
This test is performed on a blood sample. A syringe with a fine needle is used to withdraw blood from a blood vessel in your arm. The healthcare provider will tie an elastic band around your arm to make the blood vessels swell with blood. This makes it easier to withdraw blood. You may be asked to tightly clench your fist. Once the veins are clearly visible, the area is cleaned with an antiseptic solution and then the needle is inserted into the blood vessel to collect the sample. You will feel a tiny pinprick during the procedure. Blood sample once collected will then be sent to the laboratory.
Q. Is there any risk associated with this test?
There is no risk associated with the test. However, since this test involves a needle prick to withdraw the blood sample, in very rare cases, a patient may experience increased bleeding, hematoma formation (blood collection under the skin), bruising or infection at the site of needle prick.
Q. Is there any preparation required before the test?
Inform the doctor about the medications you may be taking. No other specific preparations are usually required before this test.
Q. What additional tests can be prescribed by your doctor in case of abnormal lupus anticoagulant test result?
Additional tests that may be prescribed in case of abnormal Lupus Anticoagulant Test result are: · Repeat testing to determine if the condition is temporary · Activated Partial Thromboplastin Time Test · Anticardiolipin Antibody Test · Anti-β-2-glycoprotein Antibody Test · Thrombin Time Test · Fibrinogen Test · Modified Russell Viper Venom Time (MRVVT) · Platelet Neutralization Procedure (PNP) · Kaolin Clotting Time (KCT) · Coagulation Factor Assays · Complete Blood Count (CBC)
Q. When can false results appear in Lupus Anticoagulant Test?
False results may appear in the Lupus Anticoagulant Test in the following cases: · Heparin contamination of sample · Heparin or Heparin Substitute Anticoagulant Therapy · Warfarin Anticoagulant Therapy · Inflammations · Autoimmune diseases · HIV infection · High platelet count in sample · High hematocrit · Certain medications like penicillin, phenothiazines, procainamide, etc.
---
ISO
NABL
Founded in 1981 by Dr Surender Reddy, as the first centre of its kind to offer a comprehensive range of all diagnostic modalities, under one roof, Vijaya has emerged as the pioneers in diagnostic medicare, in Telangana & Andhra Pradesh. Our commitment to quality and our philosophy of always putting the patient first, has ensured that over the past 35 years, Vijaya has established a reputation for excellence and reliability and has become a household name for quality diagnostic services. At...
Know More