Erythrocyte Sedimentation Rate
(ESR)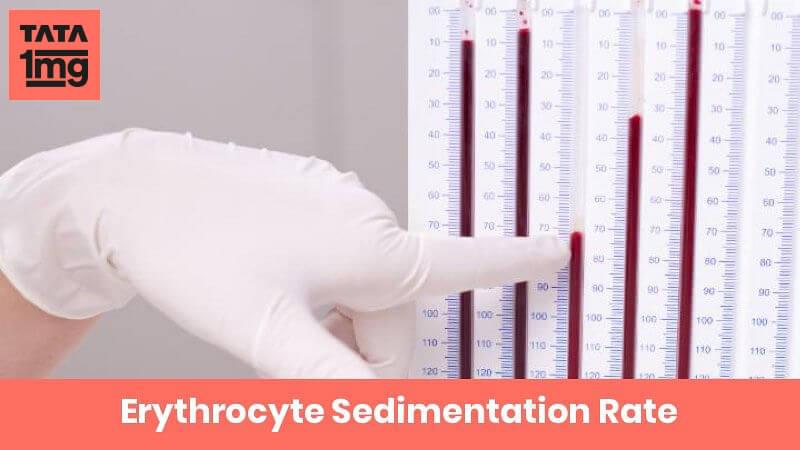 This test is for
Male, Female
Test Preparation
No special preparation required
Overview
---
What is ESR?
Erythrocyte Sedimentation Rate (ESR) Test, also known as sedimentation rate test or sed rate test is a blood test which can detect inflammatory activity in the body. ESR test doesn't diagnose one specific condition. Instead, it helps to diagnose or monitor the progress of an inflammatory disease.
Why is ESR done?
The Erythrocyte Sedimentation Rate (ESR) Test is performed:
To detect any inflammation in the body which may be caused due to conditions such as infections, cancers, and autoimmune diseases

To monitor the progress of inflammatory diseases

To evaluate the response to treatment of inflammatory diseases
What does ESR Measure?
The ESR test measures the rate at which red blood cells (erythrocytes) settle (sediment) at the bottom of a tube that contains a blood sample in one hour. The test result is expressed in millimeters per hour (mm/hr).
In the presence of inflammation, certain proteins mainly fibrinogen increase in blood. This high proportion of fibrinogen in the blood causes the red blood cells to form a stack (rouleaux formation) which settle quickly due to their high density.
The ESR test is a non-specific measure of inflammation. An ESR can be affected by conditions other than inflammation also. Although a high ESR can detect the presence of inflammation, it cannot provide any information regarding the cause and site of inflammation. Hence, an ESR test is done along with other tests.
Interpreting ESR results
---
Interpretations
The normal reference range for Erythrocyte Sedimentation Rate (ESR) is:
| | |
| --- | --- |
| Men | 0-15 millimetres per hour (mm/hr), or 0-20 mm/hr for men older than 50 |
| Women | 0-20 mm/hr, or 0-30 mm/hr for women older than 50 |
| Children | 0-10 mm/hr |
| Newborns | 0-2 mm/hr |
High ESR can be seen in:
Inflammatory disease such as Arthritis (Inflammation of joints), vasculitis (Inflammation of blood vessels)

Infection, such as pneumonia, pelvic inflammatory disease, appendicitis, skin infection, bone infection, heart valve infection
Autoimmune diseases, such as systemic lupus erythematosus or rheumatoid arthritis

Chronic kidney disease

Viral infections

Pregnancy

Cancer, such as lymphoma or multiple myeloma
Low ESR can be seen in:
Congestive heart failure

Polycythemia

Sickle cell disease

Severe liver disease

Hypofibrinogenemia
Answers to Patient Concerns & Frequently Asked Questions (FAQs) about ESR
---
Frequently Asked Questions about Erythrocyte Sedimentation Rate
Q. How is this test performed?
This test is performed on a blood sample. A syringe with a fine needle is used to withdraw blood from a blood vessel in your arm. The healthcare provider will tie an elastic band around your arm to make the blood vessels swell with blood. This makes it easier to withdraw blood. You may be asked to tightly clench your fist. Once the veins are clearly visible, the area is cleaned with an antiseptic solution and then the needle is inserted into the blood vessel to collect the sample. You will feel a tiny pinprick during the procedure. Blood sample once collected will then be sent to the laboratory.
Q. Is there any risk associated with this test?
There is no risk associated with the test. However, since this test involves a needle prick to withdraw the blood sample, in very rare cases, a patient may experience increased bleeding, hematoma formation (blood collection under the skin), bruising or infection at the site of needle prick.
Q. What are the factors which may affect the ESR test results?
The following factors may affect the ESR test results: Pregnancy, anemia, menstrual period, certain medications such as estrogens, birth control pills, aspirin, prednisone etc.
Q. Is there any preparation required before the ESR test?
No special preparation is required for ESR test. However, you should inform the doctor about the medications you are taking as some medications such as estrogens, birth control pills, aspirin, prednisone etc. may affect the test result.
Q. Which is the other test that can be prescribed to detect inflammatory activity?
Your doctor may prescribe C - Reactive protein blood test to detect inflammation.
---

ISO
TATA 1mg labs is a state-of-art facility offering the highest quality diagnostic services at the convenience of your doorstep. We pride ourselves on three things 1) Assured Quality 2) Best Prices 3) Excellent Turn Around Time. We believe in providing the highest level of transparency to our customers. Testimony to the quality is the ISO certification, a gold standard in the quality of diagnostics. Our entire team is dedicated to providing the best customer experience and continuously strives to...
Know More
User Reviews
---
S
Subodh Rout
Really impressed with the quality of service and on quick delivery of report. I do recommend others to use 1mg service
N
Nishant Ranjan
Appreciate the complete process from app clarity to execution of reports on time.