Albumin/Creatinine Ratio Urine
(ACR, UACR)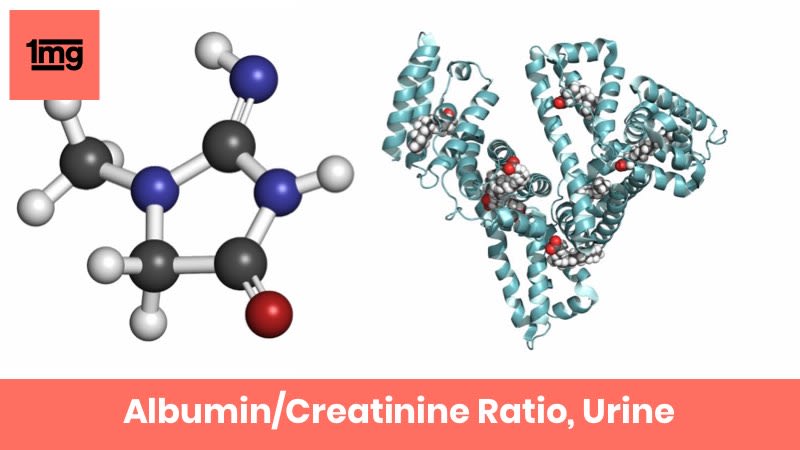 This test is for
Male, Female
Test Preparation
No special preparation required
Overview
---
What is ACR, UACR?
The Albumin/Creatinine Ratio (ACR) or Urine Albumin/Creatinine ratio (AUCR) is advised to screen and detect early kidney diseases in people having diabetes or other risk factors like high blood pressure.
Why is ACR, UACR done?
The Albumin/Creatinine Ratio, Urine is done:
In case if a person has been recently diagnosed with type 1 diabetes 

In case if a person had been diagnosed with type 1 diabetes 5 years ago to assess kidney function 

In case a person has type 2 Diabetes then annual testing is required 

In case if a person has high blood pressure for many years
What does ACR, UACR Measure?
The Albumin/Creatinine Ratio, Urine measures the amount of albumin present in the urine to screen for kidney disease. Albumin is a protein which is present in the blood but not in urine in properly functioning kidneys. 
In early stages of kidney disease, albumin might be detected in the urine. The tests for albumin and creatinine are done on a urine sample to calculate an albumin-to-creatinine ratio (ACR). This provides a more accurate indication of the amount of albumin being released into the urine. Creatinine which is a byproduct of muscle metabolism is normally released into the urine. It is released at a constant rate, and it acts as an indicator of the urine concentration. This property of creatinine helps in an accurate measurement of albumin on a random urine sample for urine concentration. The presence of even small amounts of albumin in the urine can be an indicator of early kidney disease.  
Interpreting ACR, UACR results
---
Interpretations
A high ratio indicates kidney disease. This increased ratio is an indicator of poor kidney function 

Undetectable levels of albumin mean that your kidneys are functioning normally.
Answers to Patient Concerns & Frequently Asked Questions (FAQs) about ACR, UACR
---
Frequently Asked Questions about Albumin/Creatinine Ratio Urine
Q. What measures can be taken to prevent microalbuminuria?
The increased levels of albumin in the body (microalbuminuria) can be due to any type of impairment in kidney function. One of the major reasons for kidney malfunctioning is diabetes. In case, if a person is diabetic, it is very important to maintain the levels of blood glucose. Blood pressure management is important because if not checked then it may cause kidney diseases. This, as a result, may affect the kidney function and may lead to release of albumin into the urine. Quitting smoking is also said to be a helpful measure to prevent microalbuminuria.
Q. What can be the other reasons for increased albumin levels in urine apart from diabetes?
Apart from diabetes, increased albumin levels in urine might be associated with high blood pressure, some of the lipid abnormalities, and some immune disorders. Other reasons might include vigorous exercise, blood in the urine, dehydration, urinary tract infection, and due to the effect of some medicines.
Q. How is the urine sample collected?
As the test is performed on the urine sample. It is essential to prevent contamination of the sample with microorganisms naturally present on the skin. During urine collection, women should spread the labia (outer lips of the vagina) while men should retract or pull back the foreskin (fold of skin covering the glans or head of the penis). Start urinating normally and let some urine flow before collecting 20 to 30 ml urine the sterilized container available from the lab or any pharmacy. After collecting the sample, finish urinating into the toilet or urinal. This process is called midstream clean catch method. The urine sample may also be collected using a catheter inserted through the urethra directly into the urinary bladder. Sample collected through a catheter usually has no contamination.
Q. What is microalbuminuria?
Microalbuminuria is a condition where the levels of albumin protein in urine are more than normal. It is an early sign of kidney problems. The risk of developing microalbuminuria increases in the case of diabetic and hypertensive patients. The patients having microalbuminuria are also at increased risk of having heart disease.
---
ISO
NABL
Prednalytics laboratory provides high quality reports with quick turnaround time owing to its state-of-the-art fully automated ISO certified lab. The lab is equipped with the latest dry chemistry Vitros 5600 fully integrated units that ensure high quality with minimum wastage.
Know More