Chromosome Analysis, Blood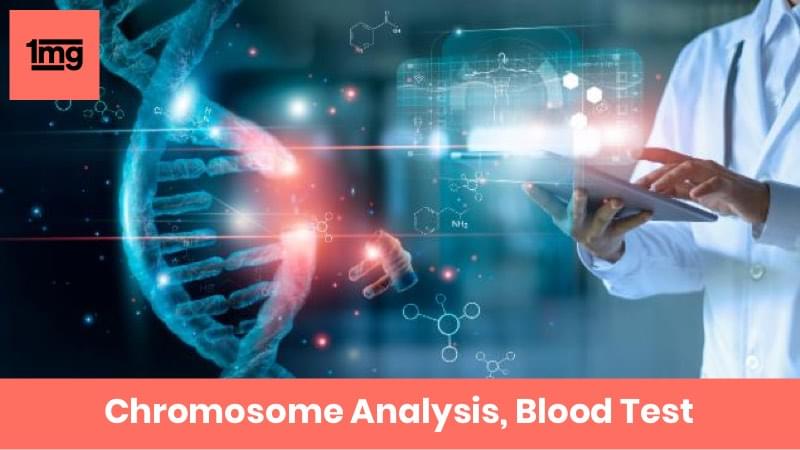 This test is for
Male, Female
Test Preparation
No special preparation required
Overview
---
What is Chromosome Analysis, Blood?
Chromosome Analysis, Blood Test is also known as karyotyping. This test is done to detect chromosome abnormalities which helps in diagnosing genetic diseases, birth defects, certain disorders of blood, and lymphatic system.
Why is Chromosome Analysis, Blood done?
The Chromosome Analysis, Blood test is done:
In case the pregnancy tests are abnormal

In case of signs of chromosome abnormality disorder 

To detect chromosomal abnormality in a person or a specific abnormality in family members

In case a person has lymphoma or leukemia or myeloma or myelodysplasia or another cancer

In case there is suspicion of acquired chromosome abnormality
What does Chromosome Analysis, Blood Measure?
The chromosome analysis, blood tests measure the number and structure of a person's chromosomes which helps in detecting abnormalities. Chromosomes are thread-like structures that are present inside the nucleus of each cell. They contain the genetic blueprint of the body. Each chromosome comprises of thousands of genes in specific locations. These genes play a role in a person's inherited physical characteristics. They have an important effect on growth, development, and function.
Humans have 23 pairs of chromosomes, which means that the total number of chromosomes present are 46. From the 23 pairs, 22 pairs are known as autosomes and are present in both males and females while one pair which is known as sex chromosome is present as either XY in males or as XX in females. Normally, all cells in the body which have a nucleus contain a complete set of the same 46 chromosomes. Exceptions are the reproductive cells that are eggs and sperm, they contain a half set of 23 chromosomes. This half set is to be passed on to a child as the genetic contribution. At the time of conception in the developing fetus, these half sets combine from each parent to form a new set of 46 chromosomes.
In case of abnormality of chromosomes, both numerical and structural changes can be seen. In numerical changes, if there are more than complete set of 46 chromosomes, it will represent a change in the amount of genetic material which can be responsible for causing health and development problems. In structural changes, the severity of the problem depends upon which chromosome is altered. Even if the same chromosome abnormality is present, the type and degree of the problem may vary from person to person.
Answers to Patient Concerns & Frequently Asked Questions (FAQs) about Chromosome Analysis, Blood
---
Frequently Asked Questions about Chromosome Analysis, Blood
Q. What are some chromosomal disorders that may be detected by Chromosomal Analysis, Blood test?
Some chromosomal disorders that may be detected include Down Syndrome, Edwards Syndrome, Patau Syndrome, Klinefelter Syndrome, Turner Syndrome, and Chronic myelogenous leukemia.
Q. How are chromosomal abnormalities interpreted?
The examples of chromosomal abnormalities include Trisomy, Monosomy, Deletions, Duplications, Translocations, and Genetic rearrangement. In trisomy, there is presence of an extra chromosome which means that instead of two, three chromosomes are present. The diseases which are associated with trisomy include Down syndrome, Patau syndrome, Edward syndrome, and Klienfelter syndrome. In monosomy, there is an absence of one of the chromosomes such as in Turner syndrome. In the case of deletions, there are missing pieces of chromosomes or genetic material. In the case of duplications, there is presence of extra genetic material which can be present on any chromosome. In the case of translocations, pieces of chromosomes break off and get reattached to chromosomes. In the case of genetic rearrangement, the genetic material is present on a chromosome, but it is not present in its normal location.
Q. What is Trisomy 18?
It is also known as Edwards Syndrome which is caused by the development of an extra chromosome 18. Because of this, the normal pattern of development in the baby gets disturbed even before its birth. The effects caused by Trisomy 18 are very complicated as compared to Down syndrome. The effects are so severe that it can cause stillbirth (death at the time of birth) of the child.
Q. What is Down's syndrome?
It is a genetic disorder in which extra genetic material from chromosome 21 gets transferred to the fetus. This transfer affects the development of the fetus leading to abnormal development both physically and mentally. The affected baby will have a small head and short neck, obliquely positioned eyes looking in an upward direction, large tongue coming out of the mouth, flat face, wide hands with short fingers, and lack of muscle tone.
Q. How is the blood sample taken?
The healthcare provider takes a blood sample from the arm. The site from where the blood is to be withdrawn is cleaned with a swab of rubbing alcohol. This is then followed by inserting a small needle which has a tube attached to it for collecting blood. Once the sufficient blood for analysis is withdrawn, the needle is removed. The site is then covered with a gauze pad.
Q. Is there any risk associated with the withdrawal of blood sample procedure?
As such there is no risk but in few cases, bruising, bleeding, and infection at the puncture site can be seen. In very few cases, there can be swelling of the vein after the blood is withdrawn.