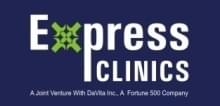 NABL

ISO
Express Clinics, India's family health experts and build a network of clinics across India that places world-class care and customer convenience above all else. Our goal is to be a dependable care provider to the patient in his/her hour of need and to deliver services with the highest quality and ethics. We have one of the biggest networks of Primary Care Clinics across India. We currently have 18 company owned clinics in India, with plans of adding many more in years to come. We have direct presence in India in 4 cities (Pune, Delhi, Mumbai & Bengaluru) and are also operational in over 25 states and 400 cities through our extended partner network. We have more than 200 doctors employed by Express Clinics across the country. These include General Practitioners, Paediatricians, Gynaecologists, Radiologists, Cardiologists, Opticians, Dieticians etc.
Lab Name:
Express Clinics
Lab Address:
A2 Wing , 2nd Floor, E -Space, Pune Nagar Road, Vadgaon Sheri
411014
Lab Registration Status: Private Limited Company
Lab Contact Number: +919881896818
This lab is not serviceable in the selected city. Please try choosing a different lab.