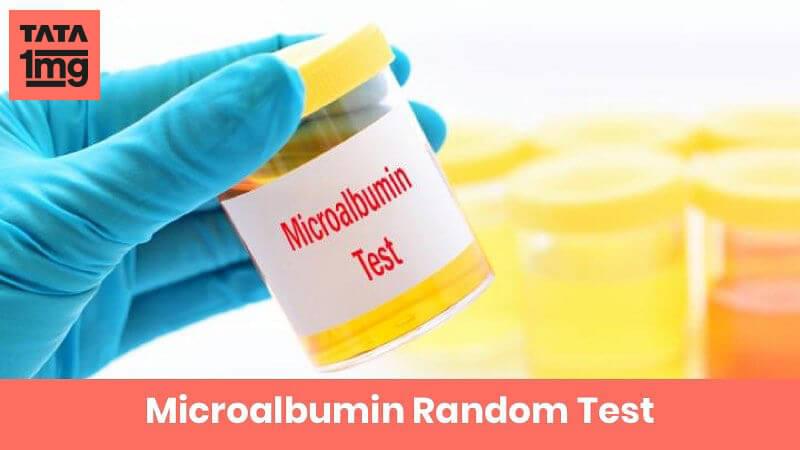 This test is for
Male, Female
Test Preparation
No special preparation required
Overview
---
What is Microalbumin Random?
The Microalbumin Random test detects very small levels of a protein called albumin in the urine. Albumin is one of the first proteins to appear in the urine in case of kidney damage. Microalbumin Random Test is thus a very useful laboratory test to detect early kidney damage in people who are at risk of developing kidney disease.
Why is Microalbumin Random done?
The Microalbumin Random test is done:
To detect early kidney disease in those with diabetes or other risk factors, such as high blood pressure (hypertension)

As routine health checkup for patients of hypertension and type 1 or 2 diabetes
What does Microalbumin Random Measure?
The Microalbumin Random test measures the presence of very small levels of albumin in the urine. This test helps to detect early signs of kidney damage in those people who are at the risk of developing kidney disease. 
The healthy kidneys filter waste from the blood and keep the healthy components such as albumin. In case of kidney damage, albumin can leak through the kidneys and exit the body through urine. 
When there is damage to the kidneys, albumin is one of the first proteins to leak through the kidney. This test is recommended in those patients who are at increased risk of kidney disease or damage such as patients with type 1 diabetes, type 2 diabetes, or high blood pressure. 
Interpreting Microalbumin Random results
---
Interpretations
Both microalbumin and creatinine levels are checked.
The results are interpreted as microalbumin: creatinine ratio in mg/g
| | |
| --- | --- |
| Category | Reference range in mg/g creatinine |
| Normal / Non-diabetic | < 30 |
| Microalbuminuria | 30 - 300 |
| Clinical albuminuria | > 300 |
Reference range may vary from lab to lab*
Three samples should be collected within 3-6 months, from which at least two should be abnormal to consider for diagnosis. 
Answers to Patient Concerns & Frequently Asked Questions (FAQs) about Microalbumin Random
---
Frequently Asked Questions about Microalbumin Random
Q. What are the risk factors which can lead to microalbuminuria?
The risk factors include being overweight, smoking, having a family history of diabetes, and kidney problems.
Q. What are the symptoms of microalbuminuria?
The symptoms of microalbuminuria do not appear at the early stages. Symptoms usually appear at late stages when the kidneys stop working properly. The symptoms include changes in urine, changes in the skin, and puffiness.
Q. How is the urine sample collected?
As the test is performed on the urine sample. It is essential to prevent contamination of the sample with microorganisms naturally present on the skin. During urine collection, women should spread the labia (outer lips of the vagina) while men should retract or pull back the foreskin (fold of skin covering the glans or head of the penis). Start urinating normally and let some urine flow before collecting 20 to 30 ml urine the sterilized container available from the lab or any pharmacy. After collecting the sample, finish urinating into the toilet or urinal. This process is called midstream clean catch method. The urine sample may also be collected using a catheter inserted through the urethra directly into the urinary bladder. Sample collected through a catheter usually has no contamination.
Q. Which factors can cause higher than expected urinary microalbumin results?
The factors which can cause higher than expected urinary microalbumin results include hematuria (blood in urine), certain medicines, fever, recent vigorous exercise, urinary tract infection, and other kidney diseases.
Q. What is microalbuminuria?
Microalbuminuria is a condition where the levels of albumin protein in urine are more than normal. It is an early sign of kidney problems. The risk of developing microalbuminuria increases in the case of diabetic and hypertensive patients. The patients having microalbuminuria are also at increased risk of having heart disease.
---
NABL

ISO
It's the first Bangalore based speciality lab. In Bangalore, they set the trend of DAILY reporting on advanced blood tests like thyroid function, infertility, cancer, meta bolic disorders and immunology.Their services are useful in diagnosing deep-set disorders related to child growth, debility, sleep, sex, weight, mood swings, stress etc.
Know More
User Reviews
---
S
Sandip Kumar
Excellent Phlebotomy skill when patient is old and veins are thin
S
Sandip Kumar
Excellent Phlebotomy Skill. Customer support is not good. Customer support never attentive