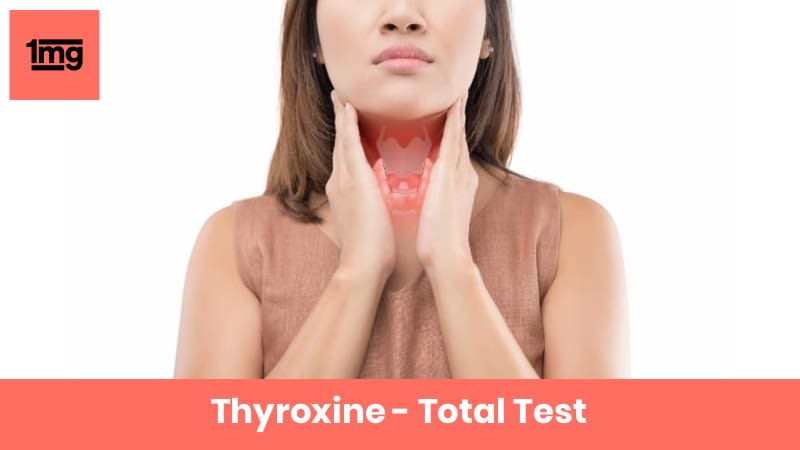 Overview of Thyroxine - Total
What is Thyroxine - Total?
Thyroxine (T4) is a hormone secreted by the thyroid gland (small, butterfly-shaped gland located in front of the neck). The T4 hormone is essential for growth and metabolism. T4 circulates in the blood in two forms: Free form (FT4) and Bound form. Thyroxine (T4) Total test measures the total levels (both free and bound forms) of Thyroxine hormone in the blood.
Sample Type
The sample type collected for Thyroxine - Total is: Blood
Preparation for Thyroxine - Total
Do not eat or drink anything other than water for 8-12 hours before the test.
Why Get Tested for Thyroxine - Total?
To diagnose any suspected thyroid disease (Hypothyroidism or Hyperthyroidism)

To monitor treatment in patients with thyroid diseases
Understand more about Thyroxine - Total
The thyroid gland secretes the following hormones:
Triiodothyronine (T3)

Thyroxine (T4)
Thyroid Stimulating Hormone (TSH), also called Thyrotropin is a hormone secreted into the blood by a gland present in the brain (Pituitary gland) and it tells your thyroid gland to make and release the thyroid hormones (T3 & T4) into your blood. The thyroid gland uses iodine from food to make the thyroid hormones.
The thyroid hormones are essential for growth and metabolism. If the thyroid gland produces very high amounts of these hormones (T3 and T4), you may experience symptoms of weight loss, rapid heartbeat, tremors, sweating, anxiety, increased sensitivity to heat etc. and this is known as Hyperthyroidism.
Also, the decreased production of thyroid hormones (T3 and T4) results in Hypothyroidism which may cause symptoms like weight gain, fatigue, slow heart rate, increased sensitivity to cold, depression, dry and thin hair etc.
There is a feedback system in the body to maintain stable amounts of the thyroid hormones (T3 and T4) in the blood. When thyroid hormone levels decrease, the pituitary gland is stimulated to 
release TSH. This high TSH in turn leads to the release of more thyroid hormones (T3 & T4) from the thyroid gland and vice-versa.
T4 hormone constitutes about 90% of thyroid hormones and circulates in the blood in two forms:
1) Bound form - It is bound to proteins present in blood and this prevents it from entering body tissues.
2) Free form - It enters the body tissues where it's needed and this is the active form.
Hence, the T4 hormone can be measured as Free T4 or Total T4. The total T4 includes both bound and free forms circulating in the blood and can be affected by the amount of protein available in the blood to bind to them. The three main proteins in the blood that the T4 hormone is bound to are albumin, transthyretin and Thyroxine-binding globulin (TBG), also called Thyroid hormone Binding Globulin (THBG).
While the total T4 test is a useful indicator of T4 levels in the presence of normal binding proteins, it is not useful when binding proteins are increased or decreased. For example, increased total T4 levels can be seen despite normal free T4 levels and normal thyroid function due to an increase in thyroxine-binding proteins.
Thyroxine (T4) Total test is also done as a part of the Thyroid profile Total test which includes two more tests: Thyroid Stimulating Hormone (TSH) and Triiodothyronine (T3) Total.
---
What Results of Thyroxine - Total mean?
Interpretations
High values than normal reference range are seen in hyperthyroidism and patients with acute thyroiditis.
Low values than normal reference range are seen in hypothyroidism, myxedema, cretinism, chronic thyroiditis, and occasionally, subacute thyroiditis.
---
Patient Concerns about Thyroxine - Total
Frequently Asked Questions about Thyroxine - Total
Q. What is Hyperthyroidism?
Hyperthyroidism is a condition in which the thyroid gland is overactive and there is an increased production of thyroid hormones by the thyroid gland. Causes of Hyperthyroidism include Graves' disease, multinodular goiter, thyroid nodules, toxic adenoma, inflammation of the thyroid, eating too much iodine, and too much synthetic thyroid hormone. Diagnosis of this condition can help to relieve the symptoms and prevent long term complications.
Q. What are the symptoms of Hyperthyroidism?
Symptoms of Hyperthyroidism include: Rapid heartbeat (tachycardia) — commonly more than 100 beats/minute — irregular heartbeat (arrhythmia) or pounding of your heart (palpitations), sudden weight loss, nervousness, anxiety, irritability, tremor (usually a fine trembling in your hands and fingers), changes in menstrual patterns, increased sensitivity to heat, changes in bowel patterns (especially more frequent bowel movements), an enlarged thyroid gland (goiter) which may appear as a swelling at the base of your neck, increased appetite, sweating, fatigue, muscle weakness, sleep disturbances, skin thinning, fine and brittle hair
Provided By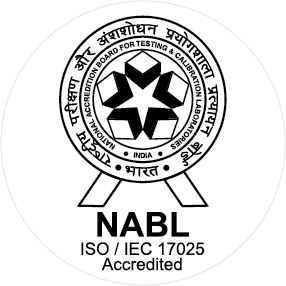 NABL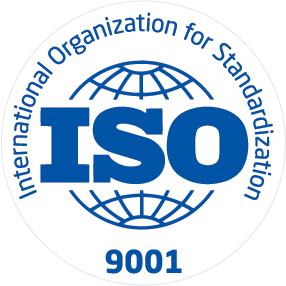 ISO
Thyrocare Technologies Limited is India's first and most advanced Totally Automated Laboratory having its strong presence in more than 2000 cities / towns in India and internationally. Thyrocare is India's first fully automated diagnostic laboratory with a focus on providing quality at affordable costs to laboratories and hospitals in India and other countries. Thyrocare operates with a Centralized Processing Laboratory (CPL) in Mumbai - India for esoteric tests; and Regional Processing Laboratory in major metro cities of India and other parts of Asia. We have focus on strong technologies, strong brands and strong systems that enable all laboratories to give their clients the best of science and technology at an affordable cost. With a belief that 'Quality' is the heart of any intelligent management, Thyrocare became one of the first Indian diagnostic laboratories to obtain internationally renowned quality accreditations like ISO 9001-2000 rating as early as 2001, which is now escalated to ISO 9001:2008; NABL (National Accreditation Board for Testing and Calibration Laboratories) in 2005 and CAP (College of American Pathologists) certification in 2007.
User Reviews
K
Kirti
Excellent service and delivery in very short period. Highly impressive
H
Himadri Shekhar Das
very good
Available at Other Labs