Protein - Random (Spot) Urine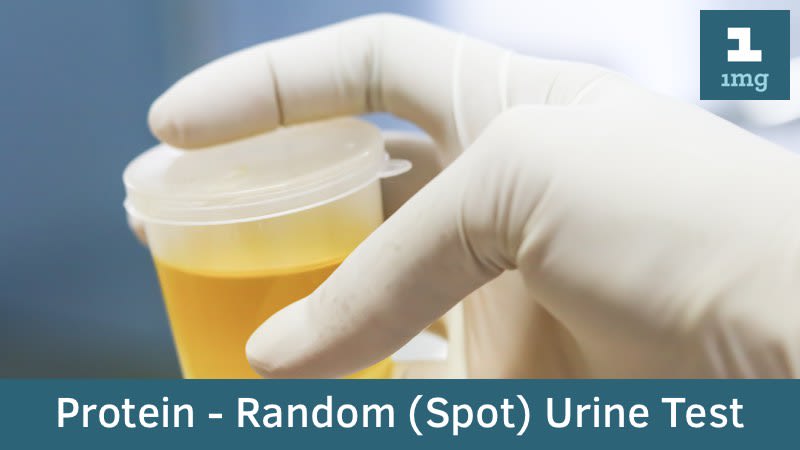 This test is for
Male, Female
Test Preparation
No special preparation required
Overview
---
What is Protein - Random (Spot) Urine?
Protein - Random (Spot) Urine Test is done to monitor the function of the kidney or any damage in the kidney. Proteins are known as building blocks of the body. The function of proteins is to nourish tissues, transport hormones, vitamins, and other essential nutrients along with maintaining a sufficient amount of fluid circulation throughout the body. In a normally functioning kidney, traces of proteins are passed into the urine. But, in case there is any disruption in the kidney function, proteins start to pass through the kidney to the urine.
Why is Protein - Random (Spot) Urine done?
To screen for excess protein in the urine


To monitor kidney function

To detect kidney damage

To screen nephrotic syndromes
What does Protein - Random (Spot) Urine Measure?
This test measures protein released into the urine. The normal protein secreted is less than 150 mg/day and albumin less than 30 mg/day. It has been observed that in conditions like pregnancy, infections, stress, diet, heavy exercise, or exposure to cold the levels of the protein rise temporarily. If these high levels of protein in urine continue to rise, it suggests damage to the kidney. Due to this damage, the basic function of kidney like filtration gets affected which leads to increased levels of protein in the urine. The liver produces protein albumin which comprises of 50% to 60% of the protein in the blood. The rest of the content comprises of a mixture of globulins which includes immunoglobulins.
In chronic (from a long time) diseases like diabetes and hypertension, the increase in protein levels in urine indicates kidney damage. However, early kidney damage does not produce any symptoms. With time as the damage increases, symptoms such as swelling of the face, neck, hands, feet along with shortness of breath, nausea, and fatigue occur. In conditions like multiple myeloma, lymphoma, and amyloidosis there is excessive production of protein which leads to the high secretion of protein in the urine.
Interpreting Protein - Random (Spot) Urine results
---
Interpretations
Normal reference range irrespective of all age
Protein Total, Random Urine < 14.00 mg/dL
(Reference range may vary from lab to lab)
Levels are increased in diseases like:
Diabetes

Hypertension (High blood pressure)

Nephrotic syndrome (High amounts of protein is passed through the kidneys into the urine)

Drug nephrotoxicity (Toxicity in kidneys due to drugs)
Answers to Patient Concerns & Frequently Asked Questions (FAQs) about Protein - Random (Spot) Urine
---
Frequently Asked Questions about Protein - Random (Spot) Urine
Q. How is Protein - Random (Spot) Urine test performed?
The test is performed on urine sample. Start urinating normally and let some urine flow before catching and collecting 30 to 60 ml urine in the sterilized container available from the lab or any pharmacy. After collecting the sample, finish urinating into the toilet or urinal. This process is called midstream clean catch method. Urine sample may also be collected using a catheter inserted through the urethra directly into the urinary bladder. Sample collected through a catheter usually has no contamination. Dipstick method is used in which a specially treated paper strip is dipped in the urine sample. The strip contains squares in which color is present. As the strip is dipped into the urine sample, the color of the strip changes. It is then compared to the chart.
Q. Is there any risk associated with Protein - Random (Spot) Urine test?
No, there are no risks associated with this test.
Q. What can affect the results of protein - random (spot) urine test?
This test can be adversely affected if the patient has recently taken antibiotics before the sample collection. It may also be affected if the urine sample is not collected properly.
Q. What are the signs of proteins passing from the kidneys into the urine?
In the early stages, the body shows no signs and symptoms. If there is more damage to the kidney then more amounts of protein start to pass from the kidney to the urine. Due to this swelling of hands, feet, face, and abdomen occurs. If damage to the kidneys continues, it can lead to permanent loss of function, which might result in kidney transplant or dialysis.
Q. What are the other conditions which can result in secretion of proteins apart from kidney disease?
Other conditions that can result in the secretion of proteins include diet, menstruation, physical activity, or urinary tract infection.
Q. What are the additional tests a doctor may prescribe in case of protein random (spot) urine test results are normal?
The doctor may prescribe the following tests: Urine Routine & Microscopy Culture urine
Q. What is nephrotic syndrome?
Nephrotic Syndrome is a disorder of kidney in which high amounts of protein are secreted in urine. It occurs due to damage to blood vessels which causes a defect in the filtration process. This can cause symptoms that include swelling of feet and ankles. It also increases the risk of health problems.
---
NABL

ISO
General Diagnostics Pvt Ltd is a medical technology company and provider of high-end Preventive Screening and Diagnostic tests with a special focus on metabolomics. General Diagnostics Pvt Ltd is also a Technology Solution Provider to laboratories world-wide offering services based on high end chromatographic instruments. Since its inception about a decade ago, General Diagnostics Pvt Ltd has been continually evolving, transforming and thriving in this ever changing field through its...
Know More