Glomerular Filtration Rate
(GFR)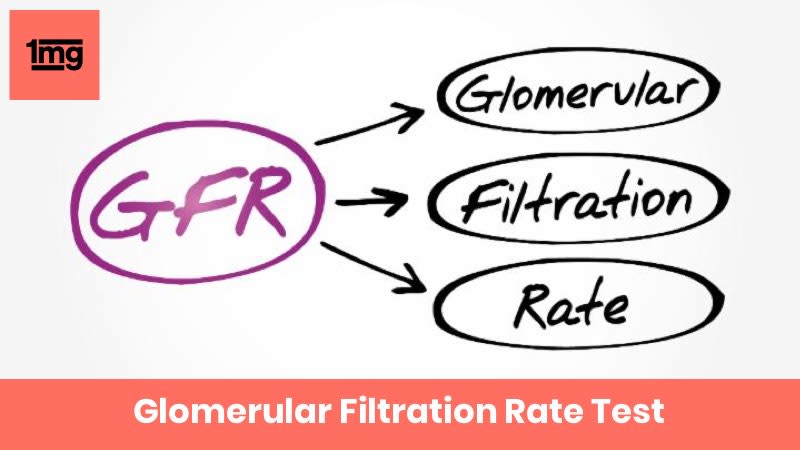 This test is for
Male, Female
Test Preparation
No special preparation required
Overview
---
What is GFR?
Glomerular filtration rate (GFR) is also known as the estimated glomerular filtration rate (eGFR). This test is advised to evaluate kidney function. It helps to diagnose stage and monitor chronic kidney disease.
Why is GFR done?
The glomerular filtration rate is done:
As a part of routine tests along with blood creatinine test

In case of signs of kidney damage

In case of the risk of developing kidney disease
What does GFR Measure?
Glomerular Filtration Rate (GFR) helps in measuring the function of kidneys. Glomeruli are present in the kidneys. They are tiny filters that allow waste products to be removed from the blood. They prevent the loss of important constituents including blood cells and proteins.
Normally healthy kidneys filter about 200 quarts of blood and produce approximately 2 quarts of urine. The GFR is the amount of blood which is filtered by the glomeruli per minute. At the time of kidney function damage or disease, there is a decrease in the filtration rate. This results in the piling up of waste products in the blood. 
The chronic kidney disease (CKD) is related with a progressive decrease in kidney function. CKD might be seen in conditions such as diabetes and high blood pressure. Early detection of kidney dysfunction can help to minimize further kidney damage. This is important as symptoms of kidney disease are usually noticeable only after there is a loss in 30-40% of kidney function. 
Interpreting GFR results
---
Interpretations
| | |
| --- | --- |
| Age in Years | GFR in mL/min/1.73 meter sq. |
| 20 - 29 | 116 |
| 30 - 39 | 107 |
| 40 - 49 | 99 |
| 50 - 59 | 93 |
| 60 - 69 | 85 |
| More  than or equal to 70 | 75 |
| | | | |
| --- | --- | --- | --- |
| CKD Disease | Description | GFR (mL/min/1.73 msq.) | Associated findings |
| 0 | Normal kidney function | > 90 | No proteinuria |
| 1 | Kidney damage with normal or high GFR | > 90 | Presence of protein, albumin, cells or casts in urine |
| 2 | Mild decrease in GFR | 60 - 89 | - |
| 3 | Moderate decrease in GFR | 30 - 59 | - |
| 4 | Severe disease in GFR | 15 - 29 | - |
| 5 | Kidney failure | < 15 | - |
Answers to Patient Concerns & Frequently Asked Questions (FAQs) about GFR
---
Frequently Asked Questions about Glomerular Filtration Rate
Q. What are the signs and symptoms of kidney disease?
The signs and symptoms of kidney disease include swelling or puffiness, particularly around the eyes or in the face, wrists, abdomen, thighs, or ankles. Additionally, foamy, bloody or coffee-colored urine, decrease in the amount of urine, problems in urinating such as burning feeling or abnormal discharge at the time of urination can be observed. One may also experience change in frequency of urination, especially at night, mid-back pain in the area where the kidneys are located, and high blood pressure.
Q. What are the signs of worsening of kidney disease?
The signs of worsening of kidney disease include urinating more or less often, feeling itchy, feeling of tiredness, and loss of concentration. One may also experience signs like loss of appetite, nausea, vomiting, swelling, numbness in hands and feet, darkening of the skin, and muscle cramps.
Q. What other tests can be advised to detect kidney damage or disease or to evaluate kidney function?
The other tests which can help to evaluate kidney function include Urine albumin and albumin/creatinine ratio (ACR). Along with that, complete urine examination may also be advised.
Q. How is the blood sample taken?
The healthcare provider takes a blood sample from the arm. The site from where the blood is to be withdrawn is cleaned with a swab of rubbing alcohol. This is then followed by inserting a small needle which has a tube attached to it for collecting blood. Once the sufficient blood for analysis is withdrawn, the needle is removed. The site is then covered with a gauze pad.
Q. Is there any risk associated with the withdrawal of blood sample procedure?
As such there is no risk but in few cases, bruising, bleeding, and infection at the puncture site can be seen. In very few cases, there can be swelling of the vein after the blood is withdrawn.
---
NABL

ISO
General Diagnostics Pvt Ltd is a medical technology company and provider of high-end Preventive Screening and Diagnostic tests with a special focus on metabolomics. General Diagnostics Pvt Ltd is also a Technology Solution Provider to laboratories world-wide offering services based on high end chromatographic instruments. Since its inception about a decade ago, General Diagnostics Pvt Ltd has been continually evolving, transforming and thriving in this ever changing field through its...
Know More