Culture Aerobic Blood (Automated)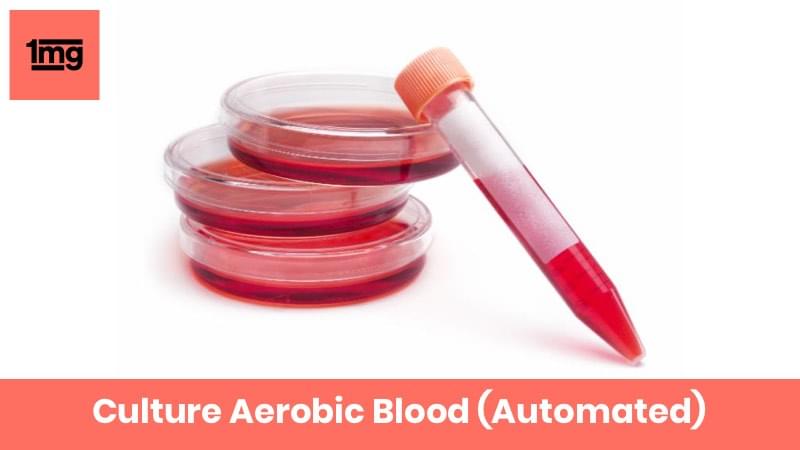 This test is for
Male, Female
Test Preparation
A copy of valid government-issued identification card with the address is required.
Overview
---
What is Culture Aerobic Blood (Automated)?
The Culture Aerobic Blood test is done to check for the presence of systemic infection. It is also done to detect and identify the presence of bacteria or yeast in blood.
Why is Culture Aerobic Blood (Automated) done?
The Culture Aerobic Blood test is done:
In case of signs or symptoms of infection or sepsis-like fever, rapid heart rate, nausea, confusion, and reduced frequency of urination

In case of recent infection, surgical procedure, valve replacement or when there is a high risk of systemic infections 
What does Culture Aerobic Blood (Automated) Measure?
The culture aerobic blood test is done to detect an infection in the blood and to identify its cause. Bloodstream infections are most commonly caused by bacteria, yeasts, fungi, or virus. 
The blood infection usually originates from a specific site within the body. It then further spread when a person gets affected by a severe infection such as in the case of urinary tract infection. The infection may spread from the bladder and/or kidneys into the blood and can be further spread throughout the body infecting other organs and causing life-threatening systemic infection.
Those who have a weakened immune system due to diseases such as leukemia or HIV/AIDS or due to chemotherapy are at higher risk for blood infections. This is due to their weak immune system which is not efficient enough to kill microbes entering the blood.
The bacterial and yeast infection can be introduced directly into the bloodstream through intravenous drug use or through surgical drains or intravenous catheters.
For culture aerobic blood test, multiple blood samples are collected for testing. Samples for the blood test are taken from different veins to increase the chances of detecting the bacteria or fungi. The blood cultures are incubated for a few days before reporting a negative result as some bacteria and fungi take time to grow and may take longer to detect.
In some laboratories, the process of culture aerobic blood test is automated with instruments which continuously monitor the bacteria or fungi growth. The advantage of this method is the timely reporting of results which helps in providing proper treatment against the detected microbes present in the blood.
Interpreting Culture Aerobic Blood (Automated) results
---
Interpretations
Two or more blood cultures that are positive for the same bacteria or fungi means that the person tested likely has a blood infection with that organism. The results typically identify the specific bacteria or fungi causing the infection. 

If one blood culture set is positive and one set is negative, it may mean that an infection or skin contaminant is present. Additional tests are done in such cases. 

If blood culture sets are negative after several days (no growth), then the probability that the person has a blood infection caused by bacteria or fungi is low.
Answers to Patient Concerns & Frequently Asked Questions (FAQs) about Culture Aerobic Blood (Automated)
---
Frequently Asked Questions about Culture Aerobic Blood (Automated)
Q. What does negative culture aerobic blood test result mean?
Negative result doesn't always mean that the person is not infected. There are some microbes which take time to grow in the blood culture medium. In case of viral infection, additional tests are advised as viruses cannot be detected using blood culture medium.
Q. What are the signs and symptoms of sepsis?
The signs and symptoms of sepsis include chills, fever, nausea, rapid breathing, rapid heartbeat, confusion, and decreased frequency of urination. In case of severe infection, the signs and symptoms include occurrence of inflammation throughout the body, the formation of many tiny blood clots in small blood vessels, drop in blood pressure, and failure of one or more organs.
Q. How is the blood sample taken?
The healthcare provider takes a blood sample from the arm. The site from where the blood is to be withdrawn is cleaned with a swab of rubbing alcohol. This is then followed by inserting a small needle which has a tube attached to it for collecting blood. Once the sufficient blood for analysis is withdrawn, the needle is removed. The site is then covered with a gauze pad.
Q. Is there any risk associated with the withdrawal of blood sample procedure?
As such there is no risk but in few cases, bruising, bleeding, and infection at the puncture site can be seen. In very few cases, there can be swelling of the vein after the blood is withdrawn.
---

ISO
Clinitech Laboratory Private Limited was registered at Registrar of Companies Mumbai on 19 March, 2010 and is categorised as Company limited by Shares and an Non-govt company. Clinitech Laboratory Private Limited's Corporate Identification Number (CIN) is U85195MH2010PTC201078 and Registeration Number is 201078. Clinitech Laboratory Private Limited registered address on file is AL - 1 / 545 & 546, SECTOR 16, AIROLI, NAVI MUMBAI MH 400708 IN, Navi Mumbai - 400708, Maharashtra, India. Clinitech...
Know More
User Reviews
---
V
Virendra Jadhav
Booked test for mother who is about to undergo cataract ssurgery.Phlebo guys managed well in heavy rains.Report same day