Rheumatoid Factor - Quantitative
(RF Quant.)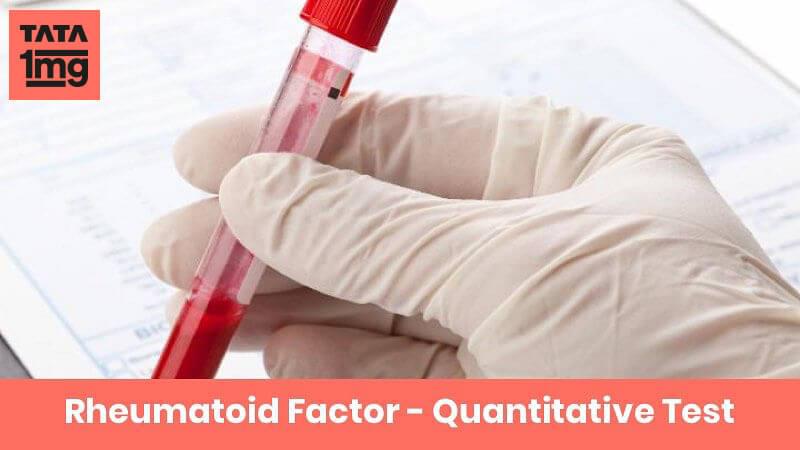 This test is for
Male, Female
Test Preparation
No special preparation required
Overview
---
What is RF Quant.?
Rheumatoid factor is an autoantibody which is produced by the body's immune system. Rheumatoid Factor (RF) - Quantitative test detects the levels of Rheumatoid Factor in the blood which helps in diagnosing autoimmune disorders like Rheumatoid arthritis. RF is an autoantibody that is produced by the body's immune system. It attacks body tissues considering them as foreign tissues. Presence of RF indicates that there is autoinflammatory and autoimmune activity going on in the body.
Why is RF Quant. done?
To diagnose rheumatic diseases such as Rheumatoid arthritis

To diagnose autoimmune diseases such as Sjogren's syndrome or Lupus Erythematosus

To diagnose chronic infections



What does RF Quant. Measure?
Rheumatoid factor (RF) attacks healthy body tissues as it mistakes them for foreign body tissues. It is not found in healthy persons. The presence of RF means that the body has an autoimmune disease such as Rheumatoid arthritis. Symptoms of Rheumatoid arthritis include stiffness of joints especially in morning, pain in joints, underlying skin nodules, loss of bone and swelling of joints.   
Interpreting RF Quant. results
---
Interpretations
High levels of Rheumatoid factor test indicates the high level of rheumatoid factor in the blood which is associated with Rheumatoid arthritis.
There are other conditions where RF test is positive that include:
Sjogren's syndrome

Systemic Lupus erythematosus

Inflammatory lung diseases

Chronic infections

Cancer

Mixed connective tissue diseases
Answers to Patient Concerns & Frequently Asked Questions (FAQs) about RF Quant.
---
Frequently Asked Questions about Rheumatoid Factor - Quantitative
Q. How is this test performed?
This test is performed on a blood sample. A syringe with a fine needle is used to withdraw blood from a blood vessel in your arm. The healthcare provider will tie an elastic band around your arm to make the blood vessels swell with blood. This makes it easier to withdraw blood. You may be asked to tightly clench your fist. Once the veins are clearly visible, the area is cleaned with an antiseptic solution and then the needle is inserted into the blood vessel to collect the sample. You will feel a tiny pinprick during the procedure. Blood sample once collected will then be sent to the laboratory.
Q. Is there any risk associated with this test?
There is no risk associated with the test. However, since this test involves a needle prick to withdraw the blood sample, in very rare cases, a patient may experience increased bleeding, hematoma formation (blood collection under the skin), bruising or infection at the site of needle prick.
Q. Is there any special preparation required for the test?
No, there is no special preparation required for the test.
Q. What is Rheumatoid arthritis?
Rheumatoid arthritis is a systemic autoimmune disease which is chronic (from a long time). It causes inflammation, stiffness, pain and disastrous changes in joints of the body. It can occur at any age but the usual age is after 40 years. As compared to men, women are more affected. It can progress slow or fast. But, if untreated can cause disability of the joints.
Q. When does the doctor advise Rheumatoid factor test - Quantitative?
The doctor advises the RF test - Quantitative when signs and symptoms of Rheumatoid arthritis like the stiffness of joints especially in the morning, pain and swelling in joints, underlying skin nodules are noted in the patient. If the X-ray of the patient shows swelling in the joint capsules along with the loss of cartilage and bone, RF test is advised.
Q. What other tests are advised apart from rheumatoid factor test - Quantitative?
Apart from Rheumatoid Factor (RF), Anti CCP Antibody test, Antinuclear antibody test, Complete Blood Count, and X-ray are advised. If a patient has positive Anti CCP antibody test as well as RF test it indicates that the patient has rheumatoid arthritis. If the patient has a positive Anti CCP antibody test but a negative RF test, it means that the patient is likely to develop Rheumatoid arthritis in the future. If Anti CCP antibody test is negative but RF test is positive, it can indicate that the patient should be analyzed for other inflammatory conditions as well.
---

ISO
Thyrocare Technologies Limited is India's first and most advanced Totally Automated Laboratory having its strong presence in more than 2000 cities / towns in India and internationally. Thyrocare is India's first fully automated diagnostic laboratory with a focus on providing quality at affordable costs to laboratories and hospitals in India and other countries. Thyrocare operates with a Centralized Processing Laboratory (CPL) in Mumbai - India for esoteric tests; and Regional Processing...
Know More
User Reviews
---
V
Vivek Shukla
Very nice experience. Highly recommended.
G
Girish K Kulkarni
Awesome experience. Pathology test was never so easy.