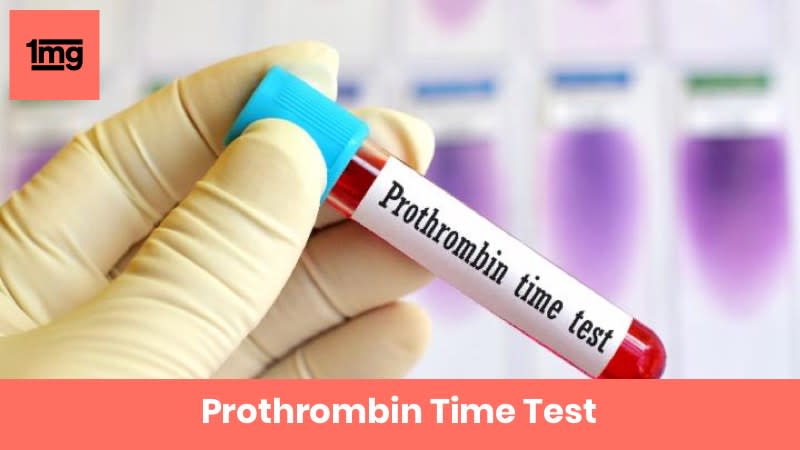 Overview of PT
What is PT?
Prothrombin Time (PT) is the time in which your liquid portion of blood (Plasma) takes to clot. The PT Test is performed to estimate the ability of the plasma to clot in order to detect a bleeding disorder or clotting disorder and to monitor the effects of anticoagulant medication, Warfarin.
Why is PT done?
·         To detect and diagnose bleeding disorders or clotting disorders

·         Before the surgical procedure
·         To monitor the efficacy of treatment with anticoagulating medication, Warfarin
What does PT Measure?
The Prothrombin Time (PT) Test measures the ability of the plasma to clot in order to detect a bleeding disorder or clotting disorder and to monitor the effects of anticoagulant medication, Warfarin.

In case of any bleeding, the body responds to stop the blood loss as quickly as possible by forming a blood clot. This process of blood clotting or coagulation is called hemostasis and involves a series of chemical reactions in the blood (coagulation cascade) which activates blood proteins called coagulation factors one after another, in a series. The activated coagulation factors lead to the formation of fibrin mesh around the platelets and other blood cells at the site of bleeding and this complex hardens to form a "blood clot".
Coagulation cascade proceeds by two pathways, the intrinsic pathway, and the extrinsic pathway. These pathways later merge together into a common pathway. Prothrombin (Coagulation Factor II) is converted to its active form thrombin in one of the reactions. The PT Test assesses the functioning of Blood Coagulation Factors I, II, V, VII, and X, which are parts of the extrinsic and common pathways by measuring the time taken for conversion of prothrombin to thrombin. The Activated Partial Thromboplastin Time (aPTT) Test measures the functioning of Blood coagulation Factors I, II, V, XII, VIII, IX, X, and XI, along with other factors Prekallikrein (PK), and High Molecular Weight Kininogen (HK) which form parts of the intrinsic and common coagulation pathways. The PT and aPTT tests are usually performed together and the results of both are evaluated simultaneously to determine the rate of blood clotting.
Warfarin is prescribed in the treatment of conditions caused or worsened by excessive blood clotting like Deep Vein Thrombosis (blood clot formation in blood vessels), irregular heartbeats, etc. The PT test is also performed to evaluate the effectiveness of Warfarin treatment. When performed to determine Warfarin efficacy, the result of the PT Test is expressed in terms of a measurement scale called the International Normalized Ratio (INR). Since the PT Tests are performed using different reagents in different labs giving rise to widely varying results in other conventional units, the INR system was created to maintain uniformity in the results.
Preparation for PT
No special preparation required
Sample Type for PT
The sample type collected for Prothrombin Time is: Blood
---
Interpretations
Normal Reference Ranges:
Prothrombin time (PT): 8.7-11.5 seconds
International normalized ratio (INR): 0.8-1.2
INR during Warfarin treatment: 2.0 to 3.0
Prothrombin time longer than the normal range indicates a bleeding disorder where blood takes a longer time to clot.
Prothrombin time shorter than the normal range indicates a clotting disorder where blood takes lesser time to clot.
The PT and aPTT tests are usually performed and evaluated simultaneously, and the results may be interpreted as follows:
| | | |
| --- | --- | --- |
| PT  RESULT |  aPTT RESULT | CONDITIONS INDICATED |
| High | Normal | Liver diseases, Vitamin K deficiency, reduced activity of Factor VII, Disseminated Intravascular Coagulation (DIC), Warfarin treatment |
| Normal | High | Reduced activity of Factors VIII, IX, XI, or XII, Von Willebrand disease, autoantibodies destroying one or more coagulation factors |
| High | High | Reduced activity of Factors I, II, V or X, liver diseases, DIC, an overdose of Warfarin |
| Normal | Normal | Normal hemostasis usually. However, normal results may also appear in a mild reduction in coagulation factor activity and mild cases of Von Willebrand disease. |
---
Answers to Patient Concerns & Frequently Asked Questions (FAQs) about PT
Frequently Asked Questions about Prothrombin Time
Q. How is this test performed?
This test is performed on a blood sample. A syringe with a fine needle is used to withdraw blood from a blood vessel in your arm. The healthcare provider will tie an elastic band around your arm to make the blood vessels swell with blood. This makes it easier to withdraw blood. You may be asked to tightly clench your fist. Once the veins are clearly visible, the area is cleaned with an antiseptic solution and then the needle is inserted into the blood vessel to collect the sample. You will feel a tiny pinprick during the procedure. Blood sample once collected will then be sent to the laboratory.
Q. Is there any risk associated with this test?
There is no risk associated with the test. However, since this test involves a needle prick to withdraw the blood sample, in very rare cases, a patient may experience increased bleeding, hematoma formation (blood collection under the skin), bruising or infection at the site of needle prick.
Q. Is there any preparation required before the PT test?
Inform the doctor of any medications you may be taking as medicine like aspirin, some steroids, etc. can affect clotting time. If the test is performed to monitor Warfarin therapy, sample collection is performed at the same time of the day every time to ensure uniformity of results regarding Warfarin dosage. No other specific preparations are usually required before the Prothrombin Time Test.
Q. What factors can affect the PT test results?
The Prothrombin Time can be affected by a number of factors as follows: · Medications like oral contraceptives and barbiturates can reduce PT values · Vitamin K supplement in liquid or multivitamin forms reduce PT values · Hormone Replacement Therapy reduces PT values · Certain antibiotics like ciprofloxacin, azithromycin, levofloxacin, metronidazole, trimethoprim/sulfamethoxazole (TMP/SMX), fluconazole, and clarithromycin increase PT and INR values · Food items like beef, broccoli, chickpeas, soybean etc. can reduce PT values as they usually contain Vitamin K · Alcohol increases PT values
Q. What additional tests can be prescribed by your doctor in case of abnormal PT test result?
Additional tests that may be prescribed in case of abnormal Prothrombin Time test result are: · Platelet Count · Thrombin Time Test · Activated Partial Thromboplastin Time (aPTT) · Fibrinogen Test · Coagulation factor Tests · von Willebrand factor Test · Liver Function Test (LFT)
Q. What diseases can affect blood clotting to cause bleeding disorders?
Certain inherited conditions and diseases that can cause bleeding disorders include: · Hemophilia · Clotting factor deficiency · Vitamin K deficiency · Liver diseases · Bone marrow disorders · von Willebrand disease · Immune system diseases · Cancers like leukaemia
Q. What are some apparent symptoms of bleeding or clotting disorders?
Visible signs of bleeding or clotting disorders include: · Unexplained heavy bleeding · Abnormal menstrual bleeding in women · Bruising and bleeding easily · Frequent nosebleeds · Bleeding gums · Repeated heart attacks or strokes
Provided By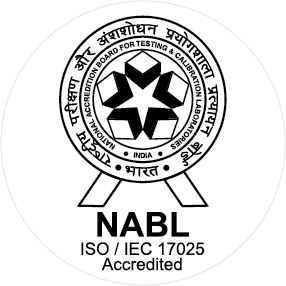 NABL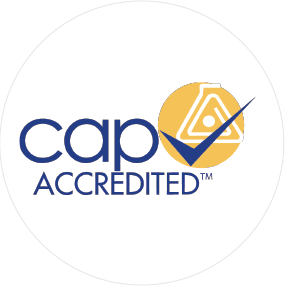 CAP
About SRL Limited
For over a hundred years, human pathology has been one of the keystones of medicine and rightly so at SRL, we offer our patients world-class Pathology services because their well-being is of the utmost importance to us. Pathology is quite simply the scientific study of the overall response of your body to any foreign influence, i.e., disease. Actually, we use this knowledge to diagnose & subsequently treat your ailment. What we basically do is carefully compare the normal structure and function of a human body (anatomy and physiology) to the abnormal structure and function we witness in an unwell human. Doing this is the most crucial phase & we take note of even the minutest details while adjudging the extent of your ailment because one slip can lead to an incorrect diagnosis, posing serious threat to your health. Our experts ensure that they are extremely careful while analyzing the samples. This is where our advanced technology chips in. SRL is proud to host state-of-the-art equipments based on the latest technology for a speedy and accurate result. We do not take any chances whatsoever with your health & well-being. Avail our Pathology services with no hesitation. You are always in good hands with SRL.
Available at Other Labs