Iron Studies Test Includes 3 tests
View All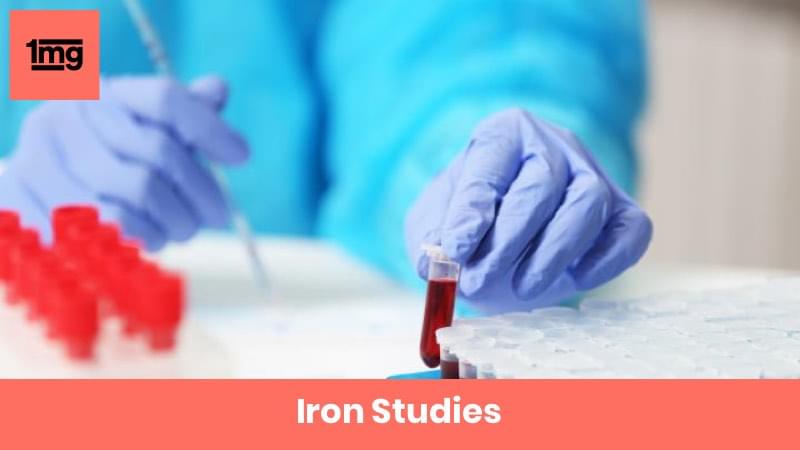 This test is for
Male, Female
Test Preparation
Do not eat or drink anything other than water for 8-12 hours before the test.
Overview
---
What is Iron Studies?
Iron studies comprise three tests which include serum transferrin, iron serum, and total iron-binding capacity. Iron is an essential micronutrient that plays a number of roles critical to survival, including transport of oxygen in the Red Blood Cells (RBCs). The protein that plays the primary role in transporting iron absorbed from diet to different parts of the body is called Transferrin. 
Why is Iron Studies done?
The Iron studies test is done:
To confirm anemia due to iron deficiency detected in routine checkups

To determine iron deficiency or overload in the body

To determine the capacity of the blood to transport iron
What does Iron Studies Measure?
The iron studies test measures three components which include serum transferrin, iron serum, and total iron-binding capacity. Iron is an essential micronutrient that is required by the body in trace amounts. Iron plays essential roles in a number of body activities, the most important of which is in the formation and functioning of Red Blood Cells or RBCs. Iron can only be consumed by diet as it is not produced by the body. Iron is an integral part of a protein called hemoglobin in the RBCs, which transports oxygen from the lungs to other body tissues. Most of the iron obtained from food is converted to hemoglobin in the RBCs, as only a small quantity of iron is required by the body. Free iron in excess quantities is toxic, hence most of the excess iron absorbed from food is stored as proteins ferritin and hemosiderin, and a small amount as myoglobin and as enzymes.
The protein Transferrin transports iron to different parts of the body for utilization or storage. It is produced by the liver. Low levels of transferrin can impair the transport of iron for utilization or storage and may give rise to symptoms of iron deficiency or overdose. Transferrin is a negative acute-phase reactant, and its levels decrease in the case of inflammation in the body. It is the primary iron transporting protein in the body and most of the free iron remains bound to it.
The availability of iron is usually dependant on both transferrin and ferritin levels simultaneously. Thus, the following tests are performed apart from the Total Iron Binding Capacity Test to measure the iron levels of the body and results are interpreted accordingly:
Iron Serum Test measures the levels of iron present in the blood.

Serum Transferrin Test measures the levels of transferrin present in blood both bound and unbound with iron.
Answers to Patient Concerns & Frequently Asked Questions (FAQs) about Iron Studies
---
Frequently Asked Questions about Iron Studies
Q. What conditions can cause iron deficiency?
Iron deficiency is a condition which occurs if the iron content of blood falls below normal. Conditions that may cause iron deficiency include iron deficiency anemia, hemolytic anemia, malnutrition, chronic blood loss, bleeding disorders, long term infections, pregnancy and cancers, especially lymphoma or leukemia.
Q. What factors can affect Iron studies results?
The factors that can affect Iron studies test results include anemia, pregnancy, oral contraceptives, recent blood transfusion, malnutrition, liver diseases, and inflammation.
Q. How is the blood sample taken?
The healthcare provider takes a blood sample from the arm. The site from where the blood is to be withdrawn is cleaned with a swab of rubbing alcohol. This is then followed by inserting a small needle which has a tube attached to it for collecting blood. Once the sufficient blood for analysis is withdrawn, the needle is removed. The site is then covered with a gauze pad.
Q. What conditions can cause iron overload?
Iron overload is a condition which occurs when the iron levels of blood rise to higher than normal. Conditions that can cause iron overload include hemolysis, iron poisoning due to overconsumption of iron in diet, hemochromatosis (excessive iron accumulation), multiple blood transfusions, and liver diseases.
Q. Is there any risk associated with the withdrawal of blood sample procedure?
As such there is no risk but in few cases, bruising, bleeding, and infection at the puncture site can be seen. In very few cases, there can be swelling of the vein after the blood is withdrawn.
Q. What are the common symptoms of iron deficiency?
Common signs and symptoms which appear during chronic iron deficiency include chronic unexplained fatigue and tiredness, weakness, dizziness and headaches, pale skin (pallor), and irritability.
Q. What is hemochromatosis?
Hemochromatosis is a condition that causes the accumulation of iron in the body to higher than normal levels. It is of two types, Hereditary Hemochromatosis and Secondary Hemochromatosis. Hereditary hemochromatosis is caused due to a genetic mutation which causes the body to absorb iron in excessive amounts from food. Secondary Hemochromatosis is commonly found in patients suffering from bleeding disorders who need multiple blood transfusions and iron accumulation from each. The symptoms of hemochromatosis in the early stages include joint pain, abdominal pain, fatigue, and weakness. In later stages, the condition may progress to cause more severe symptoms including diabetes, loss of libido, impotency, heart failure, and liver failure.
Q. What is hemosiderosis?
Hemosiderosis is a condition caused due to excess accumulation of an iron-storing protein called hemosiderin in the body. Hemosiderin is formed when Red Blood Cells (RBCs) die at the end of their lifespan. Iron in the RBCs is subsequently stored in Hemosiderin to be recycled later. Hemosiderosis is caused by two factors which include internal bleeding in organs and rapid degeneration of RBCs. Accumulation of Hemosiderin may not show symptoms in the early stages. Symptoms that may appear in later stages with excess accumulation include heavy coughing which may be accompanied by blood, breathing difficulty accompanied by wheezing, fatigue, and weakness, shortness of breath during physical activity, systemic pain, rapid weight loss, and slow growth in children.
Q. What are the common symptoms of iron overload?
Common symptoms of iron overload include joint pain, fatigue and weakness, rapid weight loss, pain in chest and abdomen, joint pain, loss of sex drive, and liver damage.
---
Total Iron Binding Capacity
---
NABL

ISO
Clinitech Laboratory Private Limited was registered at Registrar of Companies Mumbai on 19 March, 2010 and is categorised as Company limited by Shares and an Non-govt company. Clinitech Laboratory Private Limited's Corporate Identification Number (CIN) is U85195MH2010PTC201078 and Registeration Number is 201078. Clinitech Laboratory Private Limited registered address on file is AL - 1 / 545 & 546, SECTOR 16, AIROLI, NAVI MUMBAI MH 400708 IN, Navi Mumbai - 400708, Maharashtra, India. Clinitech...
Know More
User Reviews
---
V
Virendra Jadhav
Booked test for mother who is about to undergo cataract ssurgery.Phlebo guys managed well in heavy rains.Report same day