Alpha Feto Protein, Tumour Marker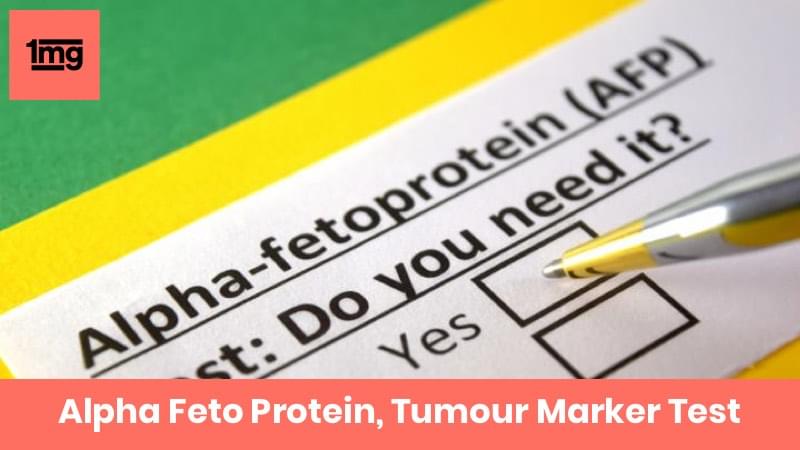 This test is for
Male, Female
Test Preparation
No special preparation required
Overview
---
What is Alpha Feto Protein, Tumour Marker?
The alpha-fetoprotein tumor marker is also known as AFP or total AFP. This test is done to help diagnose and monitor therapy for certain cancers of the liver, testicles, or ovaries. 
Why is Alpha Feto Protein, Tumour Marker done?
The alpha-fetoprotein tumor marker is done:
In case cancers of the liver, testicles, or ovaries are suspected

At intervals during and after treatment for any of these cancers

In the case of cancer-predisposing diseases such as chronic hepatitis or cirrhosis

To monitor the patients for cancer recurrence
What does Alpha Feto Protein, Tumour Marker Measure?
The alpha-fetoprotein (AFP), tumour marker test measures the levels of AFP in the blood. AFP is a protein which is produced mainly by the liver in a fetus (developing baby) and the portion of a developing embryo. The levels of AFP are elevated at the time of the baby's birth and then the levels decline. 
In case of liver damage and certain cancers, the AFP concentrations are raised. 
The production of AFP occurs at the time of regeneration of liver cells. In case of chronic liver diseases, such as cirrhosis and hepatitis, AFP may be raised chronically. Certain tumors produce very high concentrations of AFP. Thus, AFP test is a useful tumor marker test. 
Increased levels of AFP can be seen in hepatocellular carcinoma (type of liver cancer), hepatoblastoma (liver cancer occurring in infants), cancer of the testicles or ovaries. 
Interpreting Alpha Feto Protein, Tumour Marker results
---
Interpretations
AFP (Alpha-fetoprotein), Tumor marker, Serum < 10.00 ng/mL
Reference range may vary from lab to lab*
Answers to Patient Concerns & Frequently Asked Questions (FAQs) about Alpha Feto Protein, Tumour Marker
---
Frequently Asked Questions about Alpha Feto Protein, Tumour Marker
Q. What is hepatoblastoma?
Hepatoblastoma is a very rare cancer which usually affects children less than 3-4 years of age. The development of this tumor starts in the liver. However, it does not spread to other parts of the body. This tumor is caused by a change in the gene. In addition to that, some other genetic health conditions can also increase a child's risk of hepatoblastoma. These conditions include Beckwith-Wiedemann syndrome, familial adenomatous polyposis, glycogen storage diseases, and Aiicardi syndrome.
Q. How is the blood sample taken?
The healthcare provider takes a blood sample from the arm. The site from where the blood is to be withdrawn is cleaned with a swab of rubbing alcohol. This is then followed by inserting a small needle which has a tube attached to it for collecting blood. Once the sufficient blood for analysis is withdrawn, the needle is removed. The site is then covered with a gauze pad.
Q. Is there any risk associated with the withdrawal of blood sample procedure?
As such there is no risk but in few cases, bruising, bleeding, and infection at the puncture site can be seen. In very few cases, there can be swelling of the vein after the blood is withdrawn.
Q. What is hepatocellular carcinoma?
Hepatocellular carcinoma is the most common type of primary liver cancer. It mostly occurs in people with chronic liver diseases such as cirrhosis which is caused by hepatitis B or C infection.
Q. What other tests are advised in case of abnormal levels of AFP?
In case, the levels of AFP are raised due to chronic liver infection or damage; an ultrasound exam, a CT scan, an MRI scan or a biopsy for histopathological evaluation of tumor tissues are advised. A blood test for DCP (des-gamma carboxy prothrombin) is advised. It helps to detect liver cancer and monitor patients with hepatocellular carcinoma.
---
NABL

ISO
Clinitech Laboratory Private Limited was registered at Registrar of Companies Mumbai on 19 March, 2010 and is categorised as Company limited by Shares and an Non-govt company. Clinitech Laboratory Private Limited's Corporate Identification Number (CIN) is U85195MH2010PTC201078 and Registeration Number is 201078. Clinitech Laboratory Private Limited registered address on file is AL - 1 / 545 & 546, SECTOR 16, AIROLI, NAVI MUMBAI MH 400708 IN, Navi Mumbai - 400708, Maharashtra, India. Clinitech...
Know More
User Reviews
---
V
Virendra Jadhav
Booked test for mother who is about to undergo cataract ssurgery.Phlebo guys managed well in heavy rains.Report same day