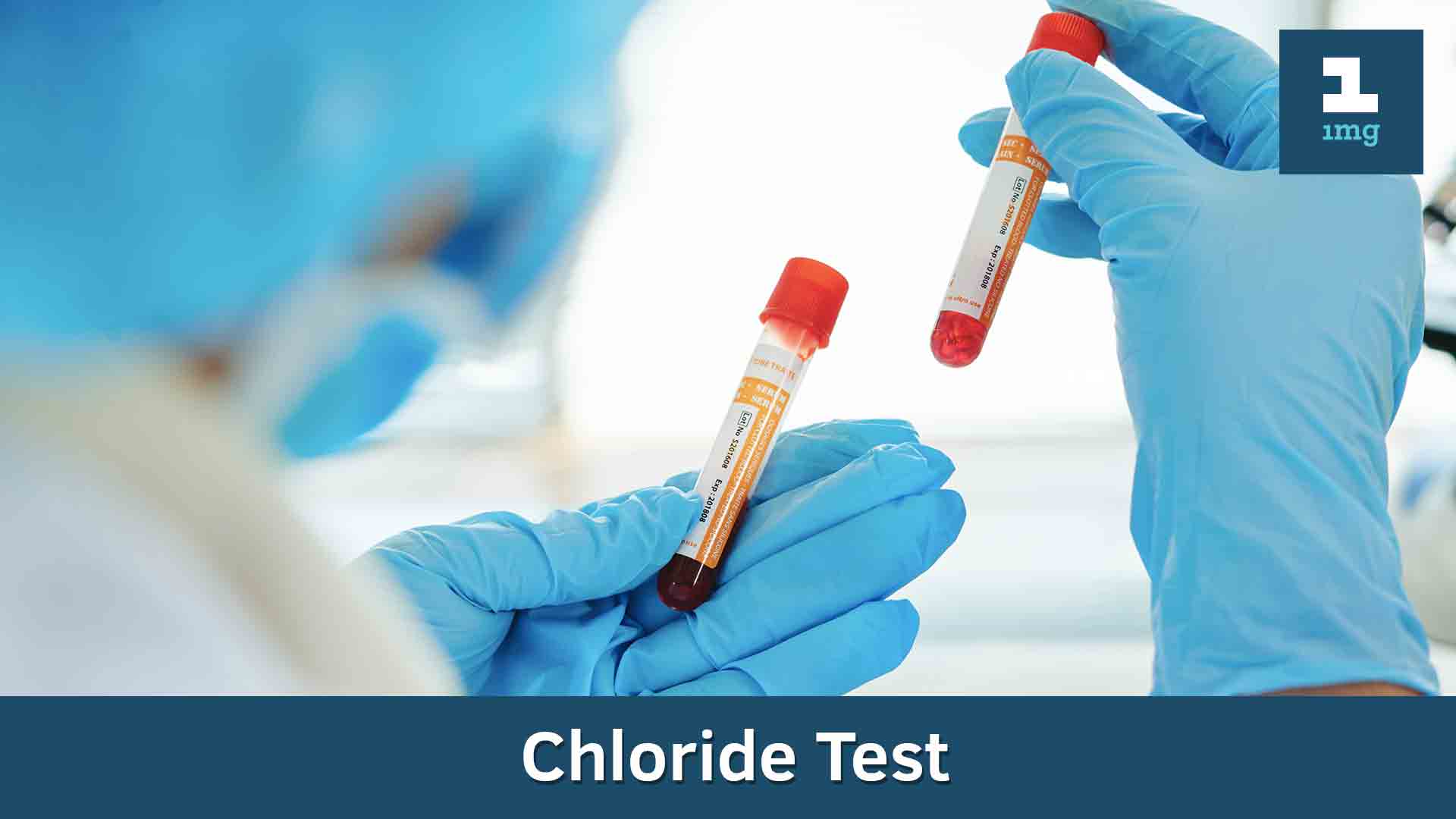 Overview of Chloride
What is Chloride?
Chloride (Cl-) is both a mineral and an electrolyte. It helps to maintain water and pH balance of the body in combination with other electrolytes. The Blood Chloride Test measures the amount of chloride present in the blood.
Why is Chloride done?
·         As a part of routine health checkup to measure chloride levels in the blood

·         To assess problems in the water and pH balance of the body
        


What does Chloride Measure?
Chloride is an essential mineral which acts as an electrolyte along with potassium, sodium, bicarbonate, etc. It helps to maintain the normal fluid and electrolyte balance of the body. It also acts as a buffer to help maintain the pH balance of the body. It also plays essential roles in metabolism. Chloride is used by the stomach to produce hydrochloric acid (HCl) for digestion. Chloride is present in all body fluids and is found in highest concentration in the blood and extracellular fluid (fluid present outside the cells).

Most of the chloride intake is through dietary salt (sodium chloride or NaCl), and a small portion through other food items. The body absorbs the required amount and the kidneys excrete the remaining through urine. The concentration of chloride in blood is maintained within a very narrow range by the body and usually increases or decreases in direct correlation with sodium levels.


Preparation for Chloride
No special preparation required
Sample Type for Chloride
The sample type collected for Chloride is: Blood
---
Interpreting Chloride results
Interpretations
Normal reference range:
Adults: 98 to 106 mEq/L (milliequivalents per liter)

Children: 90 to 110 mEq/L

Newborn: 96 to 106 mEq/L
Higher than normal chloride level is called Hyperchloremia.
Lower than normal chloride level is called Hypochloremia.
---
Answers to Patient Concerns & Frequently Asked Questions (FAQs) about Chloride
Frequently Asked Questions about Chloride
Q. How is this test performed?
This test is performed on a blood sample. A syringe with a fine needle is used to withdraw blood from a blood vessel in your arm. The healthcare provider will tie an elastic band around your arm to make the blood vessels swell with blood. This makes it easier to withdraw blood. You may be asked to tightly clench your fist. Once the veins are clearly visible, the area is cleaned with an antiseptic solution and then the needle is inserted into the blood vessel to collect the sample. You will feel a tiny pinprick during the procedure. Blood sample once collected will then be sent to the laboratory.
Q. Is there any risk associated with this test?
There is no risk associated with the test. However, since this test involves a needle prick to withdraw the blood sample, in very rare cases, a patient may experience increased bleeding, hematoma formation (blood collection under the skin), bruising or infection at the site of needle prick.
Q. Is there any preparation required before the Chloride test?
Inform the doctor of any medications you may be taking as medicines like corticosteroids, diuretics, laxatives, etc. can affect blood chloride levels. No other specific preparations are usually required before the Chloride Test.
Q. What additional tests can be prescribed by your doctor in case the chloride test result is not normal?
Additional tests that may be prescribed in case of abnormal Chloride test result are: · Electrolyte Panel Test · Urine Chloride Test · Urinalysis · Kidney Function Test · Blood Sugar Tests
Q. What is Hypochloremia?
Hypochloremia is a condition where the blood chloride levels are below the normal range. This may occur due to: · Kidney diseases · Congestive heart failure · Body fluid loss due to vomiting or diarrhea · Lung diseases like Chronic Obstructive Pulmonary Disease (COPD) · Diseases of adrenal gland like Addison's disease, Cushing's syndrome, etc. · Metabolic alkalosis (high blood pH) · Drugs like diuretics, corticosteroids, or laxatives · Alcoholism
Q. What are the symptoms of Hypochloremia?
Symptoms of Hypochloremia include: · Rapid fluid loss · Dehydration · Fatigue and weakness · Breathing difficulty · Vomiting and diarrhea
Q. What is Hyperchloremia?
Hyperchloremia is the condition where blood chloride levels rise higher than the normal range. This may occur due to: · Kidney diseases · Excess saline in blood, as during intravenous saline administration in hospital · Excess consumption of salt in diet · Severe diarrhea · Dehydration · Hyperparathyroidism (over-secretion of parathyroid gland hormones) · Acute or Chronic Kidney Disease · Bromide poisoning · Metabolic acidosis (low blood pH) · Respiratory alkalosis · Certain medications like carbonic anhydrase inhibitors, laxatives, etc.
Q. What are the symptoms of Hyperchloremia?
Symptoms of Hyperchloremia include: · Fatigue · Muscular weakness · Excessive thirst · Dry mucous membranes like the mouth · Hypertension (high blood pressure)
Provided By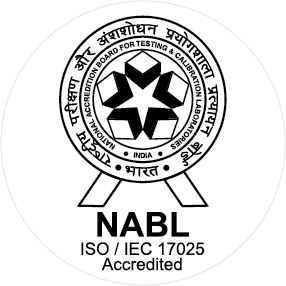 NABL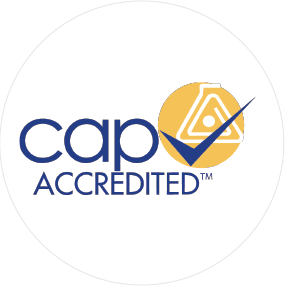 CAP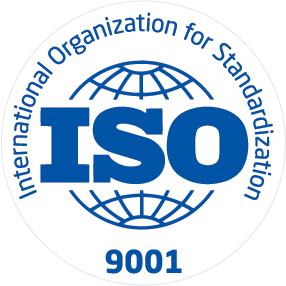 ISO
About Dr. Lal PathLabs Ltd.
We focus on providing patients quality diagnostic healthcare services in India. Through our network, we offer patients convenient locations for their diagnostic healthcare services and efficient service. With over 3368 diagnostic and related healthcare tests and services offered, we believe we are capable of performing substantially all of the diagnostic healthcare tests and services currently prescribed by physicians in India. Our key competitive strengths are: Business model focused on the patient as a customer and an established consumer healthcare brand associated with quality services, in a market where patients generally choose their diagnostic healthcare service provider. Well-positioned to leverage upon one of the fastest-growing segments of the Indian healthcare industry. A network whose growth yields greater economies of scale, combined with a hub and spoke model that is scalable for further growth. Centralized information technology platform that fully integrates our network and is scalable. Attractive financial performance, financial profile and return on invested capital. Experienced leadership team with strong industry expertise and successful track record. Some of our laboratories have achieved International Organization for Standardization, or ISO, certification for their quality systems. Our National Reference Laboratory has obtained ISO 9001:2008 certification (for the performance of routine and advanced diagnostic pathology testing services, including clinical trials), ISO 15189:2007 (for quality management in medical laboratories), ISO 15189:2012 certification (in the field of medical testing) and ISO 27001:2013 certification (for establishing an effective information management system that maintains and processes information security at our data center).
User Reviews about Chloride
A
Arohi Sharma
U guys r just worth creating historical change in our society by giving them power of health awareness
Available at Other Labs