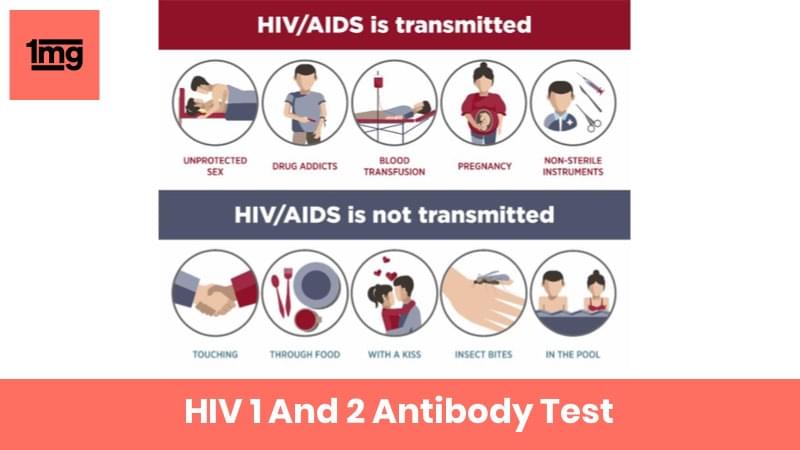 This test is for
Male, Female
Test Preparation
No special preparation required
Overview
---
What is HIV 1 And 2 Antibody?
This test is done to confirm the HIV-1 and HIV-2 antibodies present in the blood. It also helps in differentiating HIV-1 and HIV-2 antibodies in specimens of serum which show reactive results with third and fourth generation HIV serologic assays. This test is not a screening test to detect HIV infection.

Why is HIV 1 And 2 Antibody done?
To confirm HIV-1 and HIV-2 antibodies

To differentiate HIV-1 and HIV-2 antibodies in specimens of serum that show reactive results with third and fourth generation HIV serologic assays
What does HIV 1 And 2 Antibody Measure?
Acquired Immunodeficiency Syndrome (AIDS) is caused by the Human Immunodeficiency Virus (HIV). HIV Virus is of two types: HIV-1 and HIV-2. HIV-1 is found in AIDS patients, AIDS-related complex patients, and those persons who are at high risk of getting affected by AIDS. HIV virus can be transmitted by sexual contact, exposure to blood or blood products of AIDS infected patients or transfer of infection from AIDS-infected mother to the fetus. Most of the cases of HIV-2 infected patients are seen in West Africa, and it is detected in patients who had sexual contact with people of that geographic region. These viruses have the same morphology, overall genomic structure, and ability to cause infection. 
When the patient gets infected with the virus, the virus attacks the immune system called CD4 and combines with antibodies to use them for making a large number of copies inside the body of the patient by replication. During the first few weeks of infection, the amount of virus present and the level of p24 antigen in the blood becomes very high. After another 2-8 weeks, these increased levels start to fall as the body of the infected patient starts producing antibodies against the antigen of the virus. At this time, the HIV virus antibody can be detected in the patient's blood via tests. The tests should be performed at this brief time because after some time both the levels of antigen and antibody in the blood falls. This will make the detection of virus infection difficult as the initial infection may have been resolved and you may not get a positive result against the infection.
The patients who fall under the risk for HIV-1 or HIV-2 infection are screened for HIV-1 or HIV-2 antigen or antibody screening test.
Interpreting HIV 1 And 2 Antibody results
---
Interpretations
A negative test means that the person is not infected from HIV.
However, a person who is under the risk of getting infected from AIDS to get screened from time to time.
A positive test means that the person is infected with HIV.
Answers to Patient Concerns & Frequently Asked Questions (FAQs) about HIV 1 And 2 Antibody
---
Frequently Asked Questions about HIV 1 And 2 Antibody
Q. How is this test performed?
This test is performed on a blood sample. A syringe with a fine needle is used to withdraw blood from a blood vessel in your arm. The healthcare provider will tie an elastic band around your arm to make the blood vessels swell with blood. This makes it easier to withdraw blood. You may be asked to tightly clench your fist. Once the veins are clearly visible, the area is cleaned with an antiseptic solution and then the needle is inserted into the blood vessel to collect the sample. You will feel a tiny pinprick during the procedure. Blood sample once collected will then be sent to the laboratory.
Q. Is there any risk associated with this test?
There is no risk associated with the test. However, since this test involves a needle prick to withdraw the blood sample, in very rare cases, a patient may experience increased bleeding, hematoma formation (blood collection under the skin), bruising or infection at the site of needle prick.
Q. Is there any preparation required before the test?
Inform the doctor about the medications you may be taking. No other specific preparations are usually required before this test.
Q. Which screening tests are advised by the doctor for patients under the risk of HIV?
There are different types of tests available for HIV testing: Combination HIV antibody and HIV antigen test, HIV antibody testing, and p24 antigen testing
Q. Is HIV infection curable?
HIV infection is not curable but if diagnosed early, proper treatment can be started. HIV infection is treated with antiretroviral therapy (ART). This therapy helps in reducing the levels of virus in the body which in turn will improve the patient's health.
Q. What are the symptoms of HIV infection?
The symptoms of HIV infection are similar to that of influenza and other viral infections such as fever, sore throat, muscle, and joint pain. It is possible that the symptoms may go unidentified for years. In order to avoid such a condition, the best way is to get screened for HIV infections.
---

ISO
Kegan Path Labs mission is to provide accurate, precise and timely reports to all our patients and clients. And, keeping the laboratory standards as per the guidelines set by National and International organizations.
Know More