Salmonella Typhi IgM
(S Typhi IgM)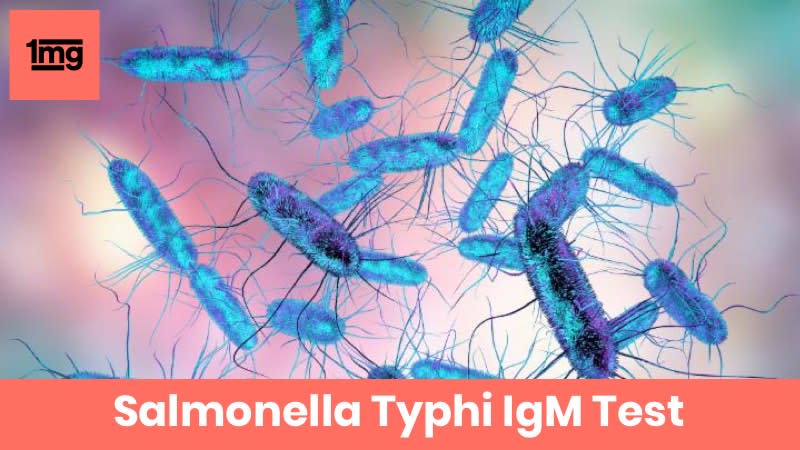 This test is for
Male, Female
Test Preparation
Inform your doctor if you are on any medication.
Overview
---
What is S Typhi IgM?
Salmonella Typhi IgM test is also known as Typhi dot IgM test. This test detects IgM antibodies against Salmonella typhi. Salmonella Typhi causes Typhoid fever which is also known as enteric fever. 
Why is S Typhi IgM done?
The Salmonella Typhi IgM test is done:
In case if you have signs or symptoms of typhoid (enteric) fever such as headache, high fever, abdominal pain, diarrhea, weight loss, or skin rashes 

As a part of fever panel 
What does S Typhi IgM Measure?
The Salmonella Typhi IgM test detects the presence of IgM antibodies which are produced against Salmonella Typhi in the blood. Typhoid fever also called enteric fever is caused by the bacterium Salmonella Typhi. It is usually transmitted through food and drinks contaminated with fecal matter (solid or semi-solid food which cannot be digested by the small intestine). It is very important to accurately diagnose typhoid fever at an early stage. This is necessary for etiological diagnosis and to identify and treat potential carriers and prevent acute typhoid outbreaks. 
You should get this test done if you have symptoms which suggest typhoid fever like fever, abdominal pain, headaches, and rose spots (skin rashes). It helps to make presumptive diagnosis of typhoid fever. This test serves as a marker for recent infections. 
Interpreting S Typhi IgM results
---
Interpretations
Positive Salmonella typhi IgM test suggests recent infection with bacteria Salmonella Typhi causing typhoid fever 
Negative Salmonella typhi IgM test usually indicates no infection with the bacteria


Answers to Patient Concerns & Frequently Asked Questions (FAQs) about S Typhi IgM
---
Frequently Asked Questions about Salmonella Typhi IgM
Q. How can you prevent typhoid fever?
Avoiding contaminated foods and drinks can help to prevent typhoid fever. Along with that, proper vaccination against typhoid fever can also keep a check on developing any possible case of infection.
Q. What are the other tests to diagnose Enteric fever?
The other tests which are used to diagnose Enteric fever include Blood culture test, Widal test, Stool culture test, and Urine culture test. Among these, blood culture is the most commonly recommended method for diagnosing Enteric fever and is performed during the first week of fever. If in case other test results come inconclusive then bone marrow samples can be used to diagnose any infections.
Q. How is the blood sample taken?
The healthcare provider takes a blood sample from the arm. The site from where the blood is to be withdrawn is cleaned with a swab of rubbing alcohol. This is then followed by inserting a small needle which has a tube attached to it for collecting blood. Once the sufficient blood for analysis is withdrawn, the needle is removed. The site is then covered with a gauze pad.
Q. Is there any risk associated with the withdrawal of blood sample procedure?
As such there is no risk but in few cases, bruising, bleeding, and infection at the puncture site can be seen. In very few cases, there can be swelling of the vein after the blood is withdrawn.
---
NABL

ISO
Kegan Path Labs mission is to provide accurate, precise and timely reports to all our patients and clients. And, keeping the laboratory standards as per the guidelines set by NABL and International organizations.
Know More