Tissue Transglutaminase Antibody - IgA
(tTG IgA)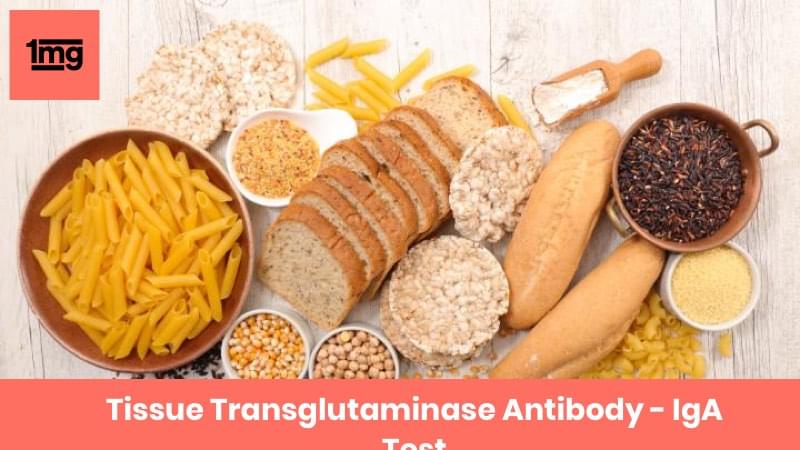 This test is for
Male, Female
Test Preparation
No special preparation required
Overview
---
What is tTG IgA?
Tissue Transglutaminase Antibody - IgA test is also known as Celiac disease antibody test or tTG. This test is done to detect celiac disease and also to determine the efficacy of a gluten-free diet.

Why is tTG IgA done?
The tissue transglutaminase antibody - IgA test is done:
In case of symptoms of celiac disease such as chronic diarrhea, bloating, pain in the abdomen, anemia, and weight loss

If an infant is irritable for a long time

If an infant is not growing at a normal rate

In case of a family history of celiac disease

In patients undergoing treatment for celiac disease
What does tTG IgA Measure?
The tissue transglutaminase antibody - IgA test measures self-generated antibodies present in the blood which are produced by the body in response to autoimmune disorders such as celiac disease and other gluten-sensitive conditions. In celiac disease, an inappropriate immune response is generated to counter the presence of gluten. Gluten is a protein which is found in wheat, rye, and barley. 
Due to the immune response produced by the body, there is inflammation of the small intestine which leads to damage and destruction of the villi that lines the walls of the intestine. Villi are finger-like structures present in the small intestine. These are responsible for increasing the surface area of the intestine and help in digestion of food. They allow various nutrients, vitamins, minerals, electrolytes, and fluids to be absorbed into the body. 
If a person suffering from celiac disease get exposed to gluten content, the body in response starts producing antibodies. These antibodies cause inflammation which damages the villi. This damage will further impact the body's ability to absorb food. In such conditions, the body begins to develop signs and symptoms which are associated with malnutrition and malabsorption. 
Interpreting tTG IgA results
---
Interpretations
| | |
| --- | --- |
| Result (In Units) | Interpretation |
| <20 | Negative |
| 20-30 | Weak Positive |
| >30 | Positive |
Reference range may vary from lab to lab*
A positive anti-tissue transglutaminase antibody IgA test usually indicates celiac disease 

A negative test usually means that symptoms are not likely due to celiac disease. If the person being tested has not consumed any gluten for several weeks or months prior to the test, then the test may show false-negative results 

All antibody tests for celiac disease are usually followed by an intestinal biopsy which is the gold standard for diagnosis of this condition 
Answers to Patient Concerns & Frequently Asked Questions (FAQs) about tTG IgA
---
Frequently Asked Questions about Tissue Transglutaminase Antibody - IgA
Q. How is the blood sample taken?
The healthcare provider takes a blood sample from the arm. The site from where the blood is to be withdrawn is cleaned with a swab of rubbing alcohol. This is then followed by inserting a small needle which has a tube attached to it for collecting blood. Once the sufficient blood for analysis is withdrawn, the needle is removed. The site is then covered with a gauze pad.
Q. Is there any risk associated with the withdrawal of blood sample procedure?
As such there is no risk but in few cases, bruising, bleeding, and infection at the puncture site can be seen. In very few cases, there can be swelling of the vein after the blood is withdrawn.
Q. Is there any preparation required before the Tissue Transglutamianse Antibody-IgA test?
For an effective and correct diagnosis, a person should avoid any gluten-free diet or regime and should continue consuming gluten-rich foods prior to the test. However, if the test is done for monitoring the celiac disease, no preparation is required.
Q. Which foods contain gluten?
Gluten is a protein which is naturally present in cereal grains, especially wheat. Gluten maintains the elastic texture of the dough and acts as a bonding factor to maintain the shape of the food. Gluten-containing food includes baked goods, pasta, soups, cereals, bread, sauces, and salad dressings. Apart from wheat, gluten is also found in cereals such as barley, bulgur, durum, semolina, rye, malt, farina, and triticale.
Q. Does celiac disease fade away with time?
No, once a person is diagnosed with celiac disease, the person has to follow a gluten-free diet life long.