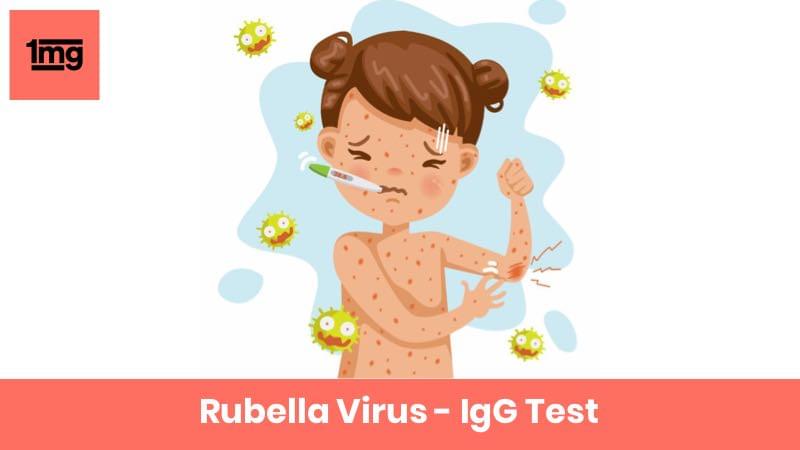 This test is for
Male, Female
Test Preparation
No special preparation required
Overview
---
What is Rubella Virus - IgG?
This test is also known as German Measles or Three-day Measles or 3-day Measles test. This test is done to determine the presence of rubella antibodies and detect a recent or past rubella infection.
Why is Rubella Virus - IgG done?
The Rubella Virus - IgG test is done:
As a screening test in pregnancy

In case of symptoms of rubella such as fever and rash

In the case of newborns showing abnormal signs of development or birth defects

To detect recent or past rubella infection
What does Rubella Virus - IgG Measure?
Rubella test detects the presence of antibodies produced by the body's immune system against the rubella virus. The infection is confirmed by the laboratory test. Rubella virus causes an infection in the body in which there are fever and rash for 2-3 days. This infection can easily spread to another person (contagious) but can be prevented with a vaccine. 
The infection starts with a red rash which appears on the face and neck which spreads to the trunk and limbs which disappears after a few days. The virus gets spread if a healthy person comes in contact with an infected person via coughing or sneezing. Other symptoms which are seen in the rubella virus infection apart from fever and rash include enlarged lymph nodes, red eyes, runny nose, and pain in joints. The symptoms are very minimal especially in case of small children. In general, these symptoms do not come into notice, as the infection goes away after a few days without any treatment and do not cause any complications. 
In the case of pregnant women, if the infection occurs in the first three months of pregnancy, the fetus might get affected being most vulnerable to the virus during this time. In such cases, it can cause miscarriage, stillbirth, or congenital rubella syndrome (CRS). CRS comprises of serious birth defects that will cause permanent harm to the child such as intellectual and developmental disabilities, cloudiness of the lens of eyes, deafness, an abnormally small head, heart defects, and liver problems.
Interpreting Rubella Virus - IgG results
---
Interpretations
| | |
| --- | --- |
| Result in % | Avidity |
| < 30 | Low |
| 30 - 40 | Equivocal |
| > 40 | High |
Reference range may vary from lab to lab*
Answers to Patient Concerns & Frequently Asked Questions (FAQs) about Rubella Virus - IgG
---
Frequently Asked Questions about Rubella Virus - IgG
Q. Is there any preparation required before the test?
Inform the doctor about the medications you may be taking. No other specific preparations are usually required before this test.
Q. How is the blood sample taken?
The healthcare provider takes a blood sample from the arm. The site from where the blood is to be withdrawn is cleaned with a swab of rubbing alcohol. This is then followed by inserting a small needle which has a tube attached to it for collecting blood. Once the sufficient blood for analysis is withdrawn, the needle is removed. The site is then covered with a gauze pad.
Q. Is there any risk associated with the withdrawal of blood sample procedure?
As such there is no risk but in few cases, bruising, bleeding, and infection at the puncture site can be seen. In very few cases, there can be swelling of the vein after the blood is withdrawn.
Q. How many types of rubella antibodies can be detected by the lab tests?
Two types of rubella antibodies can be detected by lab tests which include IgM and IgG. IgM antibody is the first one to appear in response to initial exposure to the rubella virus. It rises to peak in the blood within about 7 to 10 days after infection and then drops down after a few weeks. However, in case of newborns this antibody can be detected for a longer period of time. Once IgM is in the blood the second IgG rubella antibody starts to appear. This antibody stays for life and provides protection against re-infection. If IgG antibodies are detected in the blood, it indicates a recent or past rubella infection. Also, it is indicative that the person has received rubella vaccine.
Q. When is Rubella Virus - IgG test advised?
The Rubella Virus - IgG test is advised in women who are planning to conceive or are already pregnant. The newborns may also have to take the test if the mother has been exposed to rubella infection. Along with that, this test is recommended for babies with birth defects (reason could be rubella infection), persons having symptoms of rubella virus infection, students starting college, and healthcare workers exposed to rubella virus infection and are not vaccinated for the same.