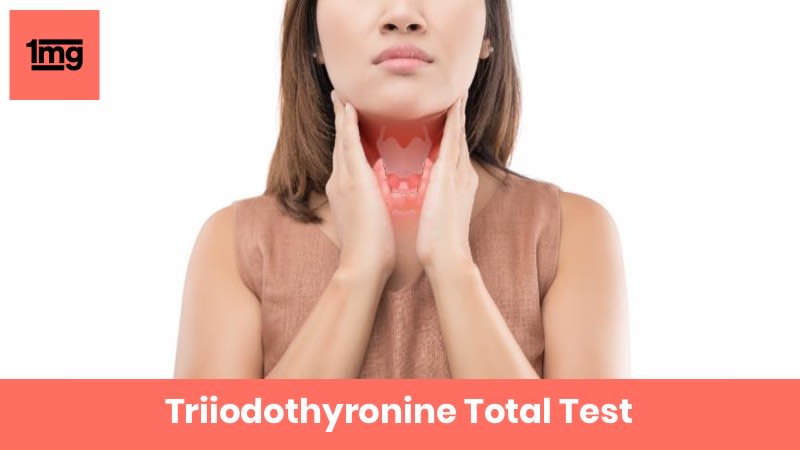 Overview of TriIodothyronine Total
What is TriIodothyronine Total?
Triiodothyronine (T3) is a hormone secreted by the thyroid gland (small, butterfly-shaped gland located in front of the neck). The T3 hormone is essential for growth and metabolism. T3 circulates in the blood in two forms: Free form (FT3) and Bound form. Triiodothyronine (T3) Total Test measures the total levels (both free and bound forms) of Triiodothyronine (T3) hormone in the blood.
Sample Type
The sample type collected for TriIodothyronine Total is: Blood
Preparation for TriIodothyronine Total
Do not eat or drink anything other than water for 8-12 hours before the test.
Why Get Tested for TriIodothyronine Total?
To diagnose thyroid diseases (Hypothyroidism or Hyperthyroidism)

To monitor treatment in patients with thyroid diseases
Understand more about TriIodothyronine Total
The thyroid gland secretes the following hormones:
Triiodothyronine (T3)

Thyroxine (T4)
Thyroid Stimulating Hormone (TSH) is a hormone secreted into the blood by a gland present in the brain (Pituitary gland) and it tells your thyroid gland to make and release the thyroid hormones (T3 & T4) into your blood. The thyroid gland uses iodine from food to make the thyroid hormones.
The thyroid hormones are essential for growth and metabolism. If the thyroid gland produces very high amounts of these hormones (T3 and T4), you may experience symptoms of weight loss, rapid heartbeat, tremors, sweating, anxiety, increased sensitivity to heat etc. and this is known as Hyperthyroidism.
Also, the decreased production of thyroid hormones (T3 and T4) results in Hypothyroidism which may cause symptoms like weight gain, fatigue, slow heart rate, increased sensitivity to cold, depression, dry and thin hair etc.
There is a feedback system in the body to maintain stable amounts of the thyroid hormones (T3 and T4) in the blood. When thyroid hormone levels decrease, the pituitary gland is stimulated to release TSH. This high TSH in turn leads to the release of more thyroid hormones (T3 & T4) from the thyroid gland and vice-versa.
Majority of the T3 hormone is formed from T4 hormone and a smaller fraction is produced directly by the thyroid gland. T3 hormone circulates in the blood in two forms:
1) Bound form - It is bound to proteins present in blood and this prevents it from entering body tissues. The two main proteins in the blood that the T3 hormone is bound to are albumin and Thyroxine-binding globulin (TBG), also called Thyroid hormone Binding Globulin (THBG).
2) Free form - It enters the body tissues where it's needed and this is the active form. Free Triiodothyronine (FT3) constitutes only 0.3% of the total T3 hormone.
The total T3 includes both bound and free forms circulating in the blood and can be affected by the amount of protein available in the blood to bind to them. The T3 hormone can be measured as Free T3 or Total T3. Triiodothyronine (T3) Total Test measures the total levels (both free and bound forms) of Triiodothyronine (T3) hormone in the blood and is usually done as a part of the Thyroid Profile Total test which includes two more tests: Thyroid Stimulating Hormone (TSH) and Thyroxine Total (T4) hormone.
---
What Results of TriIodothyronine Total mean?
Interpretations
T3 (
Triiodothyronine)
, Total
        Reference Range(s)









<1 Month

Not established




1-23 Months

117-239 ng/dL






2-12 Years

105-207 ng/dL






13-20 Years

86-192 ng/dL






>20 Years

76-181 ng/dL



---
Patient Concerns about TriIodothyronine Total
Frequently Asked Questions about TriIodothyronine Total
Q. What is Hyperthyroidism?
Hyperthyroidism is a condition in which the thyroid gland is overactive and there is an increased production of thyroid hormones by the thyroid gland. Causes of Hyperthyroidism include Graves' disease, multinodular goiter, thyroid nodules, toxic adenoma, inflammation of the thyroid, eating too much iodine, and too much synthetic thyroid hormone. Diagnosis of this condition can help to relieve the symptoms and prevent long term complications.
Q. What are the symptoms of Hyperthyroidism?
Symptoms of Hyperthyroidism include: Rapid heartbeat (tachycardia) — commonly more than 100 beats/minute — irregular heartbeat (arrhythmia) or pounding of your heart (palpitations), sudden weight loss, nervousness, anxiety, irritability, tremor (usually a fine trembling in your hands and fingers), changes in menstrual patterns, increased sensitivity to heat, changes in bowel patterns (especially more frequent bowel movements), an enlarged thyroid gland (goiter) which may appear as a swelling at the base of your neck, increased appetite, sweating, fatigue, muscle weakness, sleep disturbances, skin thinning, fine and brittle hair
Provided By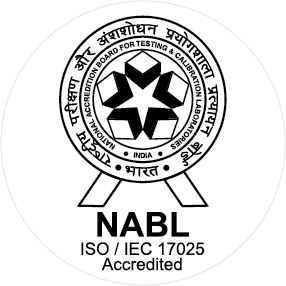 NABL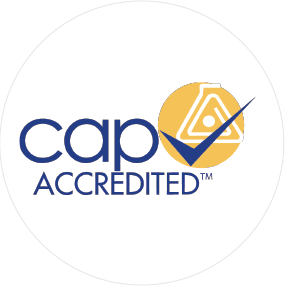 CAP
For over a hundred years, human pathology has been one of the keystones of medicine and rightly so at SRL, we offer our patients world-class Pathology services because their well-being is of the utmost importance to us. Pathology is quite simply the scientific study of the overall response of your body to any foreign influence, i.e., disease. Actually, we use this knowledge to diagnose & subsequently treat your ailment. What we basically do is carefully compare the normal structure and function of a human body (anatomy and physiology) to the abnormal structure and function we witness in an unwell human. Doing this is the most crucial phase & we take note of even the minutest details while adjudging the extent of your ailment because one slip can lead to an incorrect diagnosis, posing serious threat to your health. Our experts ensure that they are extremely careful while analyzing the samples. This is where our advanced technology chips in. SRL is proud to host state-of-the-art equipments based on the latest technology for a speedy and accurate result. We do not take any chances whatsoever with your health & well-being. Avail our Pathology services with no hesitation. You are always in good hands with SRL.
Available at Other Labs