Quad Marker test With Graph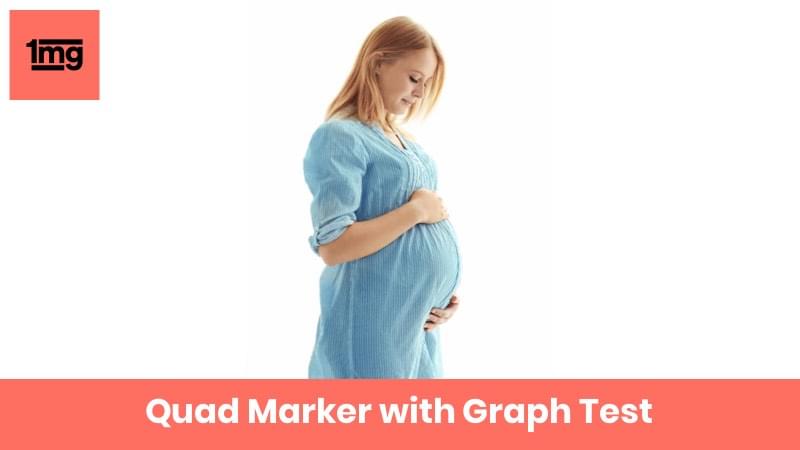 Test Preparation
Test is valid between 14-22 weeks of gestation (Ideal 15-20 weeks) Please keep the hard copy of your latest pregnancy ultrasound report(Level 2) and Maternal Screen details(LMP,DOB,Body Weight,Diabetic status,& IVF) ready at the time of your test.Previous history of Trisomy 21 pregnancy.
Overview
---
What is Quad Marker test With Graph?
Quad marker with graph test is also known as the Quadruple test. This test measures the levels of four important substances in the placenta namely alpha fetoprotein, human chorionic gonadotropin, estriol, and inhibin A. This test is advised to women who are 15 to 20 weeks pregnant. It analyses the probability of the unborn baby to have certain genetic disorders like Down's, Edward's syndrome, neural tube defects, and sometimes multiple pregnancies.
Why is Quad Marker test With Graph done?
To diagnose Down syndrome

To diagnose neural tube defects

To diagnose the failure of closure of the abdomen in the fetus.

To diagnose multiple pregnancies

To diagnose miscarriage or ectopic pregnancy
What does Quad Marker test With Graph Measure?
This test measures four markers which include AFP, HCG, estriol, and inhibin A in the blood. As there are four markers involved, it is known as the Quad Marker test. 
AFP is a protein which is produced by the fetus. If the levels of AFP are high, it indicates neural tube defects in the fetus or any case of incomplete closure of the fetus abdomen. 
HCG hormone is produced by cells of the placenta. If the levels of HCG are low, it indicates a miscarriage or ectopic pregnancy. Whereas, if the levels of HCG are high this indicates multiple pregnancies. 
Estriol is a form of the hormone estrogen which is present in both fetus and placenta. If the levels of estriol are low, it indicates the risk of the baby getting delivered with Down syndrome, especially when the levels of AFP are low and HCG are high. 
Inhibin A is a hormone which is produced by the placenta. It is a dimer which means it has two parts. It is also sometimes referred to as DIA or dimeric inhibin A. In the 14 to 17 weeks of gestation (pregnancy), the levels of inhibin A in maternal blood slightly decrease and then rise again. Increased levels of Inhibin A indicates fetus with Down syndrome. Inhibin A enhances the sensitivity as well as the specificity in order to correctly identify cases of Down syndrome. 
If the levels of all these four markers are abnormal, there can be the presence of neural tube defects like spina bifida (spinal cord fails to develop properly), anencephaly (absence of brain, skull, and scalp), and multiple pregnancies (twins or triplets).    
Females who are 35 years or more, have a family history of birth defects, or have diabetes or are using insulin have a higher risk of getting abnormal values of these markers. Exposure to high levels of radiation or having the viral infection during pregnancy can also be considered as possible risk factors associated with these high levels. This test is also helpful to indicate any complications in the fetus after birth. 
Interpreting Quad Marker test With Graph results
---
Interpretations
| | | | | |
| --- | --- | --- | --- | --- |
| Pregnancy Weeks | AFP | HCG | Estriol | Inhibin A |
| 14 | 27.20 ng/mL | 40370 mIU/mL | 0.37 ng/mL | 208.75 pg/mL |
| 15 | 32.01 ng/mL | 32200 mIU/mL | 0.55 ng/mL | 222.90 pg/mL |
| 16 | 37.67 ng/mL | 25690 mIU/mL | 0.76 ng/mL | 194.20 pg/mL |
| 17 | 44.33 ng/mL | 20490 mIU/mL | 1.00 ng/mL | 201.30 pg/mL |
| 18 | 52.16 ng/mL | 16340 mIU/mL | 1.25 ng/mL | 196.20 pg/mL |
| 19 | 61.38 ng/mL | 13040 mIU/mL | 1.50 ng/mL | 226.90 pg/mL |
| 20 | 72.33 ng/mL | 10400 mIU/mL | 1.76 ng/mL | 253.70 pg/mL |
| 21 | 85.08 ng/mL | 8295 mIU/mL | 1.99 ng/mL | 282.10 pg/mL |
| 22 | 100.02 ng/mL | 6620 mIU/mL | 2.30 ng/mL | 292.30 pg/mL |
| | | | |
| --- | --- | --- | --- |
| Abnormality  | Cut off | Detection rate | False-positive rate |
| Neural tube defects | ≥ 2.5 MoM (Multiples of median) | 70-75 % | 2-4 % |
| Down Syndrome (Trisomy 21) | 1: 250 | 75 -80 % | 5 % |
| Edwards Syndrome (Trisomy 18) | 1:100 | 60 % | 0.3 % |
Reference range may vary from lab to lab*
The base of screening tests is a statistical analysis of patient's data which includes the demographic (statistical study of populations) and biochemical (laboratory) data.
Confirmation is mandatory by amniocentesis.  
The results are illustrated in the form of a graph in the test report.
Positive quadruple marker test usually indicates that the unborn child has a high risk of neural tube defects and chromosomal disorders like Down's syndrome, Patau syndrome, etc. More specific tests like amniocentesis are then advised to make a definitive diagnosis

High levels of inhibin A usually indicate Down's syndrome whereas low levels might be associated with Edward's syndrome or trisomy 18. Sometimes, variable levels of inhibin A may also be present, and they are usually associated with trisomy 13 or Patau syndrome
Answers to Patient Concerns & Frequently Asked Questions (FAQs) about Quad Marker test With Graph
---
Frequently Asked Questions about Quad Marker test With Graph
Q. Can the defects in fetus be caused because of the age of pregnant women?
Yes, a pregnant woman who is 35 years or older has a greater risk of developing defects in the fetus. Apart from that, other factors such as exposure of the woman to high levels of radiation, diabetes or if the woman is taking insulin can affect the development of the fetus. Viral infection at the time of pregnancy can also be a risk factor in the development of the fetus.
Q. What other tests are required for diagnosis of abnormalities in fetus?
In case the results are abnormal, the doctor may advise amniocentesis in which a thin, hollow needle is used to withdraw amniotic fluid (the fluid that surrounds the fetus) from the uterus. This test is useful to detect any genetic or fetal conditions present in the fetus. If the levels of AFP are high, the doctor will advise ultrasound for a detailed examination of neural tube defects.
Q. Is there any preparation required before the test?
Inform the doctor about the medications you may be taking. No other specific preparations are usually required before this test.
Q. What is Trisomy 18?
It is also known as Edwards Syndrome which is caused by the development of an extra chromosome 18. Because of this, the normal pattern of development in the baby gets disturbed even before its birth. The effects caused by Trisomy 18 are very complicated as compared to Down syndrome. The effects are so severe that it can cause stillbirth (death at the time of birth) of the child.
Q. What is Down's syndrome?
It is a genetic disorder in which extra genetic material from chromosome 21 gets transferred to the fetus. This transfer affects the development of the fetus leading to abnormal development both physically and mentally. The affected baby will have a small head and short neck, obliquely positioned eyes looking in an upward direction, large tongue coming out of the mouth, flat face, wide hands with short fingers, and lack of muscle tone.
Q. How is the blood sample taken?
The healthcare provider takes a blood sample from the arm. The site from where the blood is to be withdrawn is cleaned with a swab of rubbing alcohol. This is then followed by inserting a small needle which has a tube attached to it for collecting blood. Once the sufficient blood for analysis is withdrawn, the needle is removed. The site is then covered with a gauze pad.
Q. Is there any risk associated with the withdrawal of blood sample procedure?
As such there is no risk but in few cases, bruising, bleeding, and infection at the puncture site can be seen. In very few cases, there can be swelling of the vein after the blood is withdrawn.
Q. Is Quad marker with graph test only advised for women of age 35 years or more?
No, this test is not specific for women of age 35 years or more. Every pregnant woman is advised to take this test, as it is very important for detecting any abnormality in the fetus before birth. This test is done between 14 and 22 weeks of pregnancy. However, the best time for this test is between 15 and 20 weeks of pregnancy.
---

ISO
Thyrocare Technologies Limited is India's first and most advanced Totally Automated Laboratory having its strong presence in more than 2000 cities / towns in India and internationally. Thyrocare is India's first fully automated diagnostic laboratory with a focus on providing quality at affordable costs to laboratories and hospitals in India and other countries. Thyrocare operates with a Centralized Processing Laboratory (CPL) in Mumbai - India for esoteric tests; and Regional Processing...
Know More
User Reviews
---
V
Vivek Shukla
Very nice experience. Highly recommended.
G
Girish K Kulkarni
Awesome experience. Pathology test was never so easy.