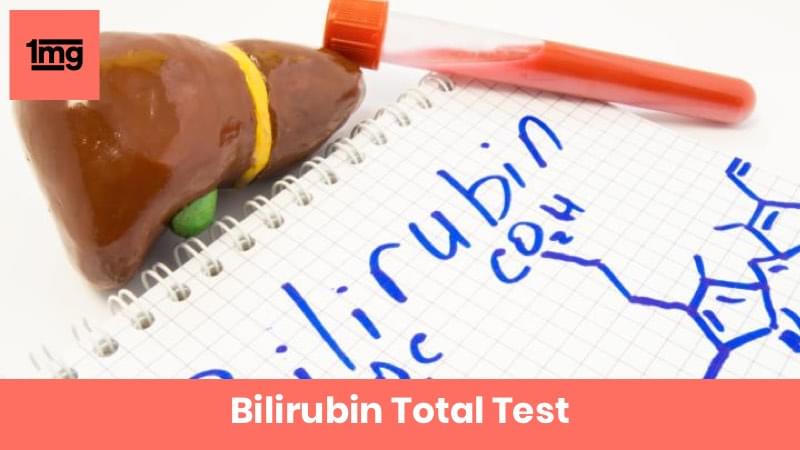 This test is for
Male, Female
Test Preparation
No special preparation required
Overview
---
What is Bilirubin Total?
Bilirubin Total Test is done when there are signs or symptoms of liver damage, liver disease like jaundice, dark urine, nausea, vomiting; when there is evidence of bile duct blockage or hemolytic anemia. Sometimes, it is also advised to diagnose jaundice in newborns.
Why is Bilirubin Total done?
The Bilirubin Total is done:
In case of signs or symptoms of liver disease such as dark-colored urine, jaundice, nausea, vomiting, abdominal pain, fatigue 

As a part of liver function test or routine health checkup  

In case of history of taking heavy intake of alcohol

In case of exposure to hepatitis virus 

In case of signs or symptoms of hemolytic anemia like pale skin, jaundice, splenomegaly 

In newborns, to monitor neonatal jaundice
What does Bilirubin Total Measure?
The Bilirubin Total measures the amount of bilirubin present in the blood of a person. Bilirubin is an orange-yellow waste pigment produced by the normal breakdown of heme. The heme is a component of hemoglobin and is found in red blood cells. The liver processes the bilirubin and eliminates it from the body. 
The life span of red blood cells is about 120 days. The heme which is released from the hemoglobin is converted into bilirubin which is called unconjugated bilirubin. It is then carried to the liver by proteins, where it gets attached to sugars and becomes conjugated bilirubin. This conjugated bilirubin enters the bile from the liver and passes to the small intestine. Here, it gets broken down by the bacteria and further gets eliminated in the stool. These breakdown products of bilirubin are responsible for giving the characteristic brown color to the stool.
A healthy adult body produces approximately 250 - 350 mg of bilirubin daily. About 85% of bilirubin comes from damaged or degraded RBCs while the remaining amount comes from the bone marrow or liver.
Small amount of unconjugated bilirubin is released in the blood normally, but there is no virtual presence of conjugated bilirubin in the blood. 
Both the forms of bilirubin can be measured or evaluated by the laboratory tests, and total bilirubin (sum of conjugated or unconjugated bilirubin) may be reported. In case there is an increase in levels of bilirubin, there will be yellowing of the skin and white of the eyes, giving the appearance of jaundice.  
Interpreting Bilirubin Total results
---
Interpretations
The normal values of total bilirubin may range from 0.30 mg/dL to 1.20 mg.dL.
Reference range may vary from lab to lab*
Increased total bilirubin which is mainly unconjugated may be due to hemolytic anemia, transfusion reactions 

Increased total bilirubin which is mainly conjugated may be due to viral hepatitis, drug reactions, alcoholic liver disease, gall stones or any obstruction in the bile ducts

Low levels of bilirubin are usually not a cause for concern and therefore not monitored 
Answers to Patient Concerns & Frequently Asked Questions (FAQs) about Bilirubin Total
---
Frequently Asked Questions about Bilirubin Total
Q. When is Bilirubin Total test advised?
The Bilirubin Total test is advised when a person shows symptoms of jaundice, drug toxicity, has a history of drinking, or has been exposed to hepatitis-causing viruses. The test is also advised to patients if they experience dark amber-colored urine, nausea/vomiting, abdominal pain, swelling, fatigue, and general malaise.
Q. What other tests are advised along with Bilirubin Total Test?
Other tests which are advised along with Bilirubin Total test include alkaline phosphatase, aspartate aminotransferase, and alanine aminotransferase tests. In case, hemolytic anemia is suspected then the doctor may advise other tests such as complete blood count, reticulocyte count, haptoglobin, and LDH.
Q. How is the blood sample taken?
The healthcare provider takes a blood sample from the arm. The site from where the blood is to be withdrawn is cleaned with a swab of rubbing alcohol. This is then followed by inserting a small needle which has a tube attached to it for collecting blood. Once the sufficient blood for analysis is withdrawn, the needle is removed. The site is then covered with a gauze pad.
Q. Is there any risk associated with the withdrawal of blood sample procedure?
As such there is no risk but in few cases, bruising, bleeding, and infection at the puncture site can be seen. In very few cases, there can be swelling of the vein after the blood is withdrawn.
Q. What does Bilirubin Total Test aid in diagnosing?
In case of adults and older children, Bilirubin Total Test aids to diagnose and monitor diseases of the liver and bile duct. These diseases may include cirrhosis, gallstones, or hepatitis. This test also helps to diagnose sickle cell disease or other causes of hemolytic anemia. In case of newborns with jaundice, this test is done to distinguish the causes of jaundice.
---

ISO
Thyrocare Technologies Limited is India's first and most advanced Totally Automated Laboratory having its strong presence in more than 2000 cities / towns in India and internationally. Thyrocare is India's first fully automated diagnostic laboratory with a focus on providing quality at affordable costs to laboratories and hospitals in India and other countries. Thyrocare operates with a Centralized Processing Laboratory (CPL) in Mumbai - India for esoteric tests; and Regional Processing...
Know More
User Reviews
---
V
Vivek Shukla
Very nice experience. Highly recommended.
G
Girish K Kulkarni
Awesome experience. Pathology test was never so easy.