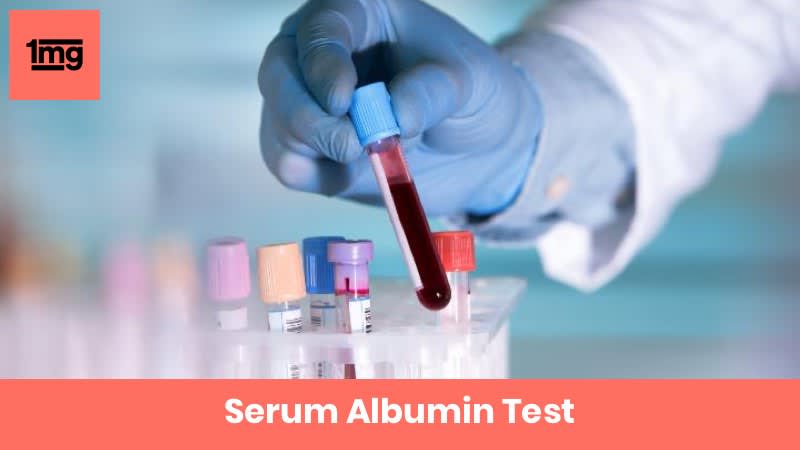 This test is for
Male, Female
Test Preparation
No special preparation required
Overview
---
What is Serum Albumin?
The serum albumin test is done to screen and diagnose a liver disorder or kidney disease. It also helps to evaluate the nutritional status of hospitalized patients.
Why is Serum Albumin done?
The serum albumin test is done:
As a part of the routine check-up

In case of symptoms of liver disorder

In case of symptoms of kidney disease

Prior to planned surgery

In the case of malnutrition

In the case of unintended weight loss
What does Serum Albumin Measure?
The serum albumin test measures the levels of albumin present in the blood. Albumin is a protein which is made by the liver. This protein makes up about 60% of the total protein in the blood and has various functions.
The role of albumin is to keep fluid from leaking out of blood vessels and give nourishment to tissues. It also helps in the transportation of hormones, vitamins, calcium, and other substances throughout the body. The levels of albumin protein may decrease if there is any interference in its production from the liver. These decreased levels can be due to other reasons such as increase in the breakdown of proteins, increase in loss of proteins via the kidneys, and in case there is blood dilution (expansion of plasma volume).
The main causes of low albumin protein include severe liver disease and kidney disease. 
Interpreting Serum Albumin results
---
Interpretations
The normal range of serum albumin lies in between 3.50 g/dL and 5.20 g/dL.
Reference range may vary from lab to lab*
Answers to Patient Concerns & Frequently Asked Questions (FAQs) about Serum Albumin
---
Frequently Asked Questions about Serum Albumin
Q. How does albumin decrease in case of kidney disease?
One of the functions of kidneys is to conserve plasma proteins like albumin in order to prevent them from releasing along with waste products of urine. Albumin is present in high concentrations in the blood. It remains intact and does not get excreted with urine in properly functioning kidneys. However, in case of kidney damage or disease, the kidneys lose their ability to conserve albumin and other proteins. Hence, these get excreted from the body with urine. This is most common in case of chronic diseases such as diabetes and hypertension. In cases like nephrotic syndrome very high amounts of albumin are lost through the kidneys.
Q. What are the symptoms of liver disorder?
The symptoms of liver disorder include jaundice (yellowing of eyes or skin), weakness, fatigue, unexplained weight loss, and loss of appetite. It may also cause abdominal swelling and/or pain, dark urine, light-coloured stool, and itching.
Q. What are the symptoms of nephrotic syndrome?
The symptoms of nephrotic syndrome include mid-back pain below the ribs (where kidneys are located), high blood pressure, swelling or puffiness, particularly around the eyes or in the face, wrists, abdomen, thighs or ankles. It may also cause foamy, bloody, or coffee-colored urine. In addition to that, it may decrease the amount of urine and may cause problems in urination such as burning sensation or abnormal discharge during urination, change in the frequency of urination, especially at night.
Q. When are abnormal levels of albumin seen?
Low levels of albumin are seen in case of infection, burns, surgery, chronic illness, cancer, diabetes, hypothyroidism, pregnancy, carcinoid syndrome, and expansion of plasma volume due to congestive heart failure. High albumin levels can be seen in case of dehydration. Certain medicines such as anabolic steroids, androgens, growth hormones, and insulin can also increase the levels of albumin.
Q. How is the blood sample taken?
The healthcare provider takes a blood sample from the arm. The site from where the blood is to be withdrawn is cleaned with a swab of rubbing alcohol. This is then followed by inserting a small needle which has a tube attached to it for collecting blood. Once the sufficient blood for analysis is withdrawn, the needle is removed. The site is then covered with a gauze pad.
Q. Is there any risk associated with the withdrawal of blood sample procedure?
As such there is no risk but in few cases, bruising, bleeding, and infection at the puncture site can be seen. In very few cases, there can be swelling of the vein after the blood is withdrawn.
Q. How does albumin decrease in case of liver disease?
Albumin is a protein produced by the liver. The levels of albumin start to decrease in case of loss of liver function, which could be due to severe liver disease.
---
NABL
CAP
For over a hundred years, human pathology has been one of the keystones of medicine and rightly so at SRL, we offer our patients world-class Pathology services because their well-being is of the utmost importance to us. Pathology is quite simply the scientific study of the overall response of your body to any foreign influence, i.e., disease. Actually, we use this knowledge to diagnose & subsequently treat your ailment. What we basically do is carefully compare the normal structure and function...
Know More
User Reviews
---
S
Saumendra
Simply great in all aspects