Test Results & Interpretations
Overview of Serum Electrolyte
Test Description
An electrolyte panel includes the evaluation of your blood levels of sodium, potassium and chloride. It may be ordered as part of a routine screening or as a diagnostic aid when you have symptoms, such as edema, nausea, weakness, confusion, or cardiac arrhythmias which might be due to an electrolyte imbalance. It is frequently ordered as part of an evaluation when you have an acute or chronic illness. Electrolyte tests are commonly used to monitor treatment of certain problems, including high blood pressure (hypertension), heart failure, and liver and kidney disease.
Why Get Tested
If you have signs or symptoms suggesting an electrolyte imbalance like edema, nausea, vomiting, confusion, irregolar heart beat 
If you are hospitalized for severe acute or chronic illness
As a part of basic metabolic panel or electrolyte panel

 

It is frequently ordered at regolar intervals to monitor treatment of conditions like high blood pressure, heart failure, kidney disease or lung disease
Precautions
No special preparation required
---
What Results of Serum Electrolyte mean?
Interpretations
Low levels of sodium (hyponatremia) may be due to loosing too much sodium such as in diarrhea, vomiting, excessive sweating, heart failure or kidney disease while the most common cause of high sodium level (hypernatremia) is dehydration
Low levels of potassium (hypokalemia) is usually due to diarrhea and vomiting while high potassium level (hyperkalemia) may be seen in kidney disease, Addison disease, dehydration
Low levels of chloride can be seen in Cushing syndrome or congestive heart failure while high levels may be seen dehydration, kidney disease 

---
Tests Included in Serum Electrolyte
(3 tests)
Provided By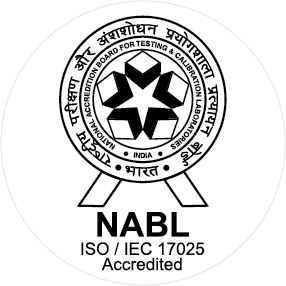 NABL
Welcome to Asian Diagnostics, an organization that has been successfully delivering high quality medical Diagnostic Services in Karnataka and South India for over 15 years. Established in 1999, it is based out of Bangalore with branches in Mysore, Hassan and Vijayapura. Asian Diagnostics has continued to evolve over the years to cater to the needs of doctors and patients alike and offers an extensive range of clinical diagnostic tests making it a one-stop destination for the best in Diagnostic Services. Asian Diagnostics is proud to have successfully completed the NABL accreditation and is one of the few NABL Accredited Labs in Bangalore. Operated by a team of highly skilled and committed professionals, it has remained committed to its objective of providing high quality, accurate and reliable diagnostic services at affordable prices to its ever growing customer base. Asian diagnostics is currently THE LARGEST ALLERGY TEST CENTER IN INDIA. It is the first laboratory in the state to perform quantitative 'Food Intolerance' tests
Available at Other Labs