Acetyl Choline Receptor Antibody
What is AchR Ab, ARAb?
Myasthenia gravis (MG) is characterised by muscle weakness & easy fatigabilitymost commonly due to autoantibody mediated loss of functional acetylcholinereceptors in the postsynaptic membrane of skeletal muscle. ACHR antibodies arenot found in Congenital MG. This assay is used to diagnose Acquired forms of MG(90% positive), for detecting subclinical MG in recipients of D-penicillamine,Thymoma without clinical evidence of MG & Graft versus Host disease. It may alsobe positive in Lambert-Eaton myasthenic syndrome, Autoimmune liver disease &Paraneoplastic autoimmune neurological disorders.
Preparation for AchR Ab, ARAb
No special preparation required
Sample Type for AchR Ab, ARAb
The sample type collected for Acetyl Choline Receptor Antibody is: Blood
Provided By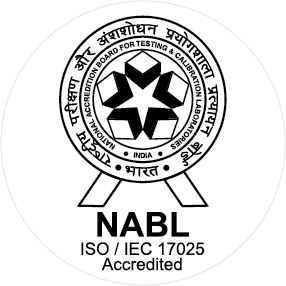 NABL
Welcome to Asian Diagnostics, an organization that has been successfully delivering high quality medical Diagnostic Services in Karnataka and South India for over 15 years. Established in 1999, it is based out of Bangalore with branches in Mysore, Hassan and Vijayapura. Asian Diagnostics has continued to evolve over the years to cater to the needs of doctors and patients alike and offers an extensive range of clinical diagnostic tests making it a one-stop destination for the best in Diagnostic Services. Asian Diagnostics is proud to have successfully completed the NABL accreditation and is one of the few NABL Accredited Labs in Bangalore. Operated by a team of highly skilled and committed professionals, it has remained committed to its objective of providing high quality, accurate and reliable diagnostic services at affordable prices to its ever growing customer base. Asian diagnostics is currently THE LARGEST ALLERGY TEST CENTER IN INDIA. It is the first laboratory in the state to perform quantitative 'Food Intolerance' tests
Available at Other Labs